By Team IAnD
Photography: Courtesy MADS Creations
Read Time: 2 mins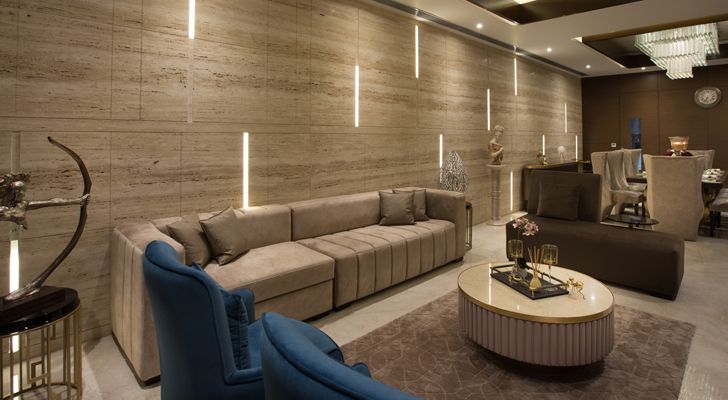 .
The 21st century is all about excesses and extravagance. Playing on this theory but effectively juggling it with minimalist sensibilities, MADS Creations' designs a plush residence with a characteristic oomph factor…
Located in an upmarket residential area in Gurgoan, the layout retains the openness of the floor and brings luxurious interiors to the forefront, playing heavily on a neutral colour palette. The result is a delightful, contemporary apartment that nurtures individuality.
.
.
.
Characteristically reflective of a chic, urbane style, the linearity of the public area – the living-cum-dining room - is contravened by slim vertical lights embedded as slits in one of the marble-clad walls, making it the highlight feature and effectively mitigating the length and narrowness of the space. A false ceiling further adds to the luxe quotient.
.
.
Anointing the home with different monochromatic shades of the simplest and sleekest of colours – brown - that spells naturalness and timeless comfort, right from the walls to the rugs and other soft furnishings, complete with soft edges throughout, becomes the single-most style statement of the home. Various tints of the same hue – umber, beige, mushroom, walnut, dark chocolate, crème, chestnut, desert sand… emboldens the interior, providing a strong visual cohesion. This is further accentuated by the touch of flourish in the functional – wing-backed deeply upholstered dining chairs, padded-backed study chair… that also become accent pieces that pronounce restrained luxury.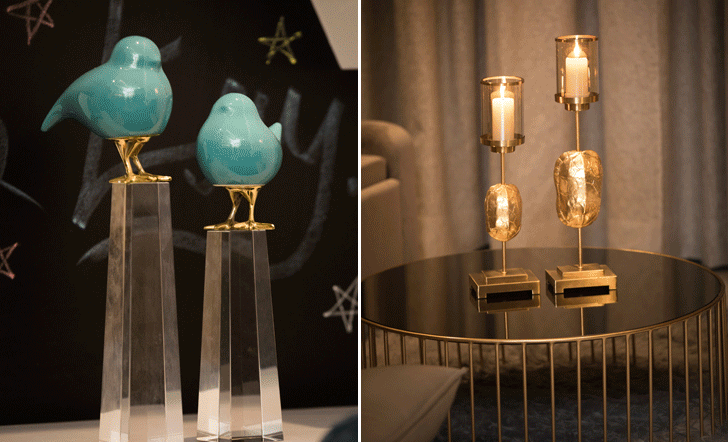 .
Panelling in wood, velvet and lush fabric, gilded finishes, textured backdrops, choice accessories, luxurious soft furnishings with strategic pops of vibrant colours tie the interior envelope with an aura of understated opulence.
.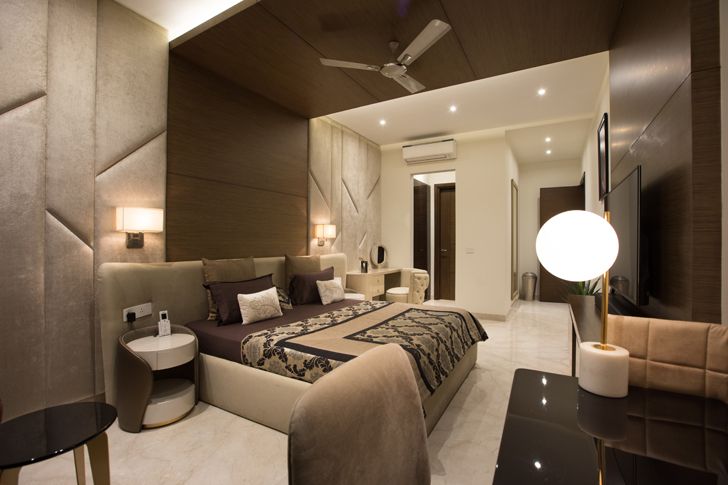 .
.
An ingenious styling of the ceiling in different spaces especially in the master suite, where dissimilar materials in a graded application create a pseudo effect of levels accentuated by cove lighting puts the onus on detail in design.
MADS Creations succeeds in crafting a space that exudes the warmth of home and the vitality of a contemporary luxury apartment.
Project Name: Gaur Residence
Design Firm: MADS Creations
Founder & Principal Designer: Meenu Agarwal
Carpet Area: 2,700 sq. ft.