By Vinita Wagh
Renders: Courtesy Sasaki
Read Time: 2 mins
.
Anant National University designed by Sasaki is Ahmedabad's treasure trove – a holistic campus, calling attention to the harmonious choreography of academics, community and environment.
The 125-acre Sanskardham campus, with its elementary and architecture schools and supporting facilities, serves to foster living-learning communities by influencing design pedagogy through co-working, innovation, and collaboration. Energising this progressive learning environment through traditional spatial arrangements and sustainable approaches, the university is an authentic everyday reminder of staying rooted, yet thinking global, akin to the city's heritage.
.
.
Landscape is the heart of the design, interweaving the built masses. Concentrations of shade trees, fruit orchards, and medicinal plants coexist with both new and old, mature trees – more than 90% of which are preserved, their integration emphasising the existing biodiversity. Along with two water bodies, the greens structure the campus to facilitate informal, alfresco learning.
.
.
Academic studio buildings and the learning and design hubs comprise the core, with pedestrian links stitching the configuration together. The academic core embraces the student and faculty living located beyond, abounding opportunities that encourage social interactions. Life inside unfolds through reciprocal spaces that forge a strong indoor-outdoor connection, permeating into the masses by way of courtyards. Acting as zones of thermal comfort, these courtyards nurture experiential learning and collaborative workspaces. Along the south-east edge, a mixed-use plaza with surrounding public programs facilitates engagement with the external neighbourhood community.
Pedestrian movement
Programmes
Zones
This synthesis of the built and the unbuilt is also an effort to improve the microclimate, capitalising on the existing ecosystems and the natural elements – water, wind, and sun. Verandas and patios with large shade roofs ventilate and protect indoor spaces while the campus implements solar panel use, façade shading, water management, and stormwater conservation strategies.
.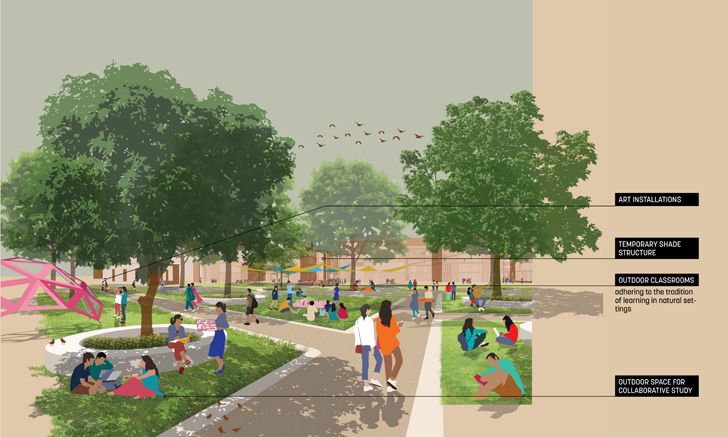 .
The design for this university unifies the practices of the built environment and landscape, a composition that attends to the mind, body, and spirit - setting a precedent for institutional practices nationally.