IAnD Exclusive
Pre-Diwali Special 2018: Ideas you can use
Colour can at times effect a more potent communiqué than words! We bring you six sizzling hot colours to choose from or maybe pick a shade from all and decorate your home with panache…
Auspicious saffron hues: Oranges and yellows are two colours that most rampantly meet the eye during the festive season.


Yellow is the colour that the eye sees the fastest. Soft yellows can be cheering; whilst bright yellows command authority. Generally used as accents that attract attention and contribute to brighten a room, yellows in all their hues tend to merge easily with soft greens, umbers, peaches and greys to effect an understated style statement. Shop online for whimsical yellow tableware or vases or even a singular yellow artefact to brighten up your room and make it a focal point.
Photography: courtesy world wide web
Orange is an upbeat hue that combines the passion and power of red with the exuberance of yellow. It can be stimulating in its pumpkin orange hue or warm in its terracotta and peach version. An ideal colour for attracting attention to details or to create a stimulating vibe, you can use it to highlight the most significant aspects of your design. Symbolic of strength and endurance, orange is a hue that can grace almost any surface – from the floor rug, to the upholstery, wallpaper, to the entire ceiling!
Sensual soothers: Pinks and Mauves are two such subtle hues of red and purple that elicit very pleasant reactions in people and the environment...


The colour pink has various mood swings being romantic, youthful, happy, or sweet based on its application. For example, hot pink has the same high-energy spirit as its mother red. A hotter pink - such as "bubble gum pink" can create a feeling of movement and wild abandon and appears fun and exciting; yet, it is riskier to use than red because it is often considered as a passing fad and it does not age well. An entire schematic in soft pink oozes feminine charm whilst the same in hot pink creates a film set-esque dramatic scene.
Mauve is a subtle hue and has definite qualities of its mother purple - regal, spiritual, elegant, mysterious creating an enigma that can influence mood swings from contemplative to regal to sensual, depending on the way it is applied. Just like its parent purple, it depicts the magic that is wrought by the excitement and sexuality of red and the tranquillity of blue. But unlike its parent, it induces softer emotions, renting the atmosphere with subtlety and restrained sophistication. Use it to do up entire room or as accents on walls, in soft furnishings, in paintings and in accessories.
Photography: courtesy world wide web
Photography: courtesy world wide web
Photography: courtesy Bhavna Jacob Architects
The colour of action: Soft rose to crimson to vermilion. Red finds expression in many shades, so make a clever choice… With red being an overbearing shade, you always need to tone it down with a contrasting colour like cream or peach whilst a dash of haldi yellow or orange makes it more traditional- ideal for your living room Diwali décor. Try bright auburn, cherry coke, peach red, coral red for soft furnishings in the bedroom and contrast it with a splash of green and blue artefacts and paintings for a contemporary touch. However, if you prefer to make a bold statement -- go for the classic black with red combination.


Photography: courtesy world wide web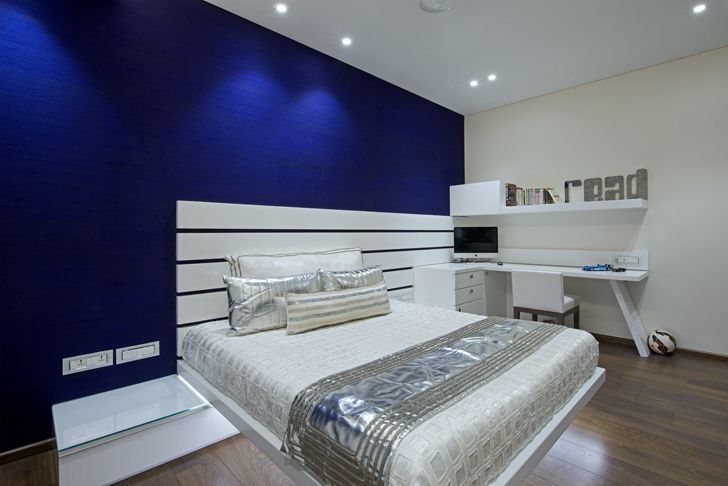 Photography: courtesy Bhavna Jacob Architects
Solemn and pure
: Bask in the dramatic aura of unadulterated sophistication. It is indeed amazing what
colour
can do but in the absence of vivid hues, with only white – which is basically a sum of all
colours
, yet a lack of them; 'white on white' is a powerful concept. The idea is to
dramatise
it to the hilt. White is a magical
colour
–clear and strong, with no subtleties. White turns the spotlight on itself. When using white as upholstery – try loose covers, so that they can be washed easily; create drama by adding white-on-white contrasts by displaying just a single white rose in a sheer glass beaker or white pebbles to a sheer glass jar filled with water. Create a focal point using a wall hanging, painting, or an
artefact
that has just a sprinkling of
colour
on an all-white backdrop. The result: A
mesmerising
effect!
Of course, the colour spectrum is vast, and we have not spoken of all the hues. Feel free to experiment. After all, personal preferences and more importantly – the mood of the moment, almost instantaneously respond to colour!