Photography: Felix Emmanuel; courtesy the architects
Read Time: 2 mins
.

Design echoes the 'function first' dictum in this auditorium, designed by Architecture Interspace for St. Patrick's School in Puducherry.
When the existing school playground made way for the structure, the design sought to capitalise on the area available. The built form, unassuming and simple, employs parking at the stilt level and the exam hall on the first floor, with the auditorium pragmatically positioned above.
Design concept and details
While pilotis and a raft foundation erect the basement, the circulation cores create minimal interference to the floor area. This structural organization of the program makes provisions for easy connectivity on the ground and first floors, and a column-free auditorium with a larger roof height under a structural steel truss on the second and topmost floor.
The exam hall also interrupts across its length to operate as smaller classrooms. The structure features windows that maximise the admission of daylight, thereby contributing to lower energy consumption through the day – a focussed design strategy that stems from a strong endeavour to increase functionality and minimise construction costs.
.
.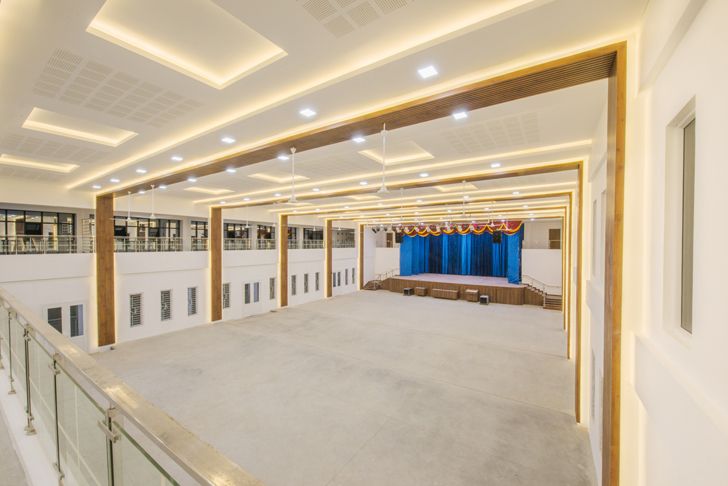 .
The interior pattern of white walls and wooden laminates augments the illusion of convergence at the stage, while the false ceiling and lighting design, with the white and warm white LEDs, orchestrates a warm ambience in addition to a formal one.
.
.
The exposed façade stands out as a noteworthy element. With a folding pattern inspired by origami, the resulting 'jaali' wall is an aesthetic treat. The pattern is customized, concrete cast in a plywood mould and translated into prefab units of 0.75m x 0.75m x 0.12m. The use of 8mm diameter steel rebars and a 1:1.5:3 concrete mix makes the module light, yet strong, and the resulting wall is an aggregation of such individual modules.
The landscape feature is another intervention that catches the eye. Designed as a nonchalant surface rising from the ground, it is playful, yet formal; caters to groups, is flexible in its use and shapes young interactions.
Mapping the design
In essence, Architecture Interspace realizes this project balancing candour with a speck or two of indulgence!
Client: St. Patricks School
Design Firm: Architecture Interspace
Principal Designer/Architect: Madhini Prathaban, Goutaman Prathaban
Location: Puducherry, India