IAnD Exclusive
Open-to-sky Spaces Special
By Vinita Wagh
Photography: Courtesy Studio Osmosis
Read Time: 1 min 30 secs
Studio Osmosis lends style, personality, and function to this balcony and terrace, creating refreshing spaces perfect for relaxing and entertaining.
.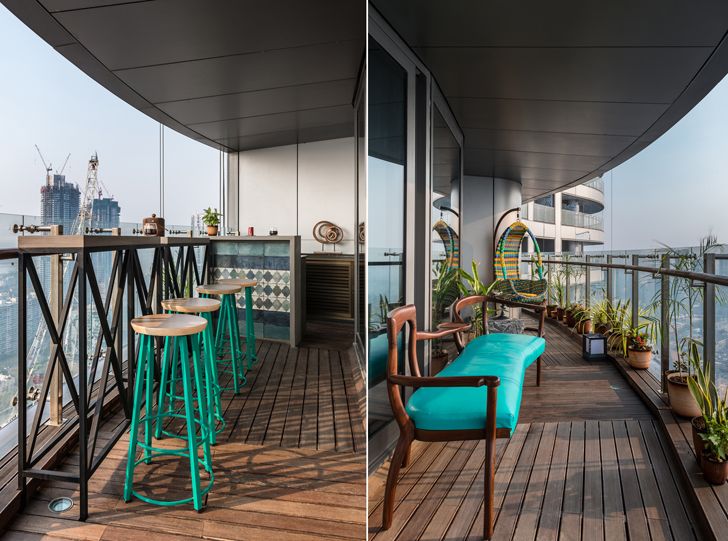 .
This balcony, perched on the 48th floor, reveals scenic views of the city. Stretched along the curve of the living room, it accommodates an outdoor bar area, all inclusive of the bar counter, a high ledge, barstools, a custom-designed wooden bench, and even a custom swing. Dressed in a concrete countertop with hand-painted ceramic tiles on its apron, the bar recalls the colours of the sea and sky. While the furnishings, swing and barstools are clad in energizing shades of teal, the brown deck flooring adds earthiness to the space. Restricted due to the height, the designers ruled out ceiling lights and wall art, and instead opted for floor-mounted, decorative, and in-floor waterproof cube lights. Enhancing these with green plants sets the tone for this modestly sized balcony.
On the other hand, this living room (ref. cover image) effortlessly transitions into a private terrace space through bay windows and glass doors; more so due to the flooring and coffered ceiling, that facilitates an outdoorsy space with the nonchalant comfort vibe of the indoors. The high exterior walls of the terrace are clad with a vertical garden and act like a screen; turning the space into a cocoon that receives soft light through the day.
The exclusive use of natural stone - with its variations in colour, pattern and texture, sparks curiosity and creates visual contrast. While the warm light fixtures highlight the walls, the vertical landscape set against the herringbone pattern of the flooring tiles imparts an antique, unfinished look to the space.
While the balcony looks outward, absorbing the vibes of the city, its culture, the chaos and the sea, the terrace introspects and borrows from the living room and its vistas. Designers Sameer Balvally and Shilpa Jain Balvally design these warm, calm zones within the bustling city of Mumbai to optimize the space, using natural and aesthetically pleasing combinations of design palettes, without excess.
Design Firm: Studio Osmosis
Principal Architects: Sameer Balvally & Shilpa Jain Balvally