By Vinita Wagh
Photography: Prashant Bhatt; courtesy KNS Architects
Read Time: 2 mins
.
What do you get when the timeless, regal style of a by-gone era is infused into the modern-day ephemerality of Mumbai? This gorgeous penthouse, apparently.
Designed by Mumbai's KNS Architects, the interior radiates an eclectic mix of tradition, modernity and exquisite charm.
Add caption
Add caption
A monochromatic colour palette follows throughout the house, with an emphasis on darker tones. The occasional accents of gold and brass are contrasted by the eye-catching hues of burgundy, orange and red that adorn all the living spaces. Set against this, the plush velvet furnishings too are a fusion of contemporary and classic.
Add caption
Add caption
.
Even before you enter the front door, this luxurious home gives a peek into the opulence that lies beyond. A stunning chandelier greets you in the lift lobby and the Bronze Armani flooring leads a polished trail throughout the home. Hand-painted canvases, wall murals and statement light fixtures create a bespoke, artistic backdrop inside as tasteful pieces of art, accessories and furnishings lend fresh colour to an otherwise golden-bronze palette.
.
.
While the rustic, raw and cool grey interiors of the entertainment area render it as a casual hangout space, veneer panelling, back painted glass, wallpapers and duco/PU paint give a seamless and luxe appeal to the other spaces.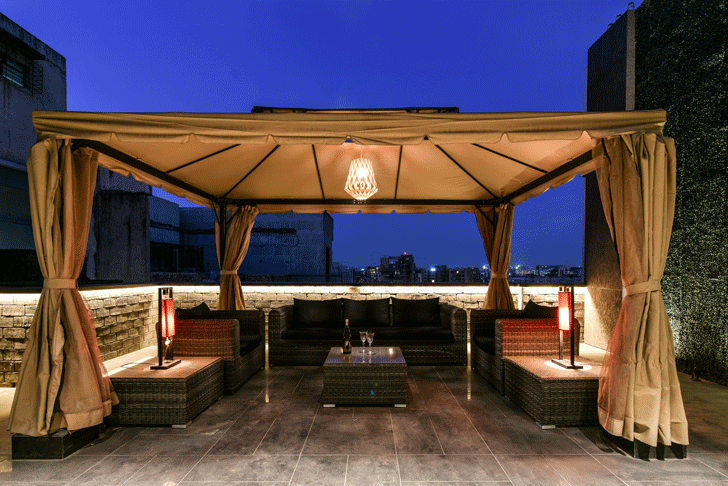 .
Not only does this rich tone trickle into the family room and the suites on the floor above, the entire 10,000 sq. ft. of this two-storied penthouse is meticulously detailed and accentuated by sophisticated lighting. Minimal chandeliers and upholstery dramatize the height in the living room and the staircase forms another focal piece highlighted by a glass installation. Throughout the expanse of the two floors, the cosiness of a home is not lost to the luxurious scheme.
As such, in this tale, where traditional elegance converges with the current top trends, this penthouse gets it exactly right.
.
Design Firm: KNS Architects
Principal Designers/Architects: Ar. Kanhai Gandhi, Ar. Neemesh Shah, Ar. Shresht Kashyap
Design Team: Ar. Kanhai Gandhi, Ar. Neemesh Shah, Ar. Shresht Kashyap, Prashant Pipalia, Akruti Dalmia