Designer's Personal Spaces
By Marina Correa
Photography: Ravi Kanade; courtesy the firm
Read Time: 2 mins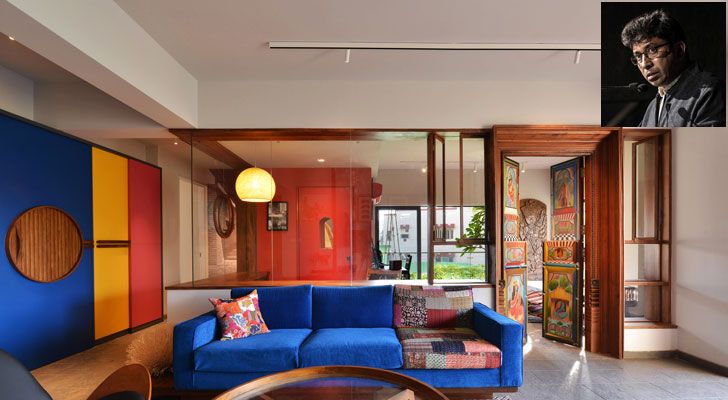 Ar. Abin Choudhuri's home (inset) Ar. Abin Choudhuri
Architect Abin Chaudhuri's home epitomizes the essence of the bond between his mother and his son, and effectively doubles up as a creative canvas for his artistically-inclined 10-year-old boy…
Abin Design Studio (ADS) is known to explore multiple ways to engage the end-user with the built form; the way they move through spaces and interact with them. Making a one-time 'wow' factor is never his style; rather carving a lasting impression is.
These same sensibilities find their way into his own home in Kolkata with a touch of 'more' added in the form of deep respect for familial bonds, heritage and a keenly-curated collection of works from Indian designers, artists, craftsmen including customised furniture boldly showcased against a neutral background.
Creating an inspired juxtaposition of colour with vibrancy; traditionalism with contemporariness; indulgence with restraint -- the home uses a varied material palette be it wood, fabric, weaves, ceramics, artworks and decorative elements to speak an eclectic language.
.
Respecting and celebrating his father's legacy and by extension a sense of Indian-ness is a common thread that unifies the design statement. For instance, a motorcycle belonging to his late father is a much-cherished heirloom, which is transformed into a canvas for an artistic intervention. It occupies pride of place between two ornately-carved, antique wooden pillars.
Similarly, two Durga paintings created by national award-winning artists from a little-known village are prominently placed on the walls of the foyer and dining room.
Innumerable customised features cull out a unique aesthetic. All the wood used in the home has been sourced from a tree that had fallen during cyclone 'Hud-hud' 6 years ago. Originally, a 4-bedroom apartment, multiple walls have been broken down to provide an open feel to the central well of the home. One of the bedrooms, now a study, becomes a visually connected extension to the living area as the walls are replaced by glass partitions. Further augmenting the aesthetic is an antique wooden door frame whose 4-panel shutter is embellished with vibrant Indian art.
Playing around with providing transparency whilst maintaining privacy is a part of Abin's forte. This is well translated viz. the wall between his son's bedroom and the dining room, which is punctured with a large antique window -- providing spatial connectivity while ensuring privacy, when desired.
Weaving flexibility into the schematic is the wall between the son's bedroom and the living room that is replaced with a colourful paneled wall doubling up as cabinets for extra storage. Adding intrigue to the mix is the door to the bedroom within this partition that becomes apparent only through a large decorative wooden handle that easily passes off as a craft-driven design element!
Thus, the home can be likened to a shallot: slowly revealing its multiple layers as its occupants engage and interact with the space.
The big three:
What is the one thing that you have done for yourself that you'd never do for a client?
An important design lesson that you abide by?

My space displays minimalism, recycled materials and is thought-provocative. It is endowed with the essence of my father's blessing, memory and philosophy.

Is there a message that you'd like to convey to your clients through your own space?

Live as simply as possible as space should exude energy for bonding, interaction and happiness.
Project: Chaudhuri Residence
Principal Architect: Abin Chaudhuri
Design Firm: Abin Design Studio
Design Team: Abin Chaudhuri, Usha Thakvani, Soma Koiri