By Sonal Mamoowala
Photography: Palak Jhaveri; courtesy the designer
Read Time: 2 mins
.
Shalin Gandhi opens a high-rise home to its surrounding vistas, whilst maintaining an equally-engaging interiorscape…
Located in the lone high-rise tower amidst farm houses and bungalows in an Ahmedabad suburb, the 2200 sq. ft. Patel Residence is a simple, straight lined, no frills, clutter-free space tailored to its homeowner's personalities by interior designer Shalin Gandhi of Shalin Gandhi Design Studio.
.
Familiarity with the client (having designed for him on a few occasions earlier) eases the exercise as the designer is given a carte blanche; and, he uses this well to explore materiality via a minimalistic approach.
.
.
.
A perfunctory entrance foyer opens out into an expansive living-dining area that follows an open plan with the kitchen to one side and a deck to the other. Knocking down some internal walls makes way for seamless spaciousness as the four-BHK is reconfigured as a three-bedroom suite residence, allowing for larger, well-appointed rooms.
.
Playing with unobstructed views all around and in sync with the open vistas, a judicious placement of the minimalistic contemporary-styled furniture alongside a tasteful choice of materials lends a cohesiveness to the design scheme. Opting for a neutral colour palette of ivory floor tiles, ivory sandstone wall cladding, beige self-design soft furnishings and a muted grey cabinets, wooden flooring and metallic hints in the partition screens, pops of sprightly colours in selective soft furnishings, floor rugs and art, reinstate the warmth of the interiors. Teak wood ceiling panels cleverly concealing the ducting components extend into wall panels for crafted continuity.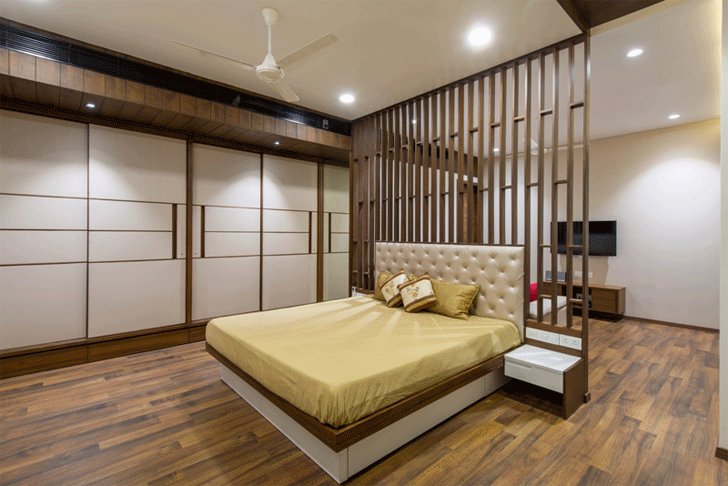 .
Well-proportioned combination of wood as a framing material with generous usage of a variety of glass is the key feature of this designer home. Transparent glass headboards, opaque glass doors, back-painted glass wardrobe shutters, glass-topped dining table, mirrors for added illusory space…. convey both, fluidity and definition simultaneously.
.
An added plus, technically, has been that there is not a single common wall in this apartment and it is open on almost all sides - a fact that the designer has advantaged to the hilt.
Design Firm: Shalin Gandhi Design Studio
Principal Designer/Architect: Shalin Gandhi
Design Assistants for this project: Shyam Suthar & Nidhi Raval
Built-up Area of project: 4000 sq. ft.
Carpet Area of project: 2200 sq. ft.