By Sonal Mamoowala
Photography: Pranav Purushottam; courtesy the designers
Read Time: 2 mins
Residential interior by Untitled Design Consultants (inset) l-r: Joya Nandurdikar & Amrita Guha
Walk through this New Delhi apartment… only to walk out as an art aficionado…
Joya Nandurdikar and Amrita Guha, Partners of Untitled Design Consultants take us on a virtual tour of Indian arts and crafts via their transformation of an old 3,640 sq. ft. Delhi apartment into a vibrant art haven…
Combination of hand-picked exotic burl veneer with coffee table in contrast of brass, black polyester coat veneer with walls highlighted with art including photo art.
A wall installation developed in collaboration with ceramic artist. Tall unit with veneer dyed printing on shutters with solid wood base and coffee table done in exotic veneer with gold leaf.
Customising the renovation for a flamboyant and aesthetically-inclined client through a judicious blend of tradition and modernity, the design evolves on a concept of promoting ethnic arts and crafts in a globalized language – a perfect antidote to reflect the homeowners' lifestyle. The designers' familiarity with the homeowner's preferences and freedom of handling the project manifests in a bold narrative of essentials expressed through a wide spectrum of works of art in a unique manner…creating an eclectic flavour of exquisite taste and personal touch.
Master bathroom with the main wall in mango onyx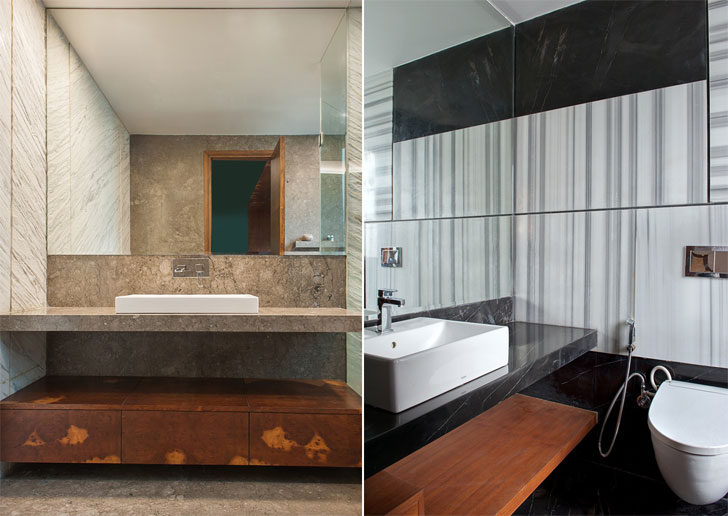 Combination of exotic veneer on both walls and burl veneer as under counter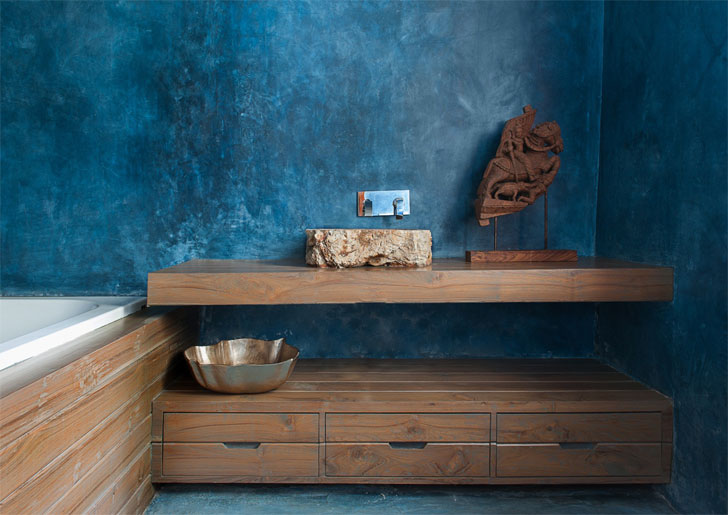 Spa with walls in stained cement executed by artists from Auroville, Pondicherry with all the furniture in distress wood and stone washbasin.
Civil changes in keeping with the client's requirements and height restrictions are diligently addressed to reconfigure space. Keeping art close to the heart, each confined space is defined by an authentic art highlight… also acts as a subtle but consistent reminder of India's rich cultural heritage. The entire house is dotted with bright and bold silhouettes of eye-catching art forms like paintings, murals, sculptures… etc., sourced from celebrity artists.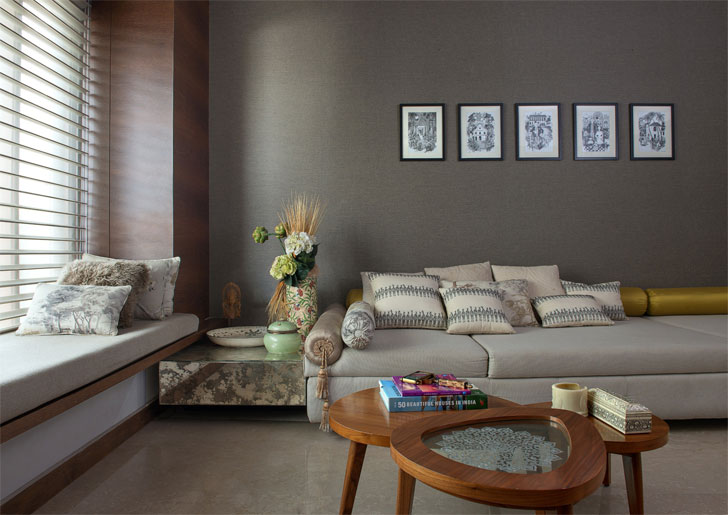 A cluster of tables with sanjhi in silver leaf developed by master craftsmen from Mathura with a wide daybed with antique mirror clad on platforms having a fabric wallpaper backdrop. Day bed composed with a bay window in veneer with fur and fabric cushion
(left) Back partition finished in combination of suede leather, mirror and heron leather. Bar finished in black polyester coat composed with brass-beaten sheet(right)A console cum shoe cabinet with a geometrical pattern developed by technique of veneer to veneer marquetry work
Furniture pieces like tables, cabinets, chairs, bedside tables, partitions…are designed as individual art accents - perhaps to grab eyeballs in the basic monotone colour scheme of white Italian marble, dull grey or beige walls, pastel drapes and upholstery and an array of browns in the generous use of natural wood. Exploitation of wood finishing techniques like veneer marquetry and inlay work; gold/silver leafing and the like strike a luxurious chord juxtaposed as it is with a stained cement plaster finish in the spa asserts the belief of finding…. perfection in imperfections.
Artwork printed on canvas as a part of headboard with green distressed tables finish with tassel brass knobs with a day bed finished with interesting back detail on one side and burl veneer as the side panel.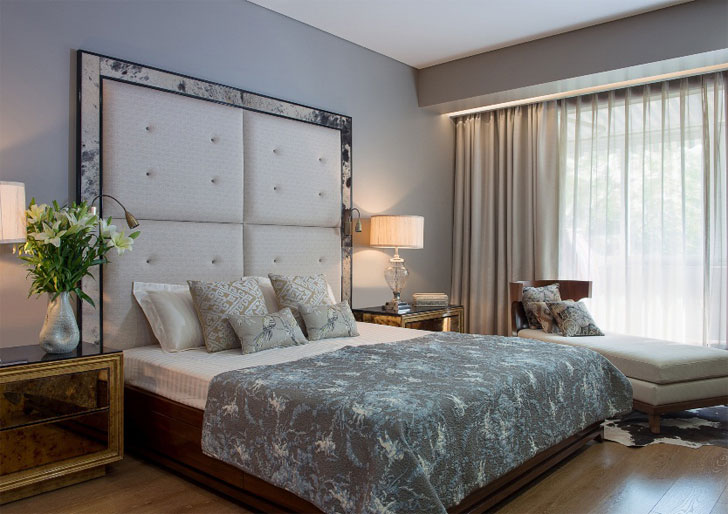 Bed composed with leatherite headboard and heron leather with bed side table in antique mirror and gilding
Geometrical patterns add dynamism …whilst occasional use of high-end materials like Mango Onyx emit an air of gleaned indulgence in this veritable arty abode. However, this does not overlook sustainable options, where applicable – so we have energy conservation wall washers, down lighters and decorative light fittings selected judiciously. Even thermal glazing and VRV system for the air-conditioner is installed for sustainable energy consumption.
(left)
Powder room with a customized free standing wash basin in brass and polyster coat with ceiling mounted spout with art installation on ceiling. (right)
Monolith table in petrified wood with a backdrop of Gond art from Madhya Pradesh.
Banquet seating in dupair mixed shaded silk framed in combination of gold leaf on wood and antique mirror. Displaying a commissioned work on polo and golf by renowned artist Tapas Maity Dining table in veneer marquetry work with gold leaf base. Back panel of all the chairs are in printed fabric specially designed for them.
Driftwood console with a black and white painting by Tapas Maity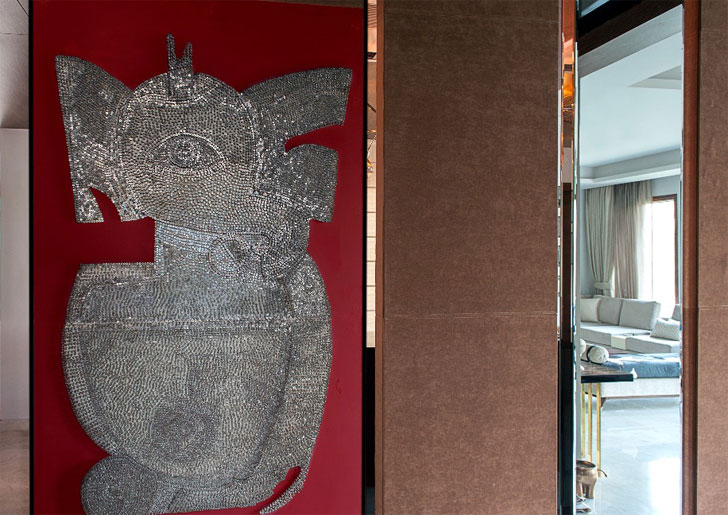 Partition dividing the entrance foyer and bar area with modern mural of Ganesha developed in collaboration with artist Ashok Acharya using stainless steel screws.
Puja with Pichwai from Madhya Pradesh as a backdrop.
Creating an indigenous style via subtle modifications in contemporary furniture… the artistically-inclined design is sure to inspire you to pursue a crash course on incorporating art into design... enriching your knowledge of Indian art traditions.
Design Firm: Untitled Design Consultants
Principal Designer/Architect: Joya Nanduridikar, Amrita Guha
Built-up Area: 4000 sq. ft.
Carpet Area: 3650 sq. ft.