Compiled by Team IAnD
Text : Courtesy pritzkerprize.com
Read Time: 3 mins
Nonagenarian Ar. Balkrishna V. Doshi has been honoured with the highest accolade in architecture – the Pritzker Prize. He is the 45th recipient internationally, and the first Indian architect to be awarded this distinction.
The Pritzker Prize, considered to be the equivalent of a Nobel Prize in architecture cites its purpose thus – "To honour a living architect or architects whose built work demonstrates a combination of those qualities of talent, vision, and commitment, which has produced consistent and significant contributions to humanity and the built environment through the art of architecture."


The international prize granted annually consists of USD 100,000, a formal citation certificate, and a bronze medallion, which is based on designs of Louis Sullivan, famed Chicago architect generally acknowledged as the 'Father of the skyscraper'. On one side is the name of the prize. On the reverse, three words are inscribed, "firmness, commodity and delight," recalling Roman architect Vitruvius' fundamental principles of architecture of firmitas, utilitas, venustas.
The 2018 Pritzker Architecture Prize ceremony commemorates the 40th anniversary of the accolade and will take place at the Aga Khan Museum in Toronto, Canada, this May. Doshi will present a public lecture, in partnership with the John H. Daniels Faculty of Architecture, Landscape, and Design at the University of Toronto on May 16, 2018. The invitation-only event will have in attendance international guests and guests from the host country.
Architect Balkrishna Doshi was born in Pune, India on August 26, 1927. He began his architecture studies in 1947, the year India gained independence, at the Sir J. J. School of Architecture Bombay (Mumbai), and went on to apprentice under renowned Ar. Le Corbusier in Paris. He returned to India in 1954 to oversee Le Corbusier's projects in Chandigarh and Ahmedabad, which include the Mill Owner's Association Building (Ahmedabad, 1954) and Shodhan House (Ahmedabad, 1956), among others. Beginning in 1962, Doshi also worked with Ar. Louis Kahn as an associate to build the Indian Institute of Management, Ahmedabad, and they continued to collaborate for over a decade.
In 1956, Doshi hired two architects and founded his own practice, Vastushilpa, which has since been renamed Vastushilpa Consultants and grown to employ five partners and sixty employees and has completed more than 100 projects since its inception.
Infused with lessons from Western architects before him, he forged his artistic vision with a deep reverence for life, Eastern culture, and forces of nature to create an architecture that was personal, laced with sights, sounds, and memories from his past. Alongside a deep respect for Indian history and culture, elements of his youth—memories of shrines, temples and bustling streets; scents of lacquer and wood from his grandfather's furniture workshop—all find a way into his architecture.
He established Vastushilpa Foundation for Studies and Research in Environmental Design in 1978 to evolve indigenous design and planning standards for built environments appropriate to the socio-cultural and environmental milieu of India. Today, it serves as an effective link between academics and professional consultants. Doshi was Founder, former Director and former Chairman of the School of Architecture and Planning (Ahmedabad, 1966-2012), which was renamed CEPT University in 2002. He is currently Dean Emeritus and continues to reside in Ahmedabad.
Doshi is the recipient of numerous awards and accolades including the Prime Minister's National Award for Excellence in Urban Planning and Design, India(2000); and the Padma Shree National Award, Government of India (1976).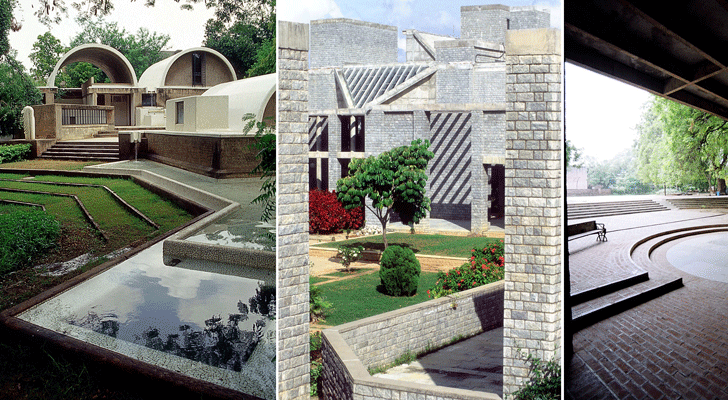 (l-r)Sangath Architect's Studio|Indian Institute of Management, Bangalore|Centre for Environmental Planning and Technology (photo courtesy of VSF)
Excerpts from Jury citation on 2018 Pritzker Architecture Prize Laureate, Ar. Balkrishna Doshi:
"Indian architect Balkrishna Doshi has continually exhibited the objectives of the Pritzker Architecture Prize to the highest degree. He has been practicing the art of architecture, demonstrating substantial contributions to humanity, for over 60 years. By granting him the award this year, the Pritzker Prize jury recognizes his exceptional architecture as reflected in over a hundred buildings he has realized, his commitment and his dedication to his country and the communities he has served, his influence as a teacher, and the outstanding example he has set for professionals and students around the world throughout his long career."
… "With an understanding and appreciation of the deep traditions of India's architecture, he united prefabrication and local craft and developed a vocabulary in harmony with the history, culture, local traditions and the changing times of his home country India."
…Balkrishna Doshi constantly demonstrates that all good architecture and urban planning must not only unite purpose and structure but must take into account climate, site, technique, and craft, along with a deep understanding and appreciation of the context in the broadest sense. Projects must go beyond the functional to connect with the human spirit through poetic and philosophical underpinnings. For his numerous contributions as an architect, urban planner, teacher, for his steadfast example of integrity and his tireless contributions to India and beyond, the Pritzker Architecture Prize Jury selects Balkrishna Doshi as the 2018 Pritzker Laureate.