By Beverly Pereira
Photography: Courtesy Antworks
Read Time: 2 mins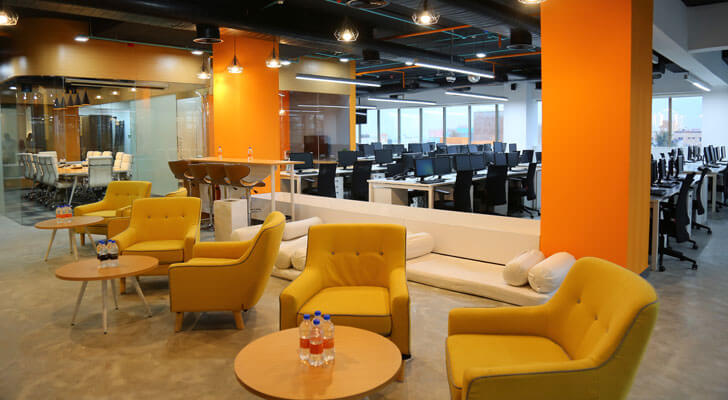 .
Vision Architects & Interior Designers designs a vibrant workplace that encourages transparency, unconventional thinking and productivity…
The corporate office of IT firm, Antworks in Chennai makes for an inspiring environment for its employees, who spend hours tinkering with technical data behind their computer screens. Working on a principle of zoning, the 8,500 sq. ft. open-plan office is a seamless blend of naturally lit open and semi-open spaces.
Staff pool in an open-plan
An open pool of workstations allows for visual connectivity, free-flowing exchange of ideas and unhindered interaction due to proximity of team members, as do the semi-open meeting rooms with glass panels.
There is no shortage of creative wiggle room in this office, thanks to informal spaces positioned away from work zones like the rustic brick-clad pantry that fosters communication. The Rust-Oleum coated walls of the adjacent breakout area serve as a canvas for employees to doodle and brainstorm.
Glass-enclosed meeting room
Conference room
The quick accessibility of work stations, meeting spaces, collaborative zones and informal social areas demarcated by a four-feet-wide passage facilitates easy movement within the office.
Company ideologies represented
Bursts of orange and red across the office act as a stress-busting panacea for tired minds, while vertical indoor gardens with planters instantly refresh and add a sense of vibrancy.
A low-maintenance material palette of engineered wood, MDF, solid surface Corian table tops, gypsum board and concrete flooring reigns throughout, while exposed spiral ducting adds a raw aesthetic.
Besides smart controls, an assortment of lighting fixtures - suspended linear lights, irregularly-shaped lights, gauge lights and hanging lights and task lighting for workstations conforms to an analysis of user needs in specific spaces.
Elements of interactivity
When a workplace encourages such a high level of interaction and transparency, the achievement of objectives like teamwork, problem-solving and employee motivation can never be too far behind.
Design Firm: Vision Architects & Interior Designers
Principal Architect: Ar. Vijay Krishna