Compiled by Marina Correa
Visuals & representations: rat[LAB]interiors
Read Time: 3 mins
Parametric scenography at Farzi Cafe, Jaipur (inset) Aanchal Chaudhary & Sushant Verma
rat[LAB]interiors fuses heritage references and patterns of the 'pink city' with computational design and digital fabrication, turning the interiors of Farzi Café, Jaipur into a feast for the senses…
The restaurant interior is conceived to capture the essence of the city in a typically farzi (suppositional) way. Referencing local traditional motifs and translating them parametrically through geometry and patterns to showcase identifiable arches, domes and vaults, which are conventionally seen as reminiscent features of the region, architects Sushant Verma and Anchal Chaudhary, principals of rat[LAB]interiors, infuse the scenography with a unique flavour – that of an algorithmic design being executed by local craftsmen; thereby proposing a new ideology – digital craft!
.
.
.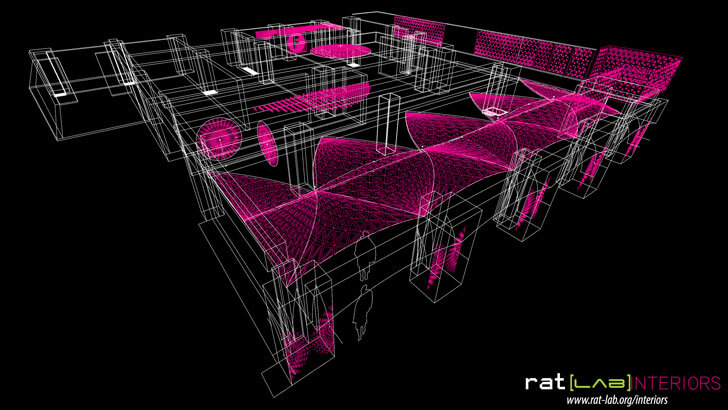 .
.
With emphasis on symmetry, proportion and mathematics, a parametrically triangulated radial pattern is replicated as subdivisions in the vaults and domes in the false ceiling; differentiated triangles with filleted corners are scaled to form the surface treatment of hybrid vaults and domes – exemplifying a stunning blend of local craftsmanship and laser-cut geometries. 2mm thick and 50mm wide profile in polished brass encapsulates the restaurant walls and columns, whilst a blend of colours, forms and soft materiality (like velvet fabric and paneling) fosters the rich legacy of the land.
The design team uses computational design methods to algorithmically create patterns that are articulated as 3D relief art through CNC milling, 2D back-lit cut-outs in façade and interiors as well as perforated jaali elements surrounding the outdoor space.
.
Add caption
Besides, the complete restaurant is designed at an existing restaurant site and mandated retention of 80 percent of the services such as HVAC ducts, bar plumbing and kitchen services etc. Further, a low ceiling height with large structural members constituted a major constraint, which is overcome by "using the meagre available height margin (6 inch only) to create a complex groin vault system that adds visual depth due to the triangulation pattern of the sub divisions," enlightens Sushant.
Add caption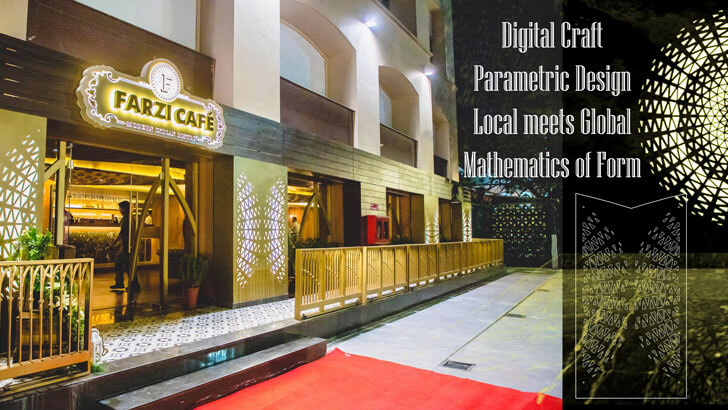 Add caption
Efficient spatial planning results in culling out different zones - bar, lounge and fine dine and al fresco areas, whilst the performance stage is tucked towards the end of the L- shaped restaurant for better acoustics and privacy of the guests seated at the bar. Meticulous attention to detail is evident in the signature style and installation elements seen in the vault systems, tessellated dome, jaali patterns, chandelier elements or the branding artwork.
.
The interiors boast of hanging crystal and bronze-finished parametric drop elements with dimmable LED lights above the bar; Italian marble and wooden flooring that subtly demarcate different areas; plush sofas in the lounge area; fuchsia pink popping through cut-outs in the ceiling; a zesty lemon set of tall chairs; sunflower yellow signature signage and golden railings welcoming customers… aptly reflecting the region's vibrant ethos… allowing a guest a dollop of this veritable potpourri of experiences.
.
Design firm: rat[LAB]INTERIORS
Design Lead: Sushant Verma and Anchal Chaudhary
Project Team: Somya Gupta, Adarsh Desai and Akash Clive
Location: Radisson City Centre, Jaipur