By Rutvi Ashar
Photography: Courtesy studio TAB
Read time: 2 mins
.
Studio TAB's design of the retail flagship, Khazir at the J.W. Marriott, Mumbai envisions the entire floor plate of 3000 sq. ft. as a bespoke display area...
Bringing the princely state of Kashmir to the locals of Mumbai via this high-end luxury showroom, Khazir, studio TAB (TheArchitectureBreak) moulds luxury and opulence in a perfect setting for handcrafted Kashmiri goods viz. intricate carpets, delicate shawls and various precious handicrafts, and perfumes from the Kashmir valley.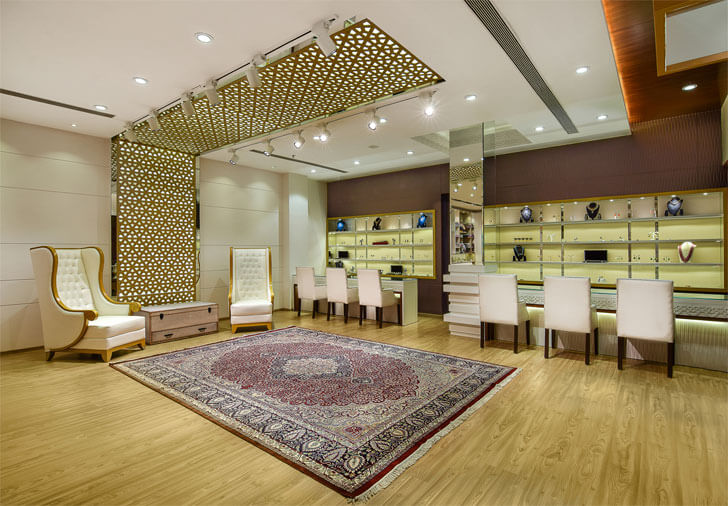 .
Rather than just designing a shop window, the team visualises the entire space as a display. This clever concept fulfills a dual function: it uses much more area than is available to showcase the product range; and falls in perfectly with creating the signature footprint for proposed future expansion.
.
.
So, applying the essence of the product line to the design of the store, the designers create a seamless ethos of all things Kashmir. The showroom is highlighted by a custom-crafted Kashmiri Khatamband (traditional marquetery) jaali pattern that wraps the ceiling and the wall on one side like a flowing ribbon. Flanked on either side by two royal chairs, sourced from a princely mansion, this jaali and the walnut wooden flooring flows along the complete length of the showroom, thus lending the ambience an innate warmth that finds its reflection from the traditional handcrafts.
.
Merchandise displays are partially integrated as décor viz, an embroidered carpet display is designed for better visibility and also to serve as camouflage for a smart storage space for large carpet rolls; and partially as product range on offer: full-length carpets are hung from roller clamps and the collection of carpets can be slid easily to browse through the range. Visual convenience is extended to the display unit for shawls and artefacts that keeps in mind convenient sight angles (at a 300 angle) for better visibility. Further, the lower part of the display is chamfered to aid better accessibility of the artefacts.
.
Keeping the space as uncluttered as possible, its volume is augmented by the subtly opulent colour palette of white with a touch of gold juxtaposed against rich walnut wood flooring. The ambience thus, is not only conducive to the leisurely shopping of luxury items; but also augurs well in recreating the charm of the once-revered Kashmiri flavour - the "paradise on earth"!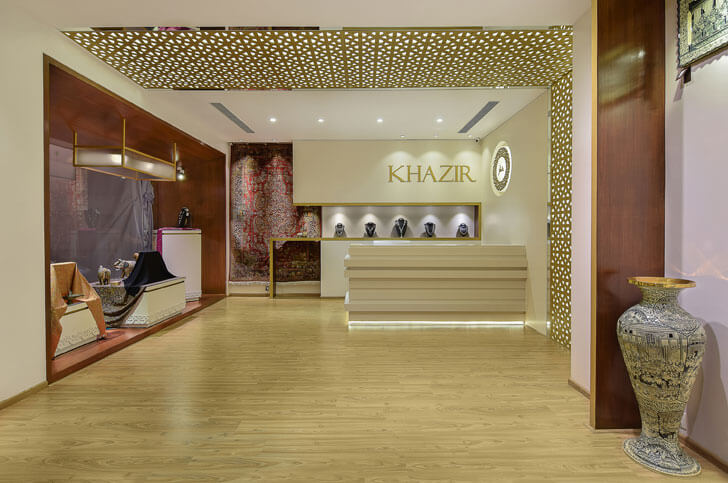 .
As if the uncluttered and elegantly designed space wasn't enough to attract patrons, many rare, collectible artworks from around the world find their home here with the idea to engage the customers with a visual treat.
Principal Designers/Architects: Rahul Menon &
Ojas Chaudhari