IAnD Exclusive
Trends Special 2018
By Beverly Pereira
Photography: Courtesy the brands
Read Time: 2 mins
(l - r) Nupur Agarwal -Partner, Pride Furnishings; Monika Doshi -Creative Director, Anna Simona; Ina Arora -Product Devlpt. Head, D'Decor Exports Pvt. Ltd
The latest trends in fabrics, with a focus on motifs, colours, textures and weaves...
If you're yearning to give your home a new look, but don't have the time for a complete makeover, consider playing around with fabrics and the latest furnishing trends…
Bold colours used wisely can give your home a new look ©Pride Furnishings
A focus on colour blocking and graphic lines in 2018 ©Anna Simona
Ochre yellow is projected to be a trend for 2018 ©Pride Furnishings
Bold colours
Monica Doshi, Creative Director, luxury home furnishing brand Anna Simona, foresees a focus on graphic lines and colour blocking in 2018. Fuschia pinks, ochre yellows, ink blues and burnt reds will also trend big, adds Nupur Agarwal, Partner, Pride Furnishings. Use these bright colours in cushions, piping, accent chairs or sofas to give your home a makeover at a minimal expense, whenever the need arises, she advises.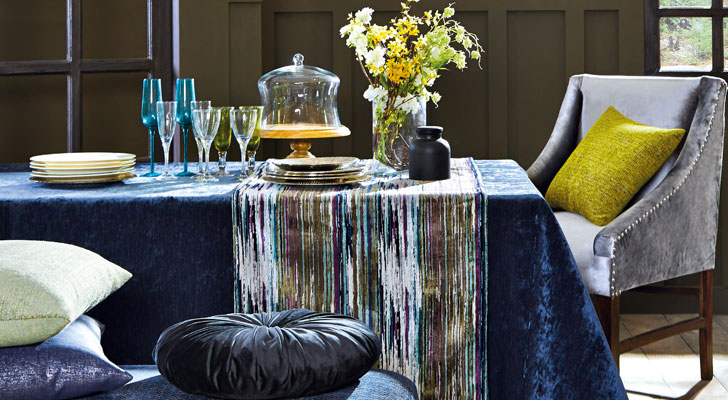 The onus is on craftsmanship ©Pride Furnishings
Focus on techniques like Kalamkari, Ajrakh and Bagh ©FabIndia
Focus on craftsmanship
As the world moves towards a more conscious way of living, furnishings and upholstery brands are also moving with the times. Companies like FabIndia, reputed in India and internationally for fabrics handcrafted from the finest natural fabrics, have paved the way for this trend. There will be a rising demand for Kalamkari, Ajrakh, Bagh and resist dye techniques, says Sandhya Bhandari, Category Head - Home Linen, FabIndia. Craft and technique-based furnishings that are sustainable and bring in an equitable livelihood to the artisanal clusters are stories that will continue to resonate, she adds.
Fabric wall panels & oversized tassel tiebacks for curtains are trending in 2018 ©Pride Furnishings
Minimalism is in ©D'décor
Add-ons vs. Minimalist appeal
Whilst throws on sofas and fabric wall panels continue to add character to a room, trimmings like oversized tassels on curtains and floor rugs will also reign, says Nupur. Parallelly, the trend for minimalist décor also continues its stronghold as people gravitate towards de-cluttered spaces, says Ina Arora, Product Development Head, D'Decor Exports Pvt. Ltd., adding that this look allows plenty of natural light to enter a room. Geometric prints with clean, simple lines reinforce this trend.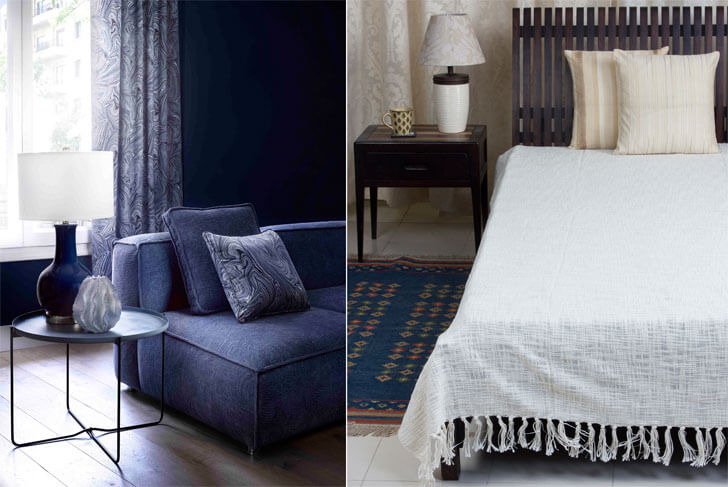 Upholstery fabric inspired by onyx ©Pride Furnishings
Lightweight, breathable fabrics in natural colours are in demand in 2018 ©FabIndia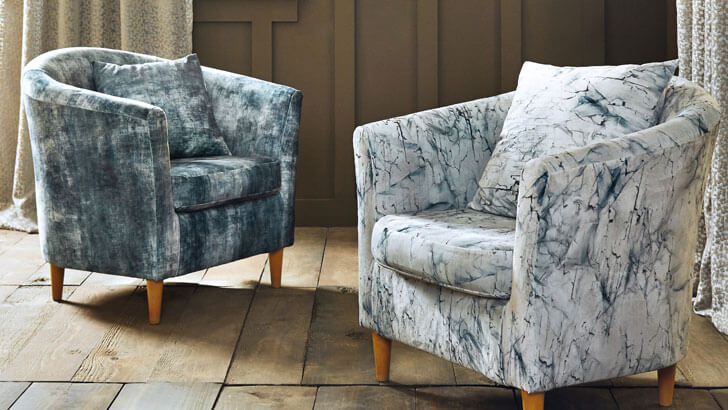 Fabric that mimics the fluidity of marble is among the top upholstery trends for 2018 ©Pride Furnishings
All things earth-friendly
Greys, browns and beiges used on a larger scale, particularly for dining chairs or sofas, will trend big this year, says Nupur. Sandhya confirms that one can expect to see natural colours with limited colour infusion - whites, jute, charcoal black, indigo, madder and an allied palette - at FabIndia this year. Lightweight, breathable fabrics that work beautifully with our climate - cottons, or cottons mixed with wool, linen or silk - are fabrics worth bringing into your home, she says.
For those, who prefer the sleek and rather stay away from the earthy naturals, we see an upcoming boom in fabrics that mimic the stone effects of marble and onyx, amongst other natural elements, informs Nupur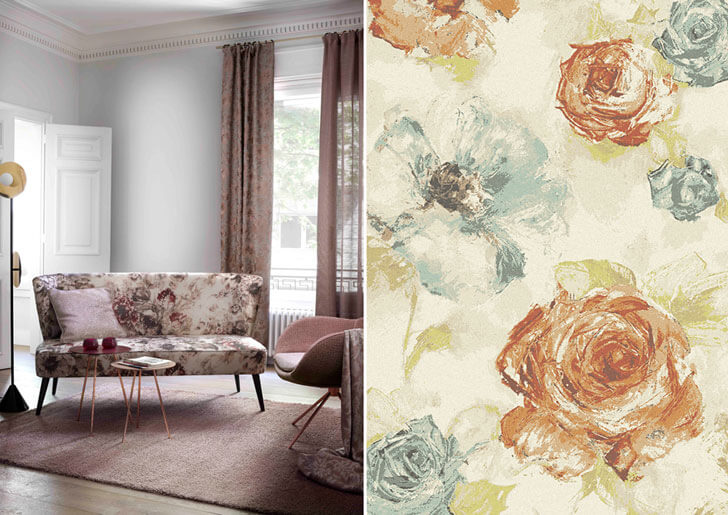 The floral upholstery trend is here to stay in 2018 ©Pride Furnishings

An exaggerated take on the popular vintage floral trend ©D'décor
Indian motifs with a twist &

quilted fabrics are all the rage this year ©Pride Furnishings
Tailored pleats add a sophisticated texture to your bed linen ©Anna Simona
Textures & Motifs
The ever-popular floral upholstery trend will stay put this year. But, says Ina, traditional floral patterns will take on a new look with funky colours and exaggerated proportions. Add to this, quilted fabrics, embroidered sheers, satins and velvets and other plush textures that one can look out for in 2018, say both Monica and Nupur.
So, go ahead and choose from a host of furnishing fabrics to give your personal space an instant makeover. Better yet would be to employ some of the latest upholstery and soft furnishing trends for 2018, so that you can give every room a distinct look that's completely on-trend.