IAnD Exclusive
Trends Special 2018
By Beverly Pereira
Photography: Courtesy the designers
Read Time: 2 mins
(top l-r) n+s architects | interior designers |planners - Neesha Alwani & Shruti Jalan; Design Director, GA Design - Shami Goregaoker.
(bottom l-r)
Founder & CDO, Design Cafe - Gita Ramanan; Co-founders, The Maroon Manor -
Jyoti Roy Chowdhury & Mona Dejgani.
(centre) Navin Kanodia, MD and Interior Stylis
t, SPACIO
Stock up on all the inspiration you need to try out the latest home decorating trends for 2018…
As the colour of the year is big on everybody's agenda, here are some cues to the décor expectations of the year:
An old writing table repurposed as a basin counter ©n+s Studio
Old is still new
Upcycled furniture is cost-efficient, sustainable and makes for a great conversation starter. Rather than creating from scratch, look at salvaging existing pieces and upcyling them to suite your aesthetic, says Ar. Neesha Alwani of n+s architects| interior designers| planners, adding that vintage pieces are in demand because of the high quality of workmanship and materials used.
Create an accent wall for a dramatic effect ©The Maroon Manor
Stand-out walls
An accent wall treated strategically and tastefully can bring warmth into a dull space. Use veneers, fabric, leather panelling or even interesting wallpapers, says Mona Dejgani Mehrally, Co-founder of the Mumbai-based home décor store, Maroon Manor. Even curtains in warm white, taupe or grey, when drawn, can create a beautiful shell for furniture and accessories.
Make this purple velvet sofa a focal piece in your home ©n+s Studio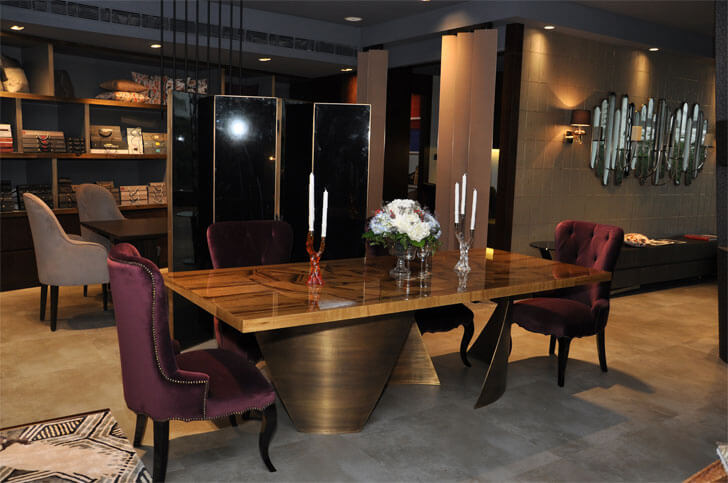 High-gloss and matte finishes come together in furniture this year ©The Maroon Manor
Go over-the-top with statement pieces and quirky lighting ©GA Architects
Focal pieces
Statement pieces - furniture, light fittings, art or collections of objects – continue to dramatically lift the look of any space, set the tone, never failing to elicit a response from visitors, says Neesha. In particular, adds Mona, we are seeing high-gloss finished furniture used alongside pieces with a dead-matte finish. Gold and copper tray-tables, purple sofas, textured rugs and velvet drapes - all things over-the-top - add to this look, confirms Shami Goregaoker, Design Director, GA Design, a multidisciplinary architecture and design practice.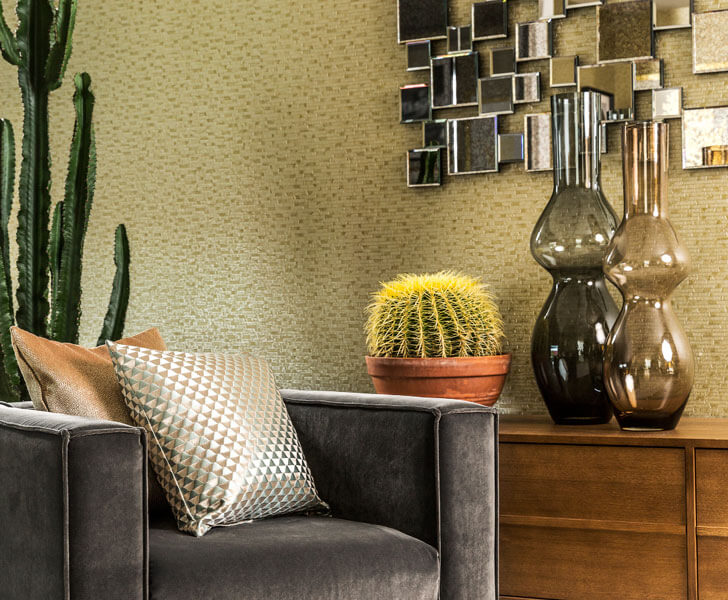 Mixed metals with muted colours and indoor plants are big this year ©SPACIO
Materials matter
Rose gold is phasing out, while mixed metals with muted colours will trend in 2018, says Navin Kanodia, MD and Interior Stylist, SPACIO. As for colours, besides ultra-violet, shades of lavender and pink will be used a lot more. Shami suggests pairing purple with dark neutrals like black, grey or walnut brown for a grounded appeal.
Create a 'go to' space at home with indoor plants ©n+s Studio
Verdant nooks
The trend of bringing the outdoors inside is backed by the desire to reconnect with nature. Create a 'go to' area with indoor plants to create a sense of being one with nature within the built environment, recommends Neesha. Team this trend with bountiful nature-inspired prints. While the in-your-face tropical print trend is still popular, says Gita Ramanan, Founder, Architect and Interior Designer at online interior platform Design Café, opt for subdued botanical prints on upholstery, cushions or curtains for a more sophisticated take.
Quirky Lighting ©Design Cafe
Light it up
Navin explains that exposed lighting is fast fading out even as decorative lighting is here to stay. Gita seconds the trend of quirky pendant, floor and table lamps being favoured, as they add an element of unexpected intrigue.
So, it's time to say cheers to making your home both, stylish and functional!