Photography: Photgraphix| Ira Gosalia; courtesy EL+D Architecture and Interior Design
In a time, where space is expensive, Ar. Kanan Modi designs a showroom space for

HNI BP Ergo in Hyderabad that redefines the concepts of sales architecture.
Imagine saving money, space and most importantly resources by simply clubbing functions together! EL+D Architecture and Interior Design have created a versatile space for their client,

HNI BP Ergo, wherein their 2000 sq. ft. corporate office acts as a showroom-cum-office space comprising an experience area, work area and utility zones.
.
Greeted by the HNI brand panel that is clearly visible from the entrance; the client walks past a 3d abstract composition with the company logo that is hued in bright branding colours commanding considerable attention and creating a lasting impression.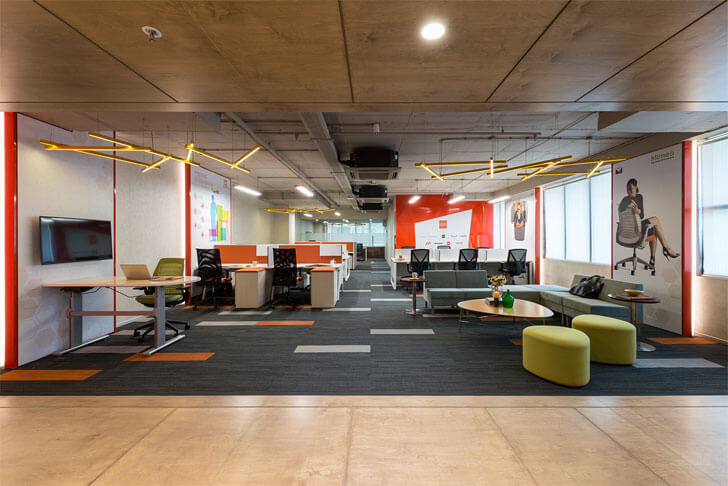 .
Neutral shades on the floor, wall and exposed ceiling create a raw envelope allowing for bursts of colour through furniture pieces and display boards that are placed intermittently throughout the length of this area with pertinent information for the diverse range of furniture products. The entire volume is visible right from the entrance thus echoing the beliefs of the company that is united by a dedication to integrity, quality, innovation, service, continuous improvement and value creation for their customers.
.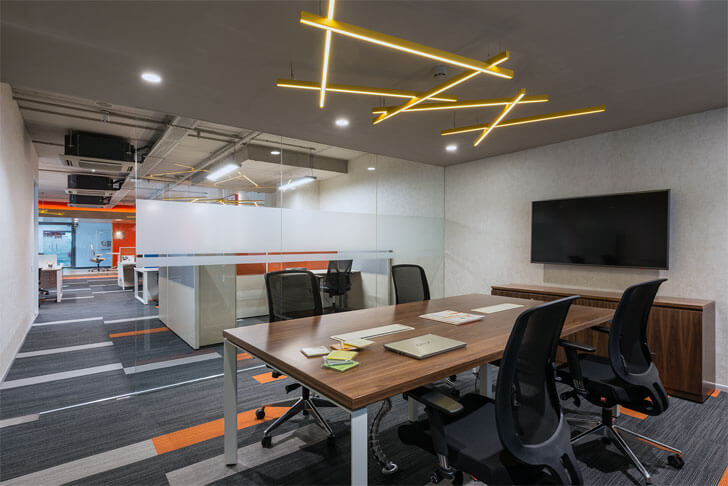 .
Bespoke lighting fixtures, suspended from the ceiling flow throughout the space enabling it to appear more dynamic and fluid than it really is. Such lighting gently guides the user and visitor to experience different visuals permitting a wide range of emotions and interpretations.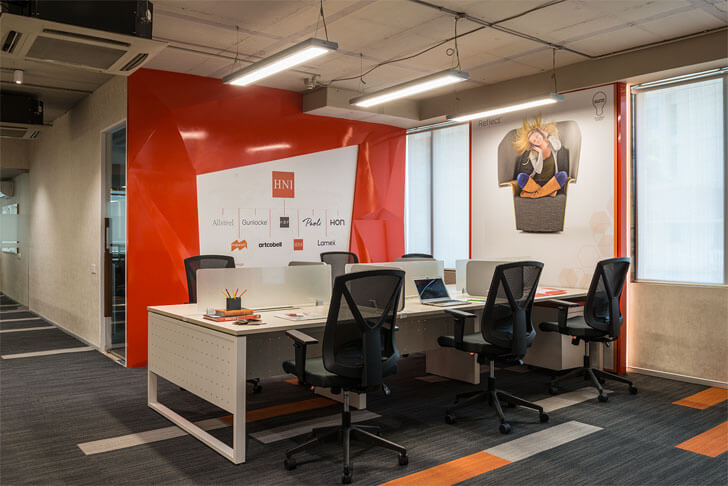 .
As typical layouts, the most private space i.e. the meeting area is pushed towards the back of the store, physically isolating it. However visually,
the meeting room is separated only by a glass partition that serves as a soft barrier for this zone.
.
.
To match the monochromatic, simplistic furniture in this space, the overall look is aimed to be a formal one, which could have turned either way with additions of more finesse and sophistication.
Design firm:
EL+D Architecture and Interior Design
Principal Architect: Ar. Kanan Modi