By Annie Aggarwal
Photography: Courtesy the architects
Square Consultancy Services designs two sales pavilions for potential homeowners,
creating an oasis of nature in the concrete jungle that the city of Kolkata is...
Developers have been continually outdoing their mojo in the attempt to allure potential clientele to their real-estate projects. Sales pavilions offer visitors an experience that sets the benchmark for both - purchase and expectations from the new locale; the show flat completes the picture.
.
In their designs for the sales-offices-cum-show-flats for Ecos New Town and Sugam Habitat, both based in Kolkata, the architects play on the predominant selling point - nature - as the hero.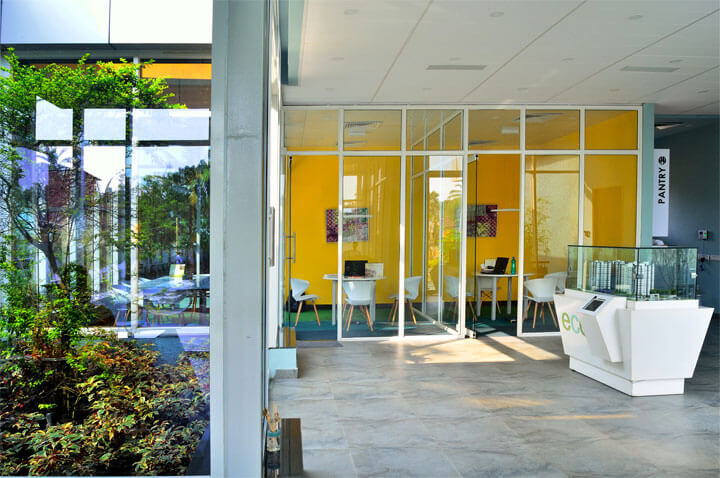 .
Ecos Sales Gallery is a low-key structure located in New Town, and overlooks the 500-acre urban Eco Park. Keeping with the surroundings, the space, raised on green mounds instead of the usual exposed plinth, is a composition of courtyards, effectively blurring lines between the built and unbuilt. Its show flat, in contrast to the minimal expression of the sales pavilion, uses an intimately chic interior style.
.
Habitat, part of Sugam Habitat, lies beyond a dense low-rise residential development. It offers visitors a relief and surprise, set amidst greenery. A scooped out quadrangular box, split in two levels, features a 300 sq. ft. interior green wall and custom-designed furniture made out of reclaimed wood; both flat and sales pavilion create a constant dialogue with nature.
.
Both the pavilions establish a strong connect, physical and visual, with the environment. Following an ecological theme, which proposes to be reflected in the residences as well, the design offers a glimpse of the expected harmony with nature. Water bodies surround an edifice, lush landscapes, abundant natural light filters in through the low-e glass transparent shells, whilst greenery offers a textural vocabulary to both spaces.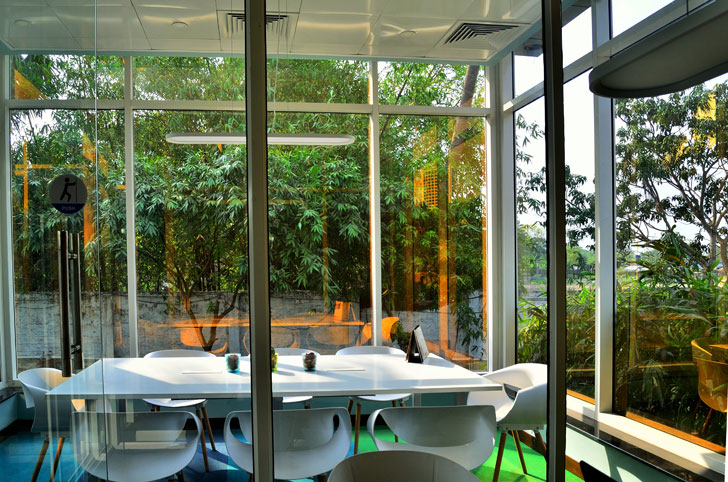 .
Built predominantly in steel and glass, the structures provide a seamless connection between the outside and inside. Functional and in keeping with their temporary nature, the shells can be dismantled and re-used.
.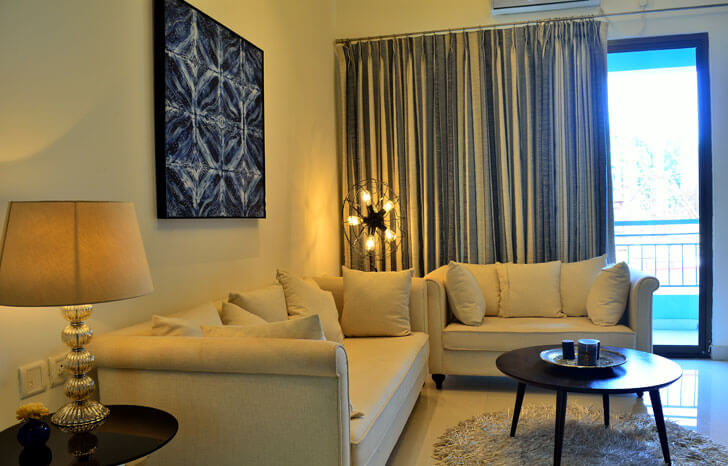 .
Going beyond a mere look-see of the project, and as the first point of contact between customer and project, both edifices curate a journey for their visitors: greeted by a physical model of the project, exchange of information and interaction with sales executives at one of the meeting rooms, presentations in the AV room, a feel of the project as customers view the construction site from terraces and finally, the experience of their potential home at a show flat.
We look forward to seeing how the residences meet the high expectations set by the sales pavilions.