By Annie Aggarwal
Photography: Phxindia - Sebastian Zachariah + Ira Gosalia; courtesy the designer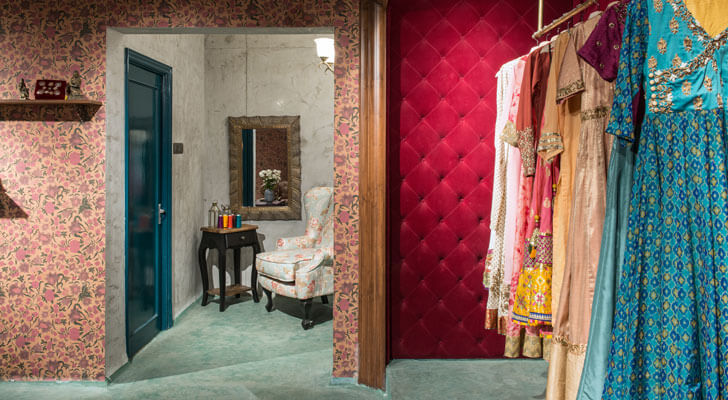 .
Style Satva, a recently completed fashion studio by young design firm, Kyrra Studio in Vadodara is as fashionable as it is practical.
Designed in the basement of the client's residence, Style Satva meets specific client needs in a comprehensive and stylish milieu of colours and materials. The design effectively tackles challenges of tight space, dampness and lack of natural light.
Beginning from the exterior, visitors climb down a marble-tiled metal staircase lined with planters into the studio that emanates comfort and calm amid the harmony of materials composed with utmost attention to detail.
An open-to-sky space, reminiscent of a French café, surrounded by yellow walls with turquoise wooden frames provides an apt informal setting for client discussions. The artificial lawn and marble tiles set in pebbles underfoot constitute the perfect solution against water logging.
Once inside, a sense of luxury amid plush surroundings takes over. A precise balance is struck between contemporary and ethnic with the use of dual tone IPS flooring in green, floral patterned wallpaper in the showroom and textured gray walls offering contrast in the changing room and workspace.
A continuous language of intricate brass detailing throughout in the form of flooring inlays, rods for display, lamps, mirror frames, consoles and knick-knacks that adorn the entire studio, adds elegance. Gray ceiling with wooden paneling completes the space and incorporates focus lighting.
The studio highlights the designer's collection against a rich red velvet backdrop, adding a sophisticated touch. Addressing the importance of interaction, while shopping, the design incorporates deep-seated leather couches by the changing room.
As a workspace for a young mother, Style Satva is directly accessible from both, the house above as well as the outdoor space. It is practical yet engaging; and radiates comfort and luxury. The space exudes a beautiful balance of traditional ideas adapted to contemporary style.
Design Firm: Kyrra Studio
Principal Architect: Mrs. Shivani Sanghani