IAnD Exclusive
By Annie Aggarwal
Photography: Courtesy Ar. Sanjay Puri
Designers/Architects at the Rambagh Palace, Jaipur for Dialogues 2017
Curated by Ar. Sanjay Puri, Dialogues is an annual event that brings together the design fraternity from all over the country, on a common mission – progress!
The third edition of Dialogues was held last month, in March at the royal Rambagh palace in Jaipur in a customary celebration of different ideologies in the form of signature products, specifically chairs; the venture aptly named SPADE (Signature Product Design at Dialogues Events).
To better understand the conception and intent of the event curated by a designer for designers, IAnD talked to Ar. Sanjay Puri. Excerpts from the conversation:
IAnD: What inspired the idea behind Dialogues?
SP: There is a large untapped pool of talent amongst Indian designers. There is also a disconnect in knowledge about the products and technologies available to designers across India. Dialogues is a platform to create synergies across these needs. To allow interaction and create awareness of different aspects of design, the profession and product knowledge.
IAnD: How does the event accomplish this synergy?
SP: Pan India 40 designers are invited to participate. 20 give brief presentations of their work, while other 20 design a product, which is manufactured before the event and unveiled at the opening.
Product companies participate from different verticals viz., flooring, sanitary ware, furniture, lighting, art installations, steel products and more.
Dialogues facilitates talks on social issues facing the design industry as well as one-to-one meetings between designers and product companies. Fields of architecture, art, social issues, jewelry design and product design get platforms to initiate and engage.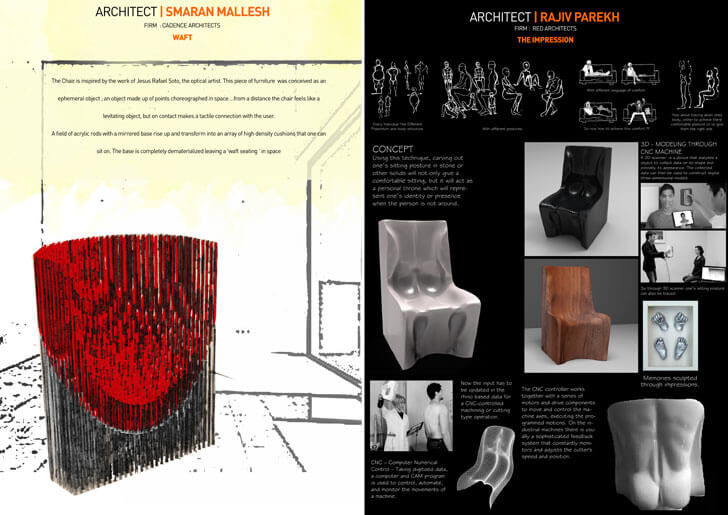 .
Signature Chairs
IAnD: What is the importance of signature products? What led to this event being centered on chairs?
SP: Each event will focus on a different product. Future events will have signature lights, tiles, floor finishes and more. These products will be available for purchase.
The events will create a range of Indian designer products increasing options for discerning customers and companies, providing an alternative to products being currently sourced from various parts of the world.
The chair was chosen as it is one of the most used elements in all projects and common among commercial, residential, hospitality and institutional projects.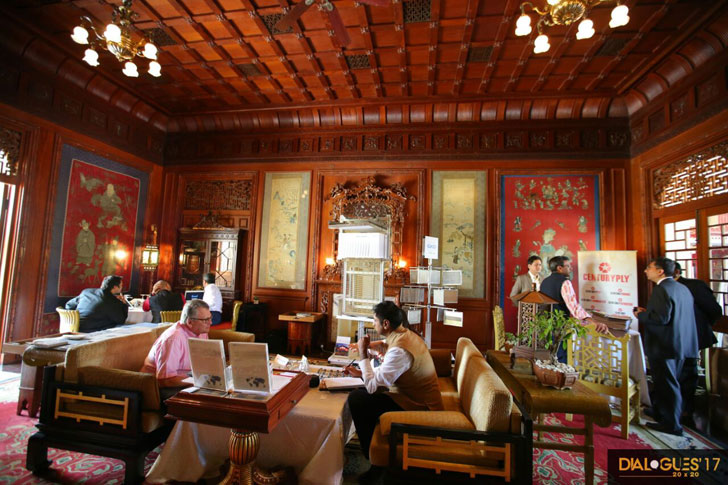 One-to-one meetings between designers and product companies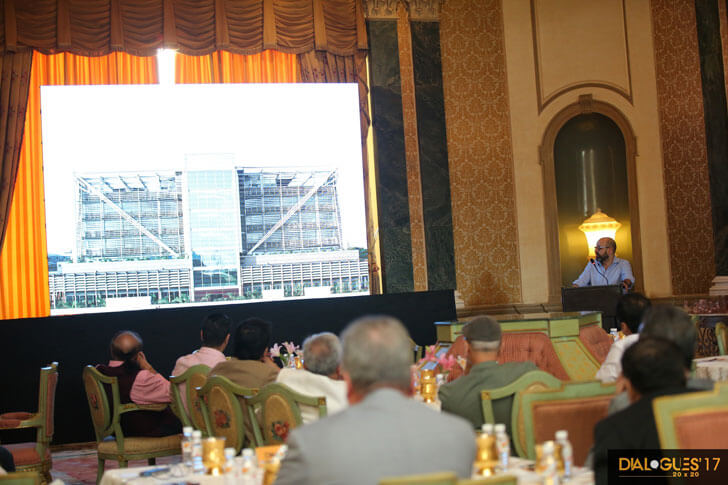 An architect making his presentation
IAnD: How does an event like Dialogues benefit the design industry?
SP: The initiative (SPADE) makes a designer focus on a product and the smaller details. The exposure to other signature pieces too increases this awareness.
Each event has a different mix of designers, making it varied and interesting. Limiting the number of participants gives scope to focus on all aspects of design.
After Party!
Does an event of this ilk, then envisage a sea-change in expected attitudes to designer products in the building industry? Whilst fashion design has found its place amongst the Indian diaspora eons ago, the building industry is yet to achieve its due. So, an event to create design awareness at various levels sure holds a promise. With Ar. Sanjay Puri saying that there is plenty in the offing, do we await some serious design transitions?