Photography: Courtesy IAnD Archives & World Wide Web
.
Your entrance mirrors your lifestyle. Here's how you can project the best…
First impressions always count! As you welcome guests into your home, it is the flavour of the entrance that first hits them. No matter how well designed or well kept your home maybe, the foyer, corridor or even a small passage at the entrance makes a world of difference.
In old constructions, elaborate entrance halls with old-fashioned stairwells would generally be designed and decorated to mirror the family's lifestyle and status. Even though, in the present day, we find lesser of these features, eclectic preferences dictate that the entrance corridor or foyer is designed to reflect the occupants' penchant for inherent beauty.
A warm and inviting entrance is the ultimate aim. In fact, it is very easy to achieve this, as the entrances are areas that are generally small. Even the passages are generally narrow and after ensuring that there is enough space to pass along, it is perhaps mostly the walls that demand a design element. Here are some spot pointers and practical décor ideas to guide you through:
Start by generating a statement of awe! A stunning main door; treatment around the main door; a feature wall; some artefacts….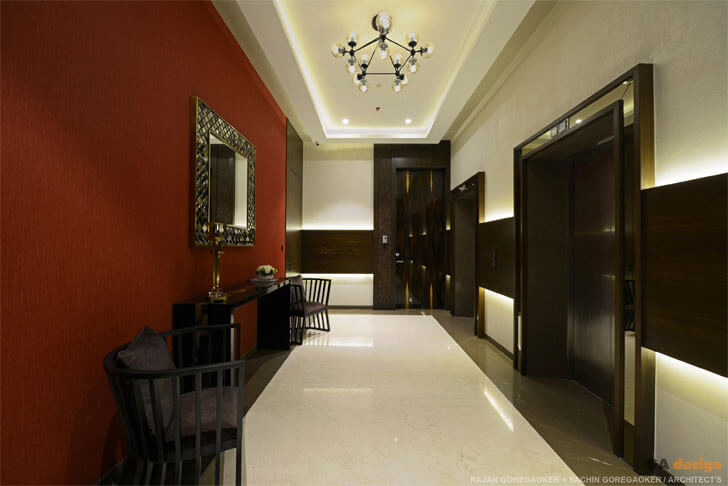 .
.
A single dominant feature like a stained-glass window or a large indoor palm or an old-fashioned console with a large mirror above it commands immediate attention.

Build a narrative that allows the onlooker's eyes to wander around the walls and ceiling, building anticipation… accentuating intrigue.
.
.
Entranceways are not always about conveniences – forget the key holders, shoe-rack and perfunctory seat to tie one's shoelaces. Think big! Go for clear expanses – uncluttered, eclectically anointed - that augment the interiors.

An old collection that can be hung could provide a brilliant and interesting idea of décor - for example a collection of old bells or brass diyas hung from chains; or the miniature variety of potted plants that can be suspended from rope hangers at varying heights. Even a wind chime could work well here.
.
If you are a collector of art, you could showcase a part of your collection in the entryway. But make sure you control the display. It is very easy to go overboard with enthusiasm and make an unsightly mess.
.
If a passage is too narrow, using a mirror on one wall is an old and accepted enhancer.

Ambient lighting can weave its distinct magic here – by day and by night.
The idea is to use the entrance to mirror the mood of your home.