By FinchD
Photography: Courtesy Rooshad Shroff
.
Rooshad Shroff explores a design vocabulary that pushes the boundaries of materials with an attempt to create an end product that is not only functional but also visually appealing; with an aim to achieve nuanced and distinctive solutions.
The multi-disciplinary design and research studio has a holistic approach to design, and is devoted to investigating its various facets, not restricted to interiors and architecture, but also delving into the affiliated fields of product, fashion and furniture design. With an education and preliminary work experience in the USA and UK, Rooshad Shroff returned to India to start the practice in 2011 and found inspiration in the crafts that are uniquely endemic to his home country.
The C-Series, designed completely from salvaged Burma teak wood, probes the physical limitations of the material, resulting in a cantilevered structural system. The series of handcrafted furniture is an expression of traditional longevity,
and uses traditional joinery sans any mechanical fasteners.
.
.
.
A profound investment towards the Research & Development of techniques and materials has culminated in pioneering systems of design, like embroidery on wood. Recognising upholstery as an integral part of furniture design, the method diminishes the boundaries between wood, which forms the skeleton, and the skin, which is directly woven on the timber. The globally patented process involves hand sewing Zardosi on the wood through minutely spaced holes drilled across its surface. Another process vastly experimented with is colour contouring, resulting in a range of furniture items embellished with layers of paint.
"Marble bulbs", on the other hand, is an investigation on the qualities of marble. Carved out of a single piece of the stone, the product exploits characteristics of the material that are not intrinsic to its physical attribute of solidity, and uses the thinly carved surfaces to emanate diffused light.
.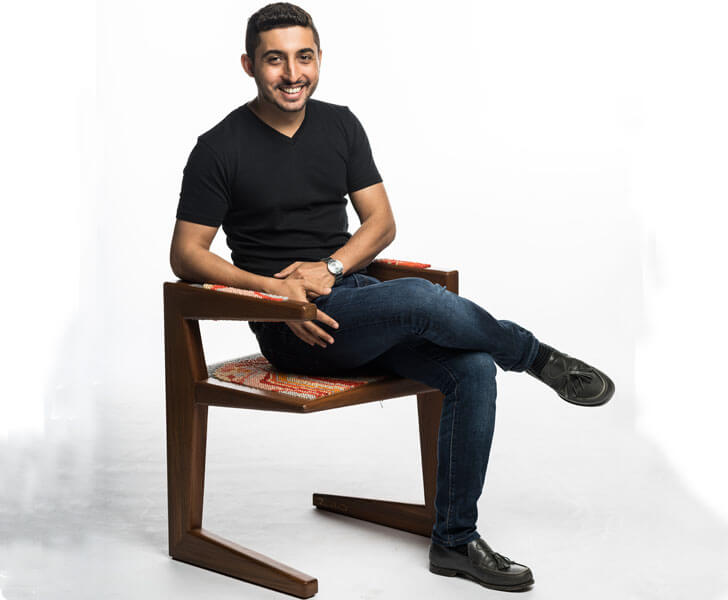 Rooshad Shroff
This penchant for handicrafts and traditional methods of designing is implicitly responsible for not just a revival of the craft and tacitly sustainable products, but a categorical attempt to push the craft to do more – in terms of techniques - where a contemporaneous manifestation results in elevating the art.