By Annie Aggarwal
Photography: Courtesy Interface Architects
Read Time: 2 mins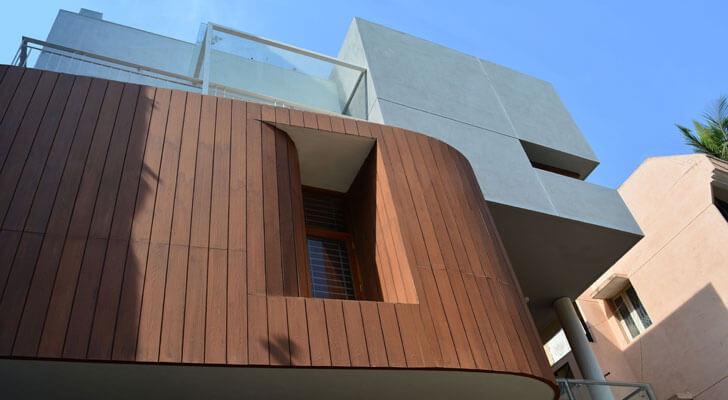 .
The recently completed 5800 sq. ft. residential project by Interface Architects is a harmonious composition in concrete, wood, brick and more.
Contrasting geometries of rectilinear forms and a curvilinear surface resolve into a balanced configuration defining a striking façade that is aimed at catching the passersby's attention in this dense urban neighbourhood in Bangalore.
This doctor couple's home is as warm inside as it is dynamic outside. One's vision is directed from the sharp edges and lines of the upper floor (housing space for rent) and terrace to the ever-flowing curvilinear surface, giving way to a balcony looking out towards the only open side of the plot.The curved form is then supported over the rigid lines of functional spaces including the parking and entrance porch at the ground level.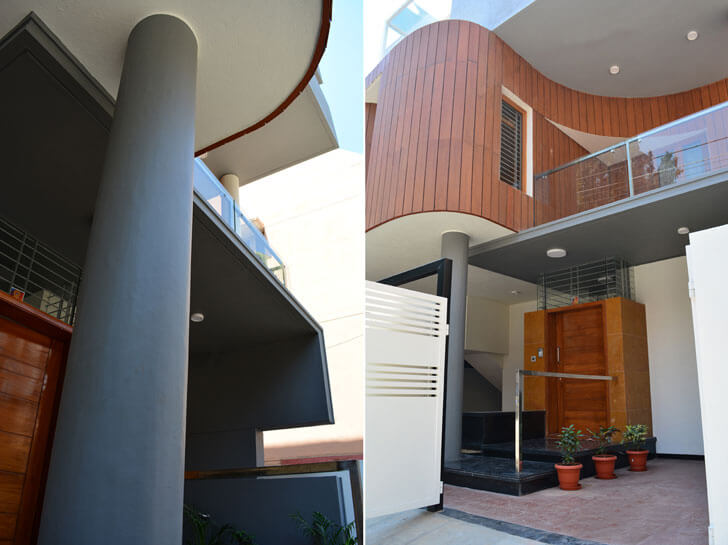 .
Clad with flexible, wood-finished Shera board, the curved facade serves as a rustic counterpart to the rugged and modern concrete panels used for the upper and lower floors, while the imposing sharp edges protruding into the sky delineate the loftiness of the interior spaces.
As one enters the vastu compliant home, a sense of homely comfort takes over. A sky-lit courtyard, its size doubled by the use of a full-length mirror, provides ample natural light and a refuge to the residents from the urban sprawl outdoors. The natural feel of the space is enhanced by the use of exposed brickwork and veneer wall paneling.
The more public areas of a house, the living and dining face the courtyard, and in turn give way to the private rooms, including a library. A multi-purpose hall on the third floor employs a filler slab as its cover, whilst patterns of terracotta tiles provide insulation and reduce the structural weight.
The hall leads to a partially covered space, ever-changing with the play of light and shadow, through a ceiling of hollow blocks. An open terrace forms the rest of this floor, surrounded by palms, where the residents can enjoy the evening Bangalore cool.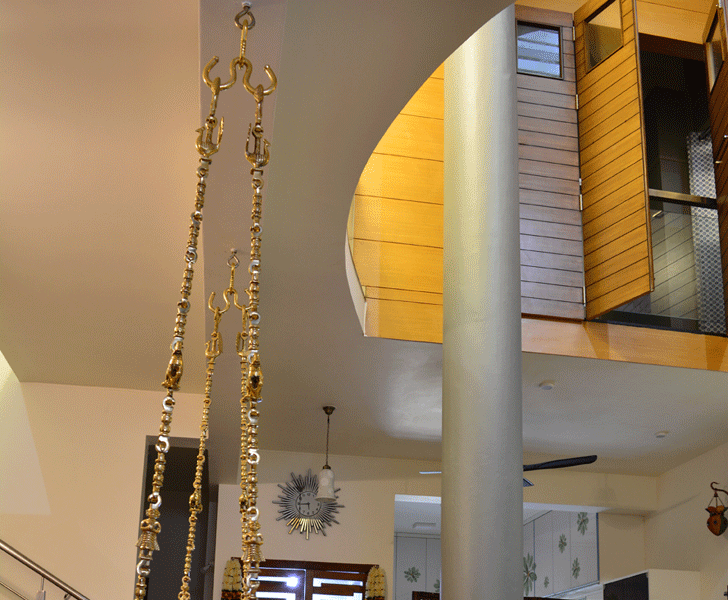 .
An oasis amidst a burgeoning city, the home harmonizes interesting geometries with natural textures and play of light.
Name of client: Dr. K.N.Prasad & Dr.Padmini Prasad
Design Lead: Ar.Ghanasham
Design Team: Ar.Ghanasham, Vijay V.Raikar, Krithika