By Rutvi Ashar
Photography: Courtesy Ar. Jayneel Trivedi
Ar. Jayneel Trivedi with
Mr. Sonam Wangchuk at the Maker's Mela 2017 in Mumbai
Ar. Jayneel Trivedi adds to the uses of tender coconut by applying it as an essential cladding material to augment the concept of low cost housing at a mere Rs. 15000/-
Displaying his prototype of a coconut house made out of empty tender coconut shells, metal and wood scrap, Pune-based Ar. Jayneel Trivedi proposes a sustainable intelligent design for rural housing and low-cost slum dwellings, improving quality of life for these folks to some extent.
.
Conceptualising a flexi-space, typically envisioned at 8 ft x 8 ft, the build format opens up endless possibilities for customisation. For example an 8' x 8' space can accommodate a single bed, stove and a small cupboard. Flexibility of sizes, materials and type of foundation is possible based on the budget. The cost for a typical house of 8' x 8' would be Rs. 15000/-.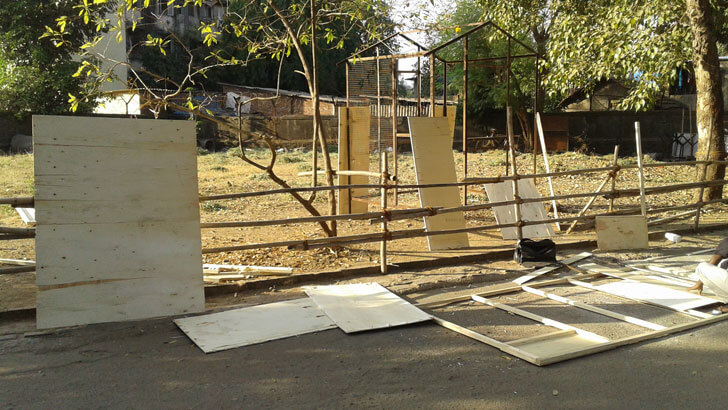 .
Designed using metal framework, the 4 walls of this structure are made of sun-dried PU coated coconut shells. Making the best from waste here, other materials like scrap wood and metal coil help complete this experimental structure.
.
Reinstating the natural properties of the material, Jayneel advocates air cavities in coconut shells to enable them to be good insulators, naturally cooling the interiors; other applications include using them as mulch or even for recharging ground water reserves. Aesthetically appealing and pragmatically speaking, he also advocates the shells as a vertical garden and indoor partition. Design applications include mud plastered partition walls or even exposed shells that contribute to an interesting light/shadow effect.
.
Permutations and combinations are plenty and design ideas infinite! However, one cannot but contemplate on the poor aesthetics and the loss of square footage, especially in the already-cramped slums that such housing will generate. Moreover, a much finer aesthetically resplendent, eco-friendly solution exists in coconut husk boards.
.
.
With appreciation from
Greater Mumbai Municipal Corporation and HUDCO; and w
ith ongoing research yet to establish the use of rice husk, banana leaf sheath, and bagasse as commercially viable building materials; also, with a largely positively inclined proto, can one, at this stage, safely assume that this research will perhaps, open up newer explorations on treating coconut waste to provide a respectably-viable, sustainable solution to housing for all?!