Photography: Courtesy Nature Morte
Aakash Pataal Dharti 2016 (Aluminium, steel, fabric, resin)
IAnD catches up with internationally acclaimed artist Subodh Gupta, who continues his quest for the 'elusive within' in utensils and other everyday found objects…
An artist generally works with a muse. In Subodh's case, his dramatic, larger-than-life works made of accumulated everyday objects have for over a decade explored public myths and rituals and the relationship between urban and rural, not to forget, a soul-searching connecting man to the cosmos!
Family Portrait 2013 (Stainless steel rack, stainless steel, enamel and brass utensils) Black skin white mask 2011(Mixed medium)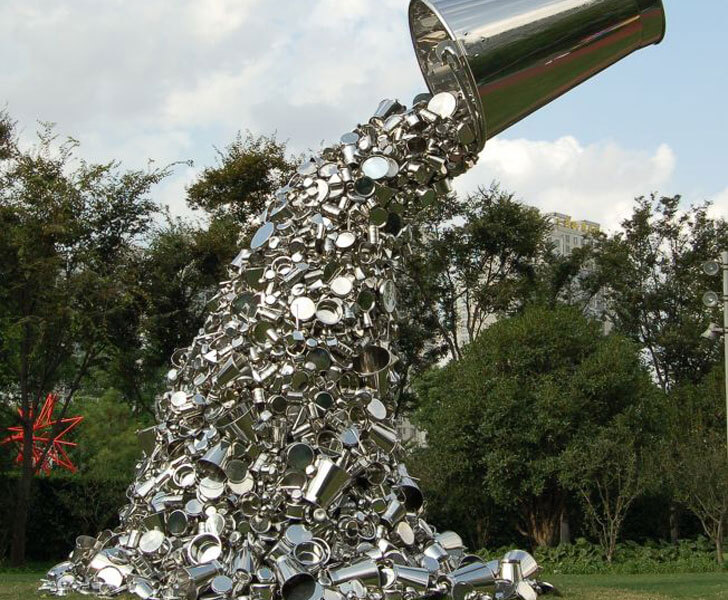 Ray 2012 (Stainless steel and stainless steel utensils)
He has carved a niche for himself by creating, what are popularly known as utensil installations that are constantly configured into tableaus that address rapidly changing societal norms. Expressing a deep interest in the growing dichotomy and paradoxes that Indian society represents, Subodh's explorations have over recent years also shifted to 'outer space'.
Currently exhibiting in Mumbai after a gap of ten years, the artist brings his unique metal palette alive playing with sound and light, highlighting the universal in the banal.
Everything is inside 2014 (Taxi, bronze)
©NGMA,Delhi
In his Mumbai exhibition - Anhad/Unstruck, the artist describes the sound of the universe as one within man and weaves in his thoughts about the relevance of man in the vast cosmos. He also draws parallels between outer space and cosmos within one's self. A work on these lines was last seen in his mid-career retrospective Everything is Inside, 2014, at the National Gallery of Modern Art, Delhi.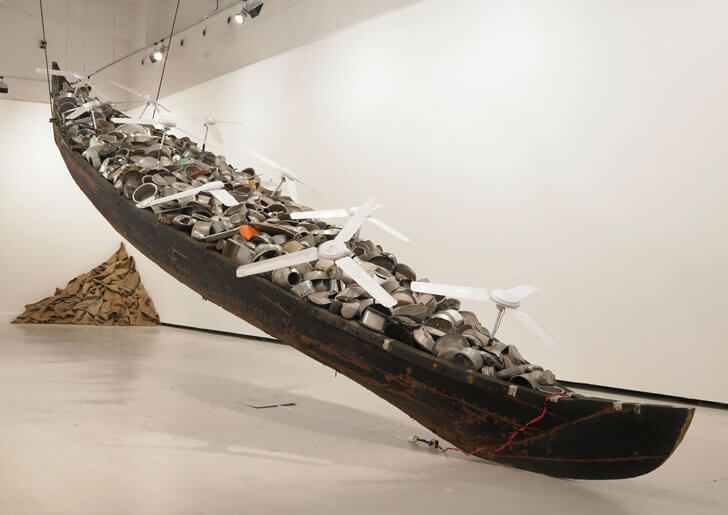 All in the same boat 2012-2013 (Mixed medium)
Back in 2012-2013, another installation also referred to the tussle within. Titled All in the Same Boat, it was crammed with utensils, furniture and other living essentials, suspended at a 45-degree angle, ready to take off with 11 ceiling fans, turned upside down to look like propellers.
In this vessel lay the seven seas, in it, too, the nine hundred thousand stars I 2016 (Oil paint and digital print on aluminium, LED lights)
In this vessel lay the seven seas, in it, too, the nine hundred thousand stars IV 2016 (Oil paint and digital print on aluminium, LED lights)
"We human beings live within our own utility in the universe, which we still haven't been able to fathom," says Gupta. "What is then our relationship with the vast universe? We, as tiny things; what are we here for? What is our aim here?"
School 2008 (45 brass casted stools, stainless steel utensils)
Subodh elaborates on this topic with his Mumbai exhibition work Aakash, Patal, Dharti/ Space, Depth, Surface - a 132-inch box, made of compressed utensils and cloth-shreds collected from tailors' shops. From within the gaps, 25 performers stare at viewers, questioning concepts of internal and external space.
Geheri Neend (deep slumber)2014 (stainless steel utensils, synthetic cotton)
Introspection at various levels; the shift in Subodh's artistic approach is evident; though the material remains the same – metal sheets and utensils.