Photography: Vibhor Yadav; courtesy the architects
Renesa Architecture Design Interiors Studio's uber luxurious 12,000 sq.ft. penthouse in Gurgaon abounds with an eclectic palette of colour, materials, installations and artifacts…
Glass walls, cubes and panels foster visual transparency opening up areas and enhancing spaciousness. A play of solid volumes along with eloquent double-height spaces accentuates the volumetric dimensions right from the entrance foyer, as one is seeped into the plush interiors of this home.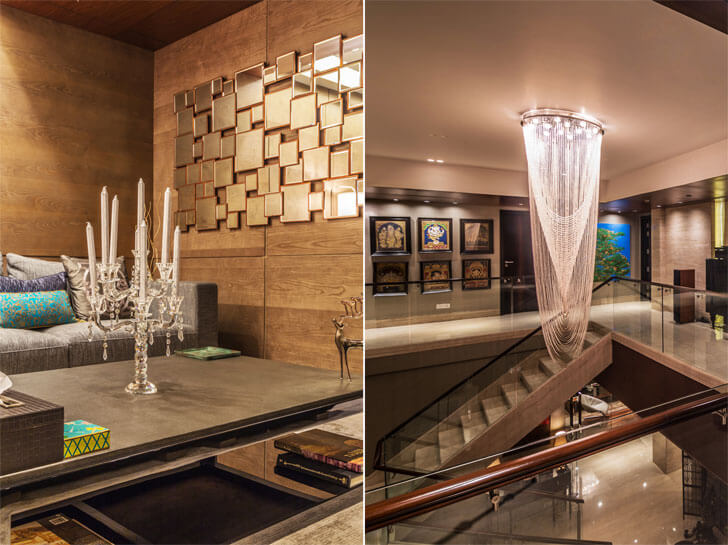 .
.
Heightening this feel is a glitzy chandelier dramatically vying for attention, just like every other accent -- be it a painting, artifact, designer chair, trellis etc. – inferring a unique touch to every space.
With the layout divided on the basis of public-private functions, the dining area, living space, guest bedroom, family lounge and kitchen are housed on the lower level ; whilst the private upper level is bridged via a staircase with a glass balustrade (again maintaining a strong visual connect) leading to the master suite, children's bedrooms, puja, office and balconies.


A complementary client-designer relationship comes forth with the client's choice of soft furnishings, furniture, artifacts and artworks intuitively blending in with the firm's design philosophy - a pastiche of contemporary, avant-garde and classical elements.
Partly wooden ceilings exude warmth whilst the cool opulence of Italian marble flooring becomes a unifying thread across different areas and levels. Pops of colour are evoked through various paintings and artifacts, whilst sharp contrasting colours impart depth and dimension, further enhancing the overall ambience.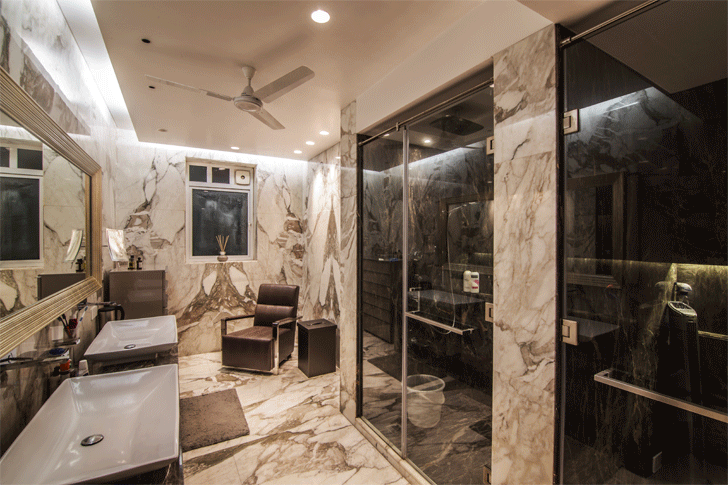 .
Special emphasis is laid on lavishly crafting the bathrooms - with different varieties of Italian marbles from Travertine to Botticino and the like. A chest of drawers, plush seating, twin washbasins, state-of-the art fittings etc. cull out indulgent and enviable bath areas.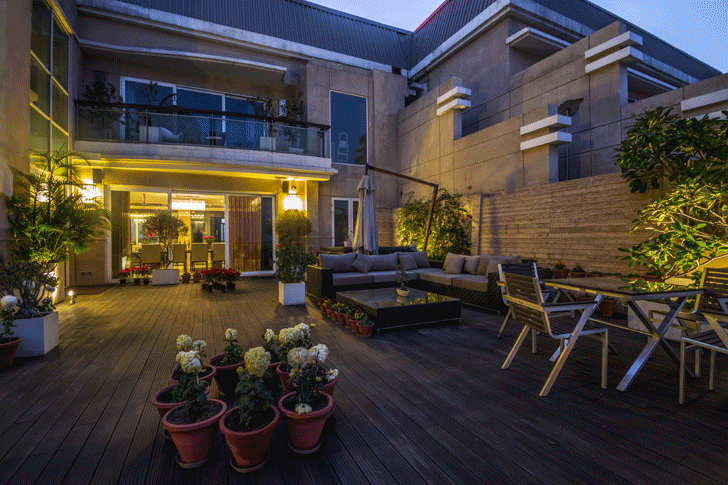 .
Planters and the see-through backdrop of the penthouse makes for a captivating deck area, where the family can relax and entertain friends in the sumptuous outdoorsy space annexed to their well-appointed home-in-the-sky.