Photography:
Anshuman Sen; courtesy the architect
Read Time: 2 Mins
.
Nestled in the posh and green locality of Jor Bagh is a young couple's apartment that distances itself from prevailing trends and fads; yet leaves a distinct mark of living amid nature…
Spread across a built-up area of 4100 sq ft, Panchsheel residence has been recently renovated by New Delhi-based Rajeev Agarwal Architects.
.
.
Taking advantage of the lush green surroundings, the second floor apartment is designed with floor-to-ceiling windows and glass doors, where wood picturesquely frames the trees outside; and openness ensures fresh air and natural light during the day.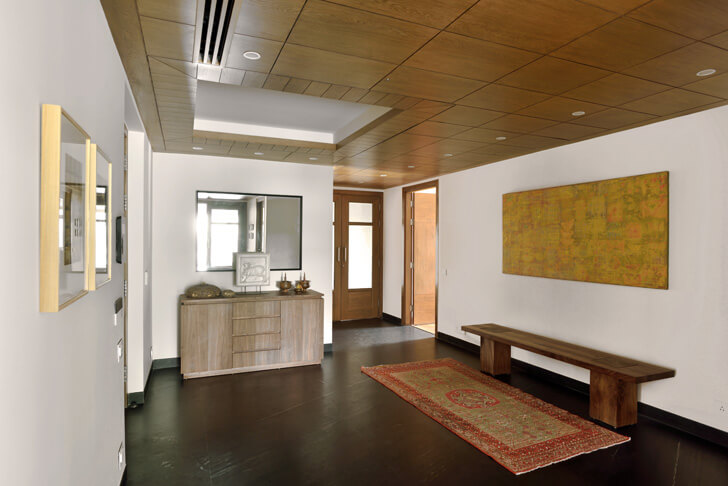 .
The apartment is distinctly divided into two zones — the public and private — which can be accessed from the foyer, that is opened up by combining two rooms.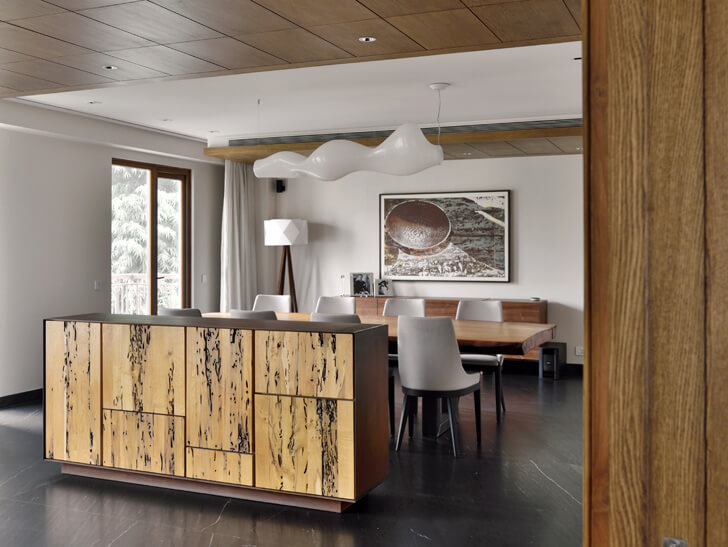 .
Almost like nature, complementing the green outside is the wood inside the house, with raw timber used extensively for flooring, ceiling and furniture. Indentations of ageing preserved with the natural polish of timber add classic charm as varying textures ensure that too much wood does not create monotony in the apartment; while mirror-polished phyllite stone offsets it in graceful juxtaposition.
.
.
A monochrome palette provides a perfect adjunct to the timber, black stone and corton steel; even limestone in the washrooms. Muted shades add colour to the space in the form of soft furnishings (in white, off white, grey and dull yellow) and framed works of art add the final touch of refined chic, carefully showcased under ambient lights and large pendant lights, alike.
.
Almost spartan, the apartment reflects a strong character with emphasis on just the touch of accessories; minimalistic and wholesome; oozing timeless appeal.