By Rutvi Ashar
Photography: Courtesy Humayun Khan
Read Time: 2 mins
Architectural practise Archohm's rustic themed design school in Noida is set to change the routine learning process of a student; packed with interaction zones and metaphoric bursts of colour...
Drawing inspiration from the irregular shape of the site and maximising the ground coverage, The Design Village is conceived to promote 'Life through Design'. Woven around the simple concept of interactive learning, its unique approach to teaching encourages personal development, while creating an impact on the individual, the society and the environment at large – a fact quite evident in the design of their structure.
.
.
Archohm has designed an economical R.C.C. and brick structure painted with hues of the TDV brand, left bare in certain areas, probably acting as a canvas for the students. While a stepped amphitheatre lit by a wall mounted, conversation-starter sedan sculpture that once belonged to the Dean of TDV is questionable; the simple landscaping is a perfect frontage to the large bare wall facade. Creativity flows through the stepping stones as well as the plaster-free brick and stone masonry; as the spot-on design of the exteriors holds the futuristic promise of numerous interactions.
.
.
.
The main entry of the institute maximises a vivid use of materials that leads into a linear waiting space backed by the larger mass of the interiors. Site limitations of a low ceiling height and a column-infested space are commendably juggled as structural members are treated as elements of design and clad with felt or blackboard, while full-height glass partitions functionally segregate the expanse into workshop areas, studio spaces, workstations, faculty rooms, lecture rooms and an unusual bay library; Indian interiors tick the aesthetics and theme boxes, staying true to the concept of a village.
.
.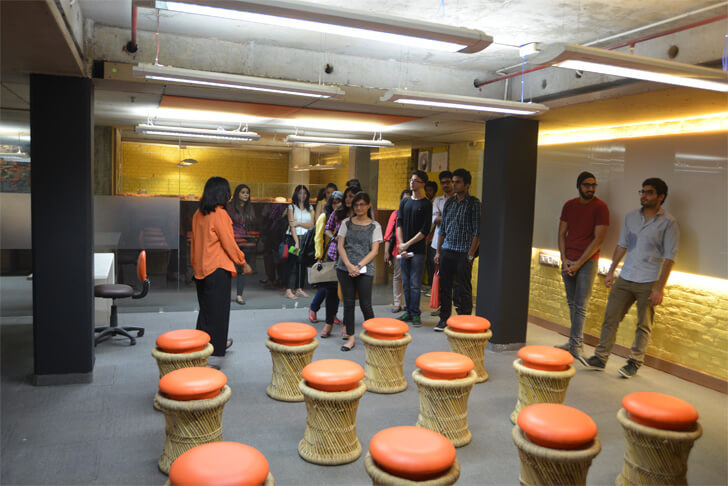 .
The ambience is a play of formal and informal spaces that are tied through warm colours, assorted furniture and spectacular green pockets with creative use of space and material – felt magazine-holders; glass walls doubling up as inspirational display boards; ceiling-mounted bookshelves-cum-lamps and the like. The entire concept of the institute works through a mix of elements – refined, raw, philosophic and allegoric... alluding to the larger picture – the journey called design!