By Rutvi Ashar
Photography: Stepan Novotny; courtesy the architects
Read Time: 2 mins
At the newest Little Italy in Pune, Ar. Aijaz Hakim of Studio AHA ingeniously twists pragmatism into flamboyance working with a mono palette and simplistic POA...
A project that has been shortlisted for Bar and Restaurant Awards 2015-2016 is bound to be something special! Designed by Aijaz Hakim Architect, this 4520 sq. ft. restaurant welcomes you into an ambience that is both, practical and chic.
.
An imposing large glass overhang that seems to be a continuation of the grainy black granite flooring and cladding greets you, ushering you into the warm interior, where the granite, although used extensively, takes a back seat to a vocabulary in wood – fluted, textured, smooth and rich in character.
.
.
The exteriors and interiors are made one by the use of large floor-to-ceiling openings bringing in, with the green landscape, a gorgeous view of the surroundings. The interiors are naturally lit during the day; the open restaurant partitioned by contemporary wooden screens and granite-clad structural members, facilitating family dining. Harmony between the rustic and refined allows the restaurant to cater to a larger audience with different tastes.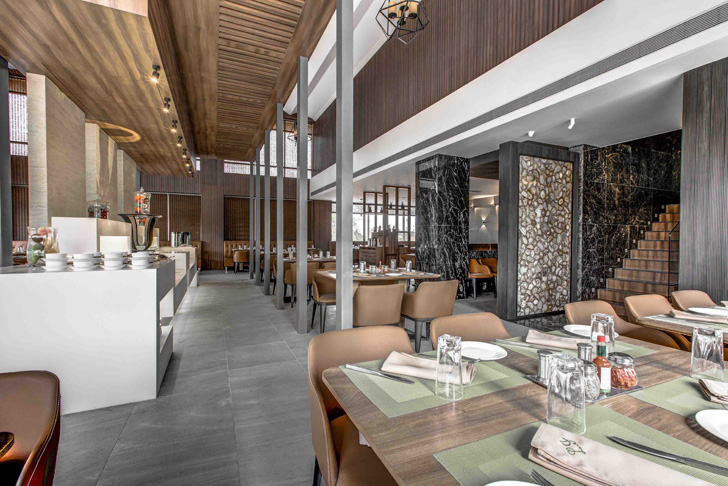 .
.
.
The functional aspects become the highlights on each floor - centrepiece buffet station on the ground level and a DJ console/bar on the upper level. Owing to the large 6m height available on the ground level, the buffet station is sheltered by a modern wooden canopy that draws the eye vertically enabling diners to appreciate the undulating ceiling with cove lighting and the pendant lights, a signature of the designer. On the other hand, the DJ-counter-cum-gold-granite-bar located at the very end of the upper level acts as a platform, allowing the bartender to show off some tricks!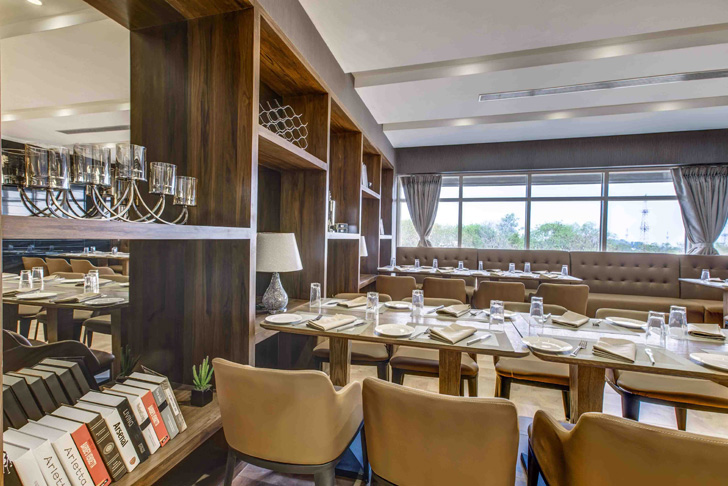 .
Sustaining the open-plan layout, an interesting screen is crafted out to act as a shelving system-cum-partition; the pattern finding its complement in the boxed-arrangement at the bar.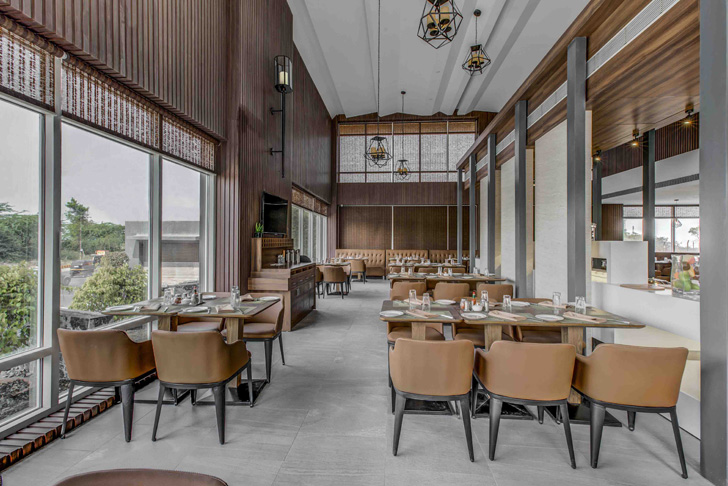 .
Going by the colour palette and the subtly layered design, this Italian fine dine will remind you of the classic Tiramisu; as you sit back and allow the coffee-coloured interiors to seep in!