Photography: Chandra Shekhar Mandge; courtesy the firm
Principal designer Manish Kumat of Abhikalpan Architects introduces quirky, asymmetrical and offbeat design elements, adding a refreshing take to this sprawling 8,000+ sq. ft., three-level bungalow in Indore…
Veering away from the regular and oft-repeated elements in home design and décor, the designer ingeniously works on a corroboration of tried-and-tested design and an emotional response.
Tiny nuances such as swivelling chair seats; bevelled glass window in kitchen; stone wash basin flanking the dining area; quirky console legs; triangular dining table; guitar-shaped sink etc. not only command intrigue but work on the subconscious level to connect with the client and leave their mark.
In the living-dining area on the ground floor, wooden ceiling strips accentuate linearity and a floating false ceiling follows the line of depth of the dining table.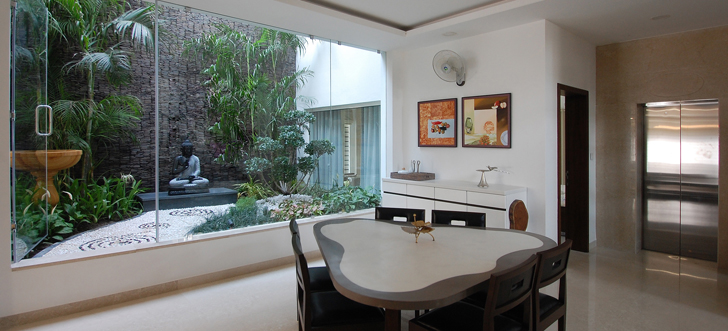 .
Wooden accents throughout the home confer a timeless aura whilst the plush and the classic are blended well. For instance, even though the jacuzzi-cum-spa area is completely clad in grey marble monotones, a gentle touch of wood used as the rim of the jacuzzi and clothes rack instantly brings elegance and warmth.
The home revels in an uncluttered feel as the colour and material palette is sober and subtle whilst the furniture is well spaced out – alluding to an air of restraint and understated style. Colour is introduced viz. paintings, cushions and occasional wall cladding.
Designed and built for a joint family, the house features a simple plan with clean and straight lines and a doubling of certain functions such as living-dining, kitchen etc. thus allowing for shared social interactions (in common areas like deck, home theatre, lounge etc) as well as imparting privacy to all members. Providing an external staircase helps to further this principle.
Terrace gardens, sit-outs, decks and a well-appointed, open-to-sky courtyard brings a flood of natural light and ventilation whilst connecting the home to natural greenery on multiple levels.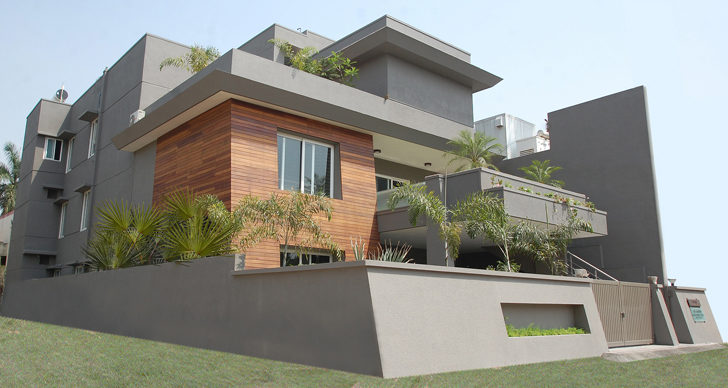 .
Not to be left behind is a play of voids and masses, soft use of African wood and a dark grey coloured tapering perimeter that lends a powerful yet gentle touch to the façade.