Photography: Jiao Yang, Orproject; courtesy Orproject & ATLV
Gaizoshoku above the reception desk
Drawing from a biological process, designers Rajat Sodhi, Satoru Sugihara and Christoph Klemmt algorithmically carve out indoor architectural installations that define the operating maxims of an IT company in Beijing...
Art manifests in myriad forms. It also draws on various life processes and altercations to derive its best-suited pathway to accomplish an aesthetic solution. Backed by the strength of technology, Orproject's Rajat Sodhi in collaboration with Satoru Sugihara of ATLV and faculty of SciArc and Christoph Klemmt, who is also faculty at the University of Cincinnati has completed two installations 'Naizoshoku' and 'Gaizoshoku' for the offices of IT company Baishan in Beijing.
Working on the premise that "modern science expounds that complexity can be generated by simple rules", Rajat, who has been exploring biomimetic strategies
to develop design,
looks deeper into the process of cell division and growth to simulate cell proliferation in a finite product.
The designers first developed simplified algorithms to simulate abstract and geometric cellular growth. They then explored a range of geometric results and obtained the final ones that satisfy spatial, structural and cost constraints by controlling parameters of simulated cells and environmental conditions for the growth process. Both
Orproject and ATLV explored slightly different variants of the growth algorithms. The result: Two installations, which use different sets of behaviours and variables. Both made with

PETG plastic, sport custom colour cast plastic material with the translucent gradient of the plastic being indicative of the stages and direction of growth.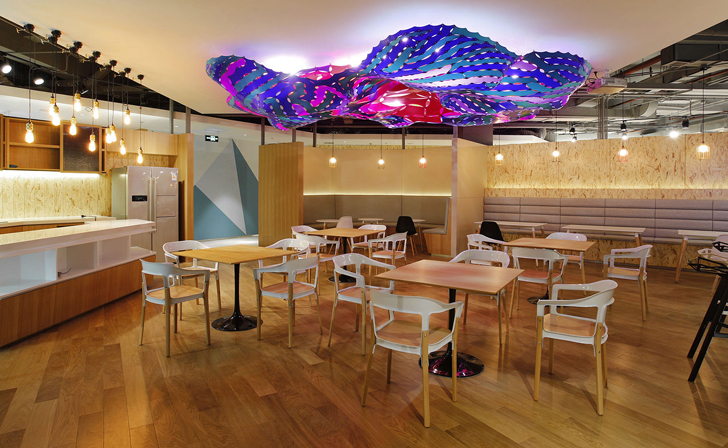 Naizoshoku
Naizoshoku, the installation in the café area of the office, follows an internal proliferation of the cells, which causes the installation to bulge out and develop into an intricately glowing ceiling structure.
Gaizoshoku, the installation in the lobby is developed via a marginal cell division along its edges. It grows out of the reception desk towards the ceiling, where it proliferates outwards to cover the lobby area.
"The generation of geometry via an incremental process of cell proliferation and cell differentiation allows for a continuous adjustment of the geometry during its formation. In nature, organisms can adjust to varying external conditions through this process. We have developed simulations of these processes so that we can design objects not through preconceived ideas, but by defining various factors and forces, which we want the geometry to react to. The final form of an object is then the result of the influencing factors, which it attempts to mediate in the best possible way." explains Christoph Klemmt.
Previously Orproject has developed research for projects such as Vana, Pera, Or2 and Bubbles using venation growth algorithms. "With this project,
incorporating academic research into cellular growth modelling to fulfil both spatial as well as functional requirements has been the new learning high as much as developing and refining algorithms with ATLV," informs Rajat.
And one of the most challenging high points of the installations has been their
hanging system, which has been conceived of a supporting framing system with MDF panels which were pre-etched with the location of all the hanging points. On an average, each installation is hung from 250 locations. These hanging points are all at different heights and so each length is customized.