Photography: Courtesy PDF 2016
The recently-concluded tenth edition of Pune Design Festival saw a dynamic and rarified cerebral meet that attempted a self-effacing look at decoding the exponential power of design in the current scenario with a purposeful peep into the near future…
From stalwarts in the field to the most ordinary tutor, people have decoded 'design' multiple times and multifariously. It is established that design has the power to transform the world.
But what is left unexplored is a concrete, consolidated mapping of this power.
With the Pune Design Festival repeatedly exploring this realm under the aegis of the Association of Designers of India (ADI), their annual meets of the last decade have faceted design, nuanced its overlapping layers, forged the designer-society connect and continue to evoke design thinking at the core of everything consumable.
Micky McManus - Founder of Maya Design presented 'Curiosity + Empathy = Mindful design'
The absolutely engrossed audience
Over the last nine editions, Pune Design Festival has been a host to renowned national and international personalities, where powerful design stories have inspired and spearheaded constructive critique; where minds have met and coalesced over design narratives that have transformed into practicable solutions and viable diktats.
Design Activist Uday Dandavate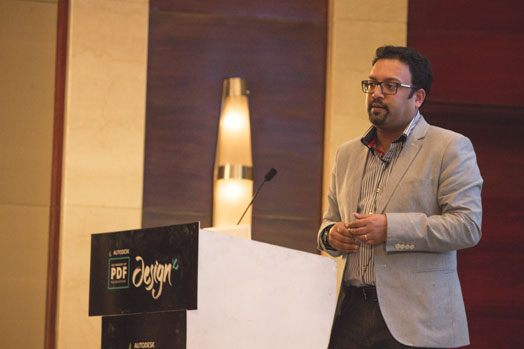 Pratap Bose - Design Head, Tata Motors
The current session had a powerhouse opening address by political columnist and design activist

,

Uday Dandavate

, who strongly advocated breaking free of design clichés and looking towards a synthesis, where different aspirations and needs can converge on the fulcrum of a good design. From being people-centric to empowering design with an empathetic approach, the impact of design was deliberated upon in business, education, communication and strategic industry growth.
Speaking of mindsets and roadblocks that oft hamper the holistic approach that is perennially the need of the hour, Asia Game Changer 2015 Awardee Kiran Bir Sethi, the force behind 'Design for Change' opined that a healthy mindset should be inculcated right from childhood, as part of a wholesome upbringing, tunnelling a vision by which one can expect to see the blooming of an empowered generation.
Interactive lectures, workshops and insights by designers, design thinkers and evangelists from diverse domains had the audience glued to their seats with thought-provoking knowledge-sharing by the likes of E Phani and Sanath PC, who have worked on the visual effects of movies like Bhaag Milkha Bhaag and Baahubali; Pratap Bose, Design Head, Tata Motors, Mihir Shah (UE Life Sciences), Shivani Dhar and Sumiran Pandya (Gaatha) and Bikram Mittra (Trampoline) among others.
Actor-director Danish Husain, who has helped revive the art of oral narratives like Dastangoi left the audience spell-bound as he enthused about how communication and expression is important, especially for design.
With each of the festival sessions focusing on a thematic – 'Winning by Design', 'Design without boundaries', 'Elements of Innovation' and the like, the current thematic, which aptly read as the 'Exponential power of design' hosted the first of its kind, Design Swarm, a unique overnight hackathon on the theme of 'Designing for a better world – Cradle to Cradle', awarding three winners out of over 100 participants.
Renowned Indian director of advertising films, Prasoon Pandey concluded the session reinstating that "Ideas come from life. It is for us to make a connection between the idea and the essence and merits of products." All one needs is

honesty of purpose and passion!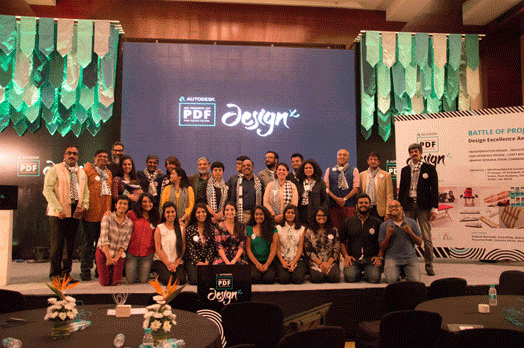 Team Pune Design Festival - Unified efforts bear coveted fruits!
The 10th edition of the Pune Design Festival powered by Autodesk was held on 26th -27th February, 2016 at the Hyatt Regency, Pune. India Art n Design (dot)com are proud to have been Media Partners of such a progressive forum.
PDF is organised under the umbrella body of the Association of Designers of India (ADI), a nonprofit organisation for all Indian design professionals, who desire a cohesive effort at elevating the standards of design practice in India.