Illustrations: Courtesy Archohm
Archohm exemplifies an ecological footprint with a subtractive approach in the design of the proposed Lucknow Memorial Gate…
Conceptualised as a simple and contemporary rendition of the iconic Roomi Darwaza, the Lucknow Memorial Gate, located at the opposite node of the Samta Mulak Chowk, Lucknow sensitively combines typical elements from Jain and early Indo-Islamic architecture.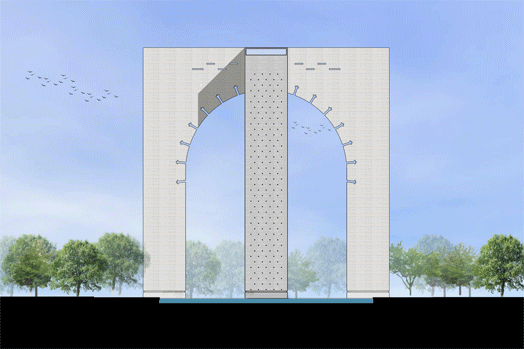 .
Externally, the two c
riss-crossing arches are anointed with the 'Torana', or bud like element that makes up a garland, typifying Jain architecture and one of the earliest elements to be picked up by the Muslim monarchs in the creation of the amalgamated Indo-Islamic works that emerged in India in the medieval times. The additive approach of the protruding buds softening the stern profile of the arch is juxtaposed with the indented ones carved into the same profile as a subtractive approach, representing the contemporary identity.
.
The reflection in the water-body endows the fourth dimension and a surreal quality to the monumental gate, particularly in the night lighting. The pillars are accessible and lead to a deck that gifts panoramic views of the greenery in the vicinity.
The main ideology behind the planning and design of the entire site was to avoid filling up the low-lying areas of the site and 'asphyxiating' its ecology; instead by using the existing profile of the land, it was turned into an advantage, by positioning a 6m wide and approximately 7.5 m high elevated walkway that meanders along a distance of 1.76 km and is both, interactive and aesthetically endowing for the site.
Additionally, the resultant zigzag pattern creates 'entrance-nodes' at regular intersections for easy access to the park. These nodes also accommodate inviting functions like relaxing zones, food stalls and informal interaction spaces. The concept thus becomes economical and environmentally viable.
And finally, the stench that typically accompanies a 'Nullah' is done away with by proper filtration, which in turn is activated by suitable plant/tree growth. The project is a living example of how working with the environment is always mutually beneficial.