Photography: Courtesy Archohm
The Taj Ganj urban redevelopment footprint spans the incremental growth of the contemporaneous neighbourhood of the Taj Mahal and marks a significant landmark in its tourist mapping…
Agra's Taj Ganj exhibits urban decay yet holds immeasurable vibrancy. A highly dense fabric, crumbling infrastructure and acute lack of open spaces are juxtaposed with the richness of cultural life, socio-economic ingenuity and a built environment expressing almost amusing resourcefulness.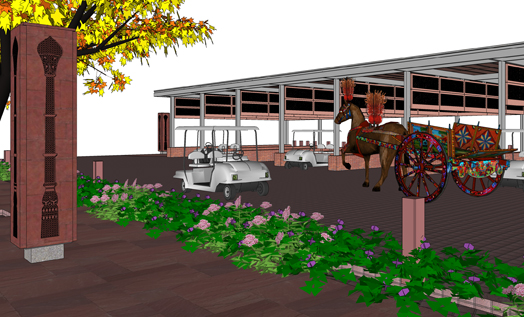 Transportation hub
Comprised largely of erstwhile markets appropriated into residential quarters, a few heritage monuments and Havelis, and slums, the area enjoys a direct relationship with the environment: the river Yamuna, the Taj Mahal, the expansive Shahjahan Park and a large forest-block.
By day & by night
In an attempt to sew together disparate urban edges that are commercial, institutional, forest-like greens, bazaars, old city fabrics and slums, the Taj Ganj project presents newer perspectives of the city that emerge from the multiple layers that have been created over time. The dream of course is to make the life of residents comfortable and further the economic growth through its tourism.
Toilet block
Kutta Park Pavillion
Being conceptualized and executed by Archohm Architects, the redevelopment plan proposes a coherent but non-uniform urban design along the entire stretch, giving priority to non-motorized mobility, effecting a radical change in the visual texture of the place.
Visitor's Centre
Visitor's Centre Interiors
Several amenities such as landscaped seating areas, shelters for parking/ boarding tangas, cycle rickshaws and battery-operated carts and public conveniences have been proposed along with community centres and parks.
Visitor's Centre plan
Less than a hundred metres from the East Gate of the Taj, tourists are oriented towards Taj Ganj through the Taj Ganj Visitors' Centre. A low-key, two-storey cuboid with a six-metre structural grid surrounded by courtyards is aligned with the south-east boundary of the site. It houses tourist facilities, a multi-purpose workshop, training spaces and the Taj Ganj Heritage Cell for preservation and promotion of living cultural traditions, along with offices for the director and a team of restorers.
Lamp posts
The building simulating a truncated pyramid is positioned diagonally with its axis of symmetry oriented towards the Taj Mahal and houses a gallery showcasing the area's crafts. The entire complex sits in a green sunken court, cardinally oriented. This lowering of the datum ensures that the architecture is scaled down as a gesture of respect towards the world heritage site, and the expense towards pile foundations is saved. The terrace is a seamless space connecting Taj Ganj and the Taj Mahal visually; making palpable the dramatic tension radiating from this potpourri-like urban context.
The project is scheduled for completion by end 2016.