Photography: Amit Rastogi; courtesy the architect
This elegant contemporary styled home stands cheek by jowl amidst bungalows in a densely populated north-eastern Bangalore suburb, dictated by an east/west axial introverted design…
With the home designed as two blocks conjoined by a central triple height atrium core,
Ar. Shireesh Madalagi of
ARO Design Studio creates interest in the unhindered, seamless yet well demarcated spaces via split levels and bridges to facilitate easy interaction, whilst maintaining the requisite privacy for the 3 generations residing here.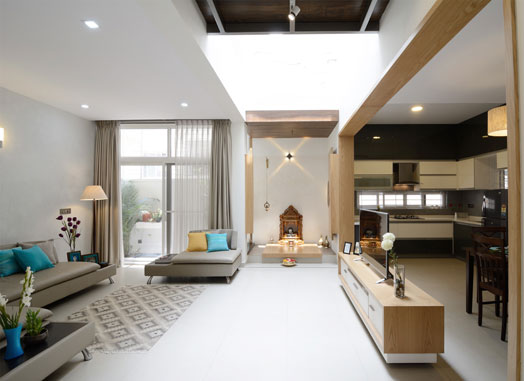 .
Linear placement of pragmatic straight-lined modern furniture in muted tones of beige and ivory, and light coloured veneers and paint, often used as defining elements, give the uncluttered home an illusionary feeling of spaciousness. An open plan layout and extensive use of glass augment the spacious feel, and provide a visual link to the interior spaces.
Abundant natural light permeates through external glazed window openings, internal wood framed slats and skylights. Breaking away from this strict geometry are two Ferro-cement walls that also constitute the simple but striking façade - with abstract cut-outs of soft forms creating interesting chiaroscuro patterns with the shifting sunlight. At dusk, warm artificial light inside lends to an interesting picturesque exterior façade.
A corner courtyard provides relief to the ground floor common space, while the uppermost level is a virtual garden, with the media room surrounded by pocket terraces with cozy seating. Sandwiched in between at mid level are the bedrooms, sparingly furnished in muted tones, wooden flooring and a dash of coloured accessories. Vertical movement is facilitated by a sleek cantilevered metal-edged, wood-finished staircase, below which nestles a linear water body, flaunting yet another dimension of this serene abode.
.
One wonders whether some colourful art could add a zing to the serenity; but then, that would alter the synergies of this architecturally rich vocabulary that is a statement in itself, with its understated demeanour!