Photographs: Courtesy OHA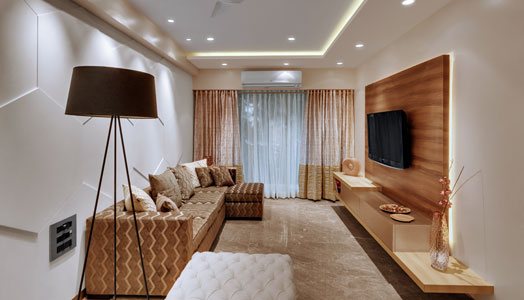 .
Setting the mood for a purposeful luxurious living with a personal touch is a two-bedroom show flat in
suburban Mumbai…
Designed by Ar. Obaid Hakim of
Obaid Hakim Architects (OHA),
the interiors of this show flat
have a balanced
focus
on the functionality of
spaces
and on how best they
reflect the personality of its residents.
Working towards culling out a deeper, more meaningful aesthetic quotient, OHA uses
clean lines to define the contemporary nature of the home. C
olours, textures and ancillary elements draw
the
attention of the buyers to
the functionality-driven layout.
Hues like gold and umber
contrast directly with
a hint of silver and grey;
with wood as the predominant functional and decorative element;
and texture, mostly
observed as
linear patterns running horizontally and
vertically, create a soothing, plush
mood across 916 sq ft.
Openness accentuates space as doors between the living and dining and the dining and kitchen are eliminated. In fact,
la
rge fenestrations in each room
steal the show. These floor-to-ceiling windows are the main elements that bring the luxurious factor into the space, besides allowing ventilation and natural daylight.
Meanwhile,
lighting is designed to enhance the functions of the space
as well as for visual appeal. While recessed spotlights and tasteful lamps brighten the room for conversations and functionality (reading, watching TV or eating), accent lighting through floor spots and track lighting enhance the texture and details of the rooms.
Complimenting the layout and planning, is the uncluttered appeal of the apartment, with no room for
unnecessary elements and
facilitating free movement
for the residents and the guests.
As a sample apartment blueprinting the typology of a well-designed 2-BHK, OHA presents a well-balanced mix of modern elements without compromising on the warmth that is inherent to 'home and hearth'