Photography: Courtesy Abin Design Studio
Built around Vaastu ideologies
and embracing nature abundantly within its contours… is this 'rooted' bungalow by Abin Design Studio that gives a new dimension to contemporary design…
Located on the outskirts of Bangalore, and sans an exterior vista, is this full-of-character bungalow with a fair mix of wood, stone, glass and a lush landscape. With Vaastu in place, massing comes into play and with a courtyard as the fulcrum; a
tall built mass flanks the south end to ensure a shaded and accessible open space; whilst towards the northern end, a slightly shorter mass with an elongated slab commands a distinct aura.
Connecting both the built forms is a narrow sky-lit passage, which is
glazed on one side, while the other boasts of vertical fins that continue to form the skylight above, providing uninterrupted outdoor views. Water bodies and multi-level connectivity provide the right measure of intrigue with glass walls ushering in serene transparency.
Veering away from the staid neutrality of umbers and crèmes, yet instilling the ambience with understated aura, the material palette exudes quirky charm. For instance, in the dining area, an exquisitely carved wooden pillar holds its own against the fluidity of transparent acrylic chairs and a wire-frame chandelier. Sleek console tables with folk-inspired rugs, minimalistic sofas with graphic-art printed cushions, printed MDF panels, ikat-inspired patterns... not only prove to be a fine juxtaposition but also bring out the true essence of the home: one where old-world-charm meets contemporaneous elements.
Likewise, the staircase design rises from a solid granite base with steps carved into it, while the rest of the flight complements it by virtue of its minimalistic design – a solid and sleek combination. Interestingly, a bold red handrail and expressive sculptures add drama to the backdrop.
The
4,350 sq ft.
home comes alive with water bodies, courtyards, balconies and terraces that coalesce together to create a 'soul within the shell' – staying true to
Ar. Abin Chaudhuri's
artistic expression of architecture.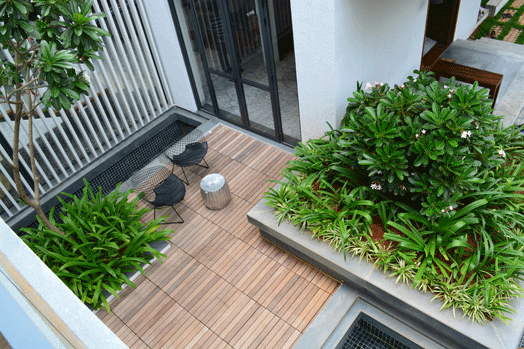 .
It would be appropriate to add here that Abin Design Studio is the recent recipient of 3 prestigious international awards - "The Chicago Athenaeum Recipient of International Architecture Award 2015"; The World Architecture Festival Awards – Culture, Completed Buildings Category 2015" and has been selected for 'Uneven Growth' – publication and travelling exhibition 2015 by MOMA, New York.