Photography: André J Fanthome & Ayush Prakash; Courtesy Anagram Architects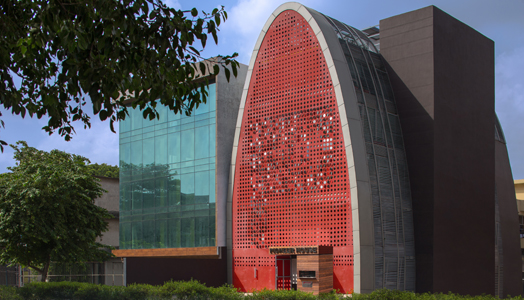 .
Anagram Architects design Pioneer Outdoor Media office, projecting an arresting visual language and the split-second impact of a roadside billboard, while simultaneously committing a deeper value and meaning to the organisation, the edifice and the occupants.
One is often struck by an intriguing three-dimensional billboard and one ponders over the evolution of outdoor or out-of-home (OOH) media and advertising over the years. A strong mass-connect; outdoor media propounds a vocabulary that rises from and gives back to the urbanscape via an instantaneous and impactful connect. Therefore, designing an office that would showcase the dynamism of the profession is a challenge that Anagram Architects have accomplished with aplomb!
The 15000 sq. ft. office that stands on a linear plot in a row of narrow urban plots with limited street frontage, in a neighbourhood of predictable inward-looking buildings with drab rectangular-block facades has been transformed into a signature element – for the company as well as for the locality.
"The approach of our design was to investigate the notion of identity (corporate, organisational and individual) and its urban projection," inform the architects. "And to this end, we explored, semiotically, the most common idiom of identity, the thumbprint."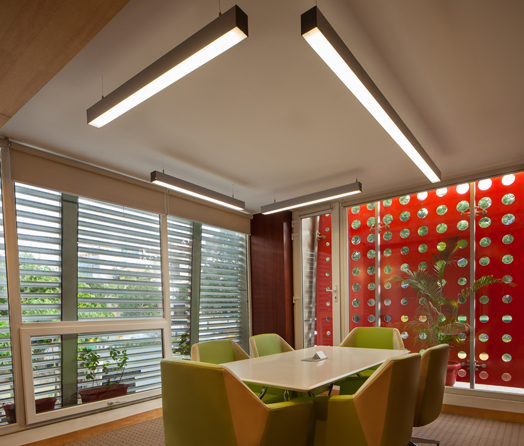 .
Comprehending the finer nuances of the profession, the architects have translated its ethos into a design vocabulary that is at once contextual as it is upbeat. Referencing the projected profile of the thumb, the frontage of the building sports a singular formal articulation via a deep red aluminium perforated screen that mitigates both, noise levels from the street as well as solar heat gain.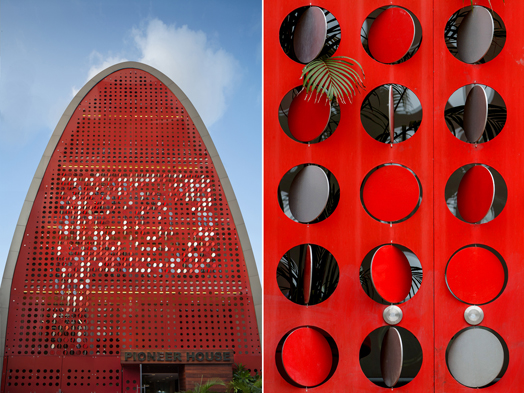 .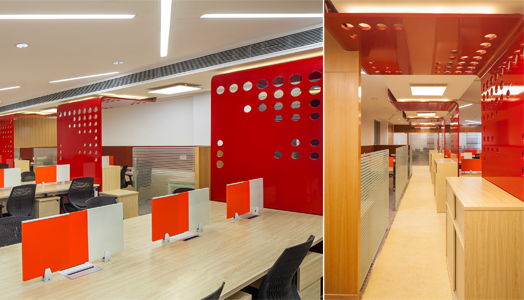 .
Perforated with the company's logo "P", the stamped-out discs are reattached to the screen through a pivot detail and not only create a dynamic visual element outside, but contribute to an equally energetic interior environment; the red perforated vocabulary continuing into the partitions between the main circulation spine and the workstations in the office.
Also, once inside, the continuity of the representational thematic finds a complement in the thumbprint ceiling of the entrance lobby, subtly alluding to the corporate identity and brand projection.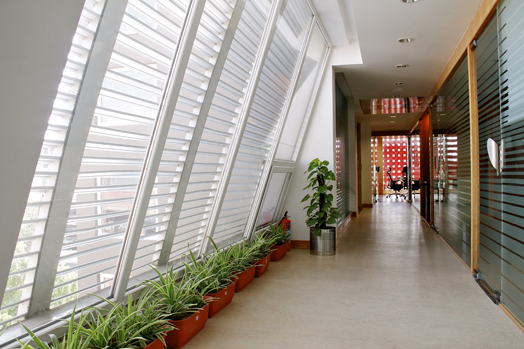 .
Speaking about the form of the building and its role in spatial organisation, the architects inform us that the semi-elliptical cylindrical volume creates linear voids that stretch along the length of the building, infusing the workspaces with natural light diffused through a skin of
louvres
. Planters project into these voids along the edge of the floor plates investing greenery into every nook of the office.
.
The company's corporate structure is also implied in the volume with the hierarchical levels of the work force and management segregated into various floors of ascending seniority and reducing occupancy.
The building comes across as a happening volume of activity, acting as a precedent to employee motivation right from its very sighting to its entrance lobby… to the job at hand!