Photography: Courtesy Studio US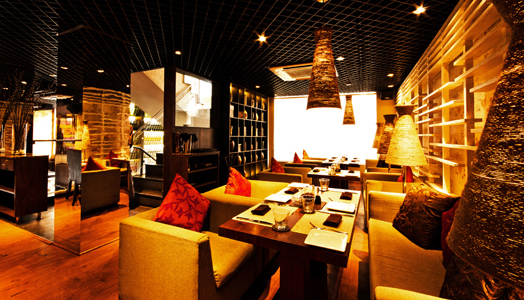 .
Monotony and complexity have no room in Italian cuisine and so it is, with the design of this restaurant in New Delhi that serves it. The design team of Sumeet Nath and Aanchal Chaudhary has tastefully carved out a setting for Ristorante Prego that essentially blends variety with simplicity.
Set inside a busy shopping complex, the 1800 sq. ft. restaurant has enough room for zoning. The restaurant's placement on ground floor draws street shoppers to its casual dining section, while its mezzanine floor provides for a fine dine experience, removed from the hustle-bustle. Ground floor has zoning too, with a quick standing bar and a patisserie for those in hurry and a couch dining facility for those who aren't.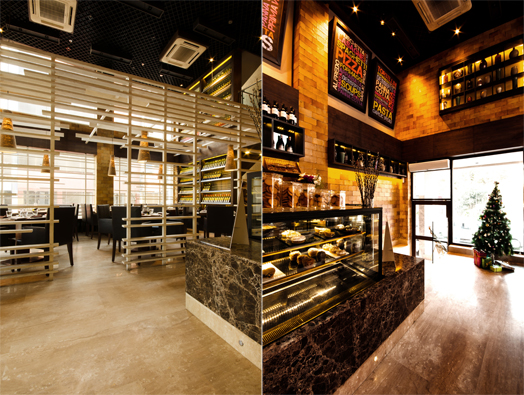 .
The exteriors of the restaurant and a few pockets of its interiors are encased in rustic yellow fire bricks that dispense the charm of a neighbourhood walk-in bistro. The contours of the mezzanine floor that overlook the lower zones present the imagery of typical Italian balconies that open out over streets; while double height wall brings in an element of openness to the entire space and the 18ft high wine-rack placed against it, evokes a sense of awe!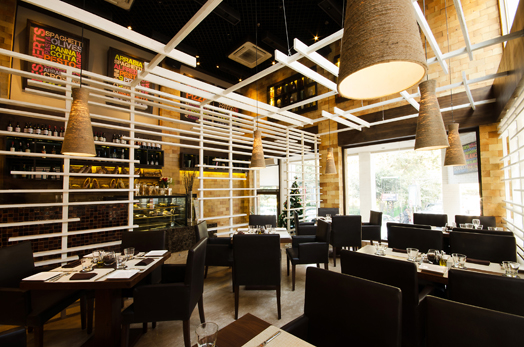 .
.
The colour brown and its varying hues is all pervading: the aprons of the bar, patisserie counter and table-tops sport varied hues of brown, while the upholstery and chairs are in solid chocolate brown. Upholstery in the fine-dine section is in a lighter shade of the colour, in sync with the 'golden' gleam emanating from painted walls and wallpapers.
The ceiling with its open-grid pattern in black, Italian Myra flooring in beige, cage-like wooden partitions in off-white and jute hanging lamps are the 'common threads' that run across the diverse zones of the restaurant, imparting unity to its being. The wooden cage, rising to 8ft from the ground is the element that stands out, lending a unique aura to the ambience.
.
.
Bright cushions and optimally-lit display counters with neatly laid out earthy artefacts & books add a touch of class to its interiors.