Photography: Courtesy the Artists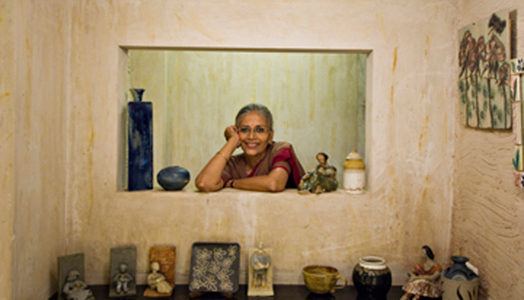 Shalan Dere with some of her work
Attempting to give Studio Pottery its rightful place in the burgeoning visual art scenario, Mumbai organizes its first-ever Ceramic Festival bringing together 22 Mumbai-based studio potters to amaze audiences with their skills and wares...
Although each of us always aspires for the best tableware and stops to admire utility ceramic art, given the chance; purchasing and actually serenading this form of art has primarily been the prerogative of the west.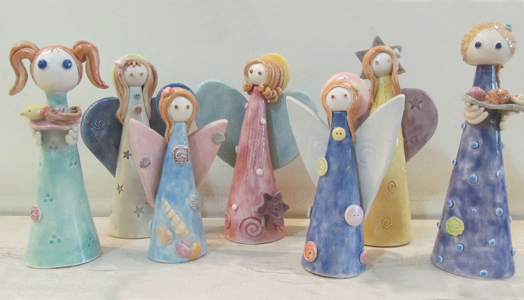 Ajay Abhyankar's Miniatures
Renowned, veteran potters Sandeep Manchekar,
Shalan Dere, Anshu Dorairaj, Raja Mohanty, Ajay Abhyankar, Anjali Aney, Sumathi Madhav, Shayonti Salvi, Rashi Jain, Hanif Galwani, Vanmala Jain and many more artists - few professionally trained and some self- taught; starting today, will exhibit their works in ceramic pottery - each one having a unique and distinct approach of giving clay its final form and colour.
The exhibition will showcase an elaborate selection of functional ceramics to abstract and figurative sculptures, tall ceramic vases, soup bowls, plates, platters, jugs and mugs, colourful miniature magnets, jewellery, planters, lamps, tea-lights and thousands of other forms that promise to enthral the viewer. Alongside, several live demonstrations and workshops will be conducted to spread awareness about studio pottery.
"Studio potters as fine artists is a relatively new idea in India – and pioneers include Gurucharan Singh, Nirmala Patwardhan, Ira Chowdhary, Jyotsna Bhat, Primula Pandit, Ray Meeker and Deborah Smith," informs Raja Mohanty, Ceramist and Prof. IDC, IIT-B. While he agrees with us that 'sales' are not a measure of success in this artistic pursuit, he also derides our suggestion that perhaps studio potters should look to creations that can be incorporated into mainstream interior design, in order to garner focussed visibility.
Although
Tejashri Patil Pradhan
has honed her skills making customized products for interiors, architects, restaurants and more, Prof. Raja Mohanty opines that "M
ost ceramic artists pursue it for a higher kind of fulfilment" - an insight that is endorsed by the likes of
Parveen Kaur Thakur, for whom, "Ceramics is a meditative process that has taught me to concentrate and be focused." Or Sandeep Manchrekar, who considers "Clay is the best ever friend in my life; It keeps surprising me in each meeting with great layers of its qualities, making the journey interesting and ever changing."
Briefly touching upon the exhibitors and their exhibits, we have Sulu - Sultana Khan, a late bloomer, who started dabbling in the medium at age 54 and is now a prolific potter; Rashi Jain, who has exhibited extensively nationally and internationally and documents traditional potter communities, mainly of Kumbharwada, Mumbai and the Northeast of India; Sejal Mody, for whom clay is an extension of her canvas; Ajay Abhyankar and his miniature hand pottery, etc, etc, and a host of ceramists experimenting with new techniques.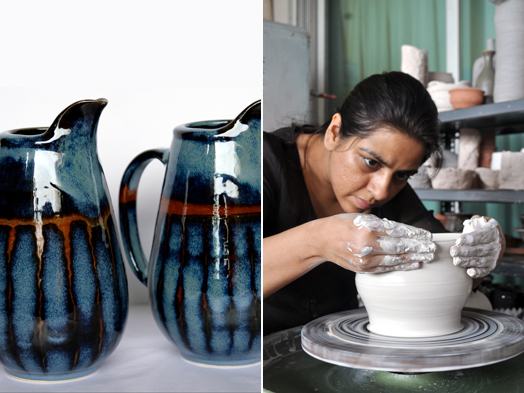 Functional ware by Anshu Dorairaj & Khushboo Madnani at work
Potter and ceramist Anjali Aney puts it very succinctly, "
The process of turning soft clay into a vitrified pot in a live fire is physically and emotionally trying, as the end is never certain. But, therein lies the magic of clay!" While this holds true for any work of art, across the board, only time will tell whether this initiative of the studio potters will ignite our empathy towards recognizing this beautiful art form as a part of mainstream fine art; or will we remain as blasé?!
Dates: Oct. 31 – Nov. 2, 2014
Venue:
Coomaraswamy Hall, Chhatrapati Shivaji Maharaj Vastu Sangrahalaya (formerly Prince of Wales Museum)
Live Demonstrations & Workshops:
Hand-building and Wheel-throwing techniques - on an hourly basis

Firing techniques like Raku and Lustre glazing