Hospitality Design Special
Info & Images: Courtesy Urban Studio
Courtyards
Drawing from contextual elements of Rajasthani architecture and culture, Ar. Pronit Nath designs Le Bua Villas at the Devi Ratna, Jaipur…
Combining the aesthetics of the present with the emotional values of the past, and taking a cue from the vivid colour palette of the Navratn (nine gems), and the traditional architecture of Rajasthan with its signature jhoolas (swings) and jaalis (trellis), Ar. Pronit Nath of Urban Studio, Mumbai uses meticulous craftsmanship and intricate artistry as the precursors for a signature hospitality experience.
Villa Facade
Exuding an aura of royal vintage, two aspects at the forefront of the design are the bold colour scheme that gives the project its unique colour coding and rich contextual climate integral to the Rajasthani way of life.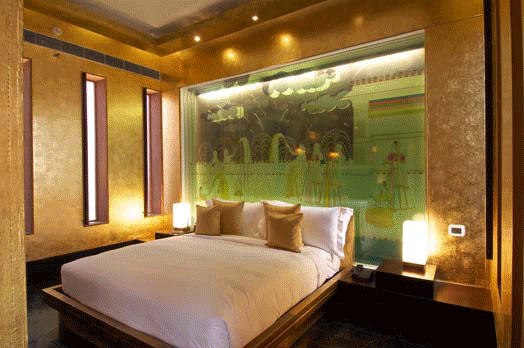 Villa Interiors
As if cocooned within the traditional secure shell reminiscent of old havelis and chowks, a material palette of vivid colours like Emerald green, Ruby red, orange Coral, yellow Sapphire and corresponding stones like Agra red, Bheslana marbles, sandstones and slates combine with hammered metal, leafing, mirror work to interpret the 'Navratn' in the interior spaces. Yet, far from being a riot of colour, most spaces are monochromatic with shades and tones of the same colour bathing guests in a pool of serenity, with traditional leheriya textile patterns are reinterpreted to create inlay stone carpets and insitu floors. Predominant are compositions in hues of gold, silver and copper.
Jaalis
Jaalis or privacy screens are used prolifically and with varying tessellations to respond to programmatic needs. The composition is interspersed with a series of courtyards that provide spaces of convening and chance interactions, and also serve to cool the space around. The scale, density, and porosity change with reference to context but their original hand-carved nature prevails. The jaali therefore becomes the skin of the entire project giving the facades much of their elegance.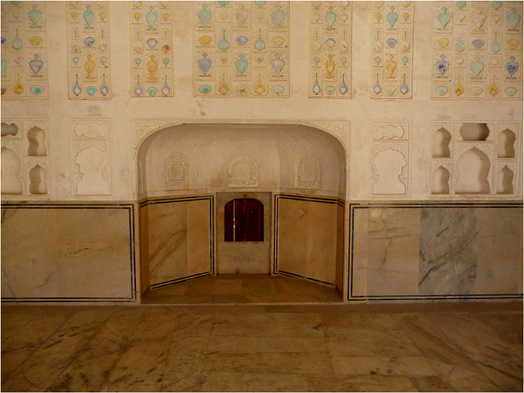 Amer fort wall
Despite the traditional ethos, contemporary patterns constitute an eclectic vocabulary throughout the project - ranging from the architectural scale of floors, walls, facades, jaalis to the interior and product scale of accessories, cutlery and textiles. Like the iconic pattern of the Amer fort wall transposed on the glass façade of the pool restaurant, articulating the façade and creating visual layering, transparency, and luminosity that is reflected in the blue waters of the pool.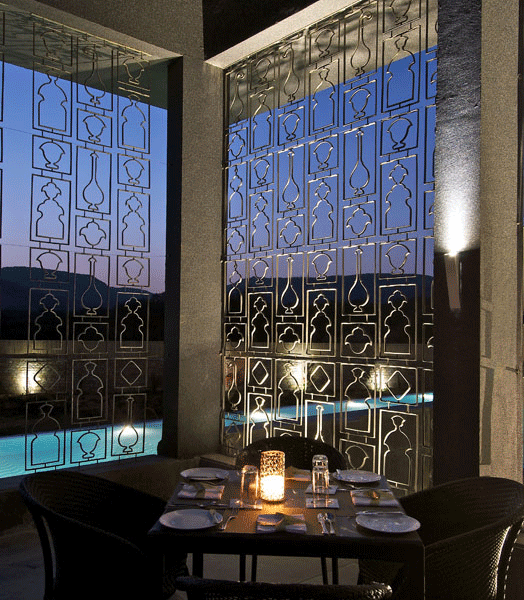 Grill detail by the poolside cafe
By varying the spacing and thickness, changes in scale and perception are created. "Our primary intent was to insert devices that would give every space its unique personality. These devices-formal, material or programmatic become anchors of each space and eventually form the visual vocabulary for the entire project," says Pronit.
A prime reason why the Le Bua villas are a haven of privacy and warmth cocooned in the cultural and traditional ethos of the place; yet transcending it to form their own contemporaneity and expression in 21 century India.