Info & Images: Courtesy the architect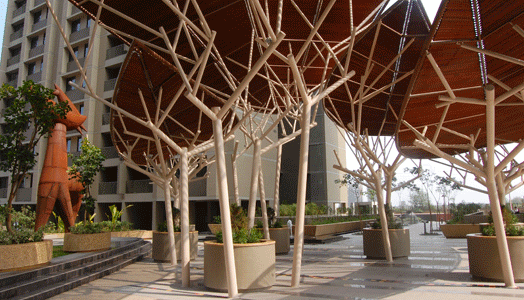 "The idea of identity in emerging urbanity is a difficult one. With clone-like relentless growth, the new urbanity of India has no soul, no character, and no sense of personality," says Ar. Aniket Bhagwat as he proceeds to enlighten us on this disturbing reality…
Arguably, he continues, to deal with both, the idea of this scale and pace in any other way seems difficult. Either we should build slowly, or we should build less; or perhaps there is another way - one that has not been developed till now.
Till we find a better way to build, how does one find the expression of the human spirit, build an idea of identity, and more simply bring a smile to people's faces, in the new supplanted urbanity, they call homes?
.
Our studio was recently confronted with a small space, measuring 3700 sq. mts, in the middle of 500 middle-income housing flats. The buildings are done with military precision; and between them was a narrow long strip on a podium, below which cars were parked.
We have designed the space, in seemingly unconnected fractals: a series of unconnected events that were intended to be seamless, were imagined - each space with its own distinct character, its own tale, and its own aesthetic; almost like many fun, joyous, intelligent people in an animated room – holding hands.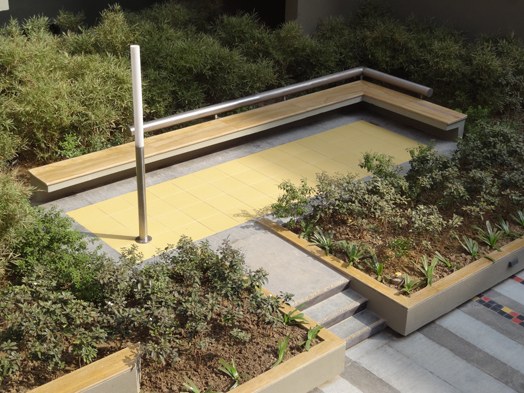 .
At the lower end of the plan, an entrance walkway stands enshrined amidst trees with water at its edge, leading to a plaza with large trellis structures that lead to a green court. A secluded water court with cool caves was isolated from this composition; and this in turn hid away and created a separation with a series of active play spaces and a small amphitheatre. The entire series of spaces are ringed with a walking track that is dotted with small seating enclosures along the building edges.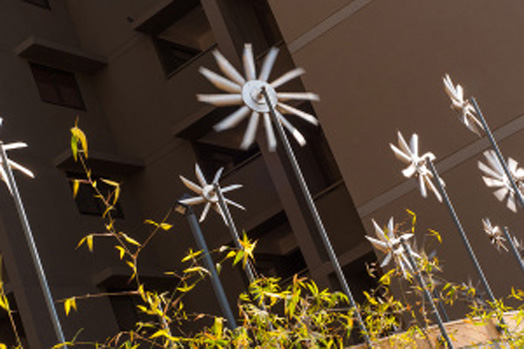 The space compositions were each crafted with exuberant hand skills and have a series of installations that mark the spaces.
.
The giant trellis structures (4 in all with the largest one being 35 m long) are finely crafted; each each piece differently assembled; tilting and weaving in itself; the lattice forming many textures of light; shielding the main court from the sun. This composition can be reached after a short walk amidst a grove of trees that has a hand-crafted copper and brass fountain to marks its entrance.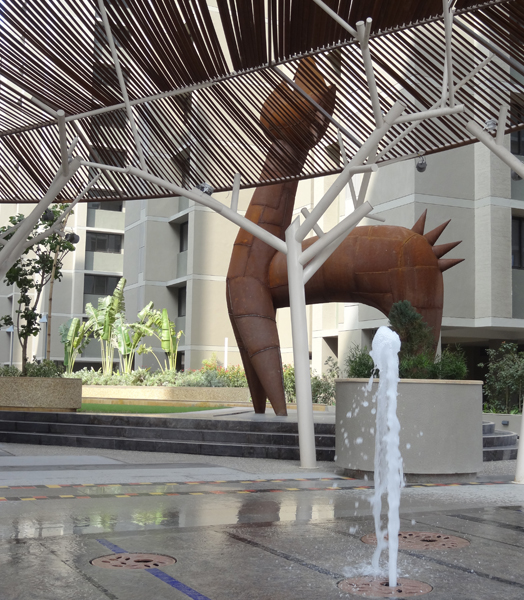 .
Vyom's sculpture marks the node of the garden court. The entrance fountain is a composition of many petals in hand beaten copper, brass and steel.
The giant dinosaur is a bridge, a slide, ladders, and swings and a joyous play structure, where many an imagination can run riot.
Seen away from the main court is the court of caves, and the giant 32 m long dinosaur that lurks beyond it. The head of this animal intrudes into the court of caves and stitches between two spaces. Over time, the court will have tall bamboo clumps and lotus and fish in the pond. The caves are quiet retreats, their roofs lined with grass.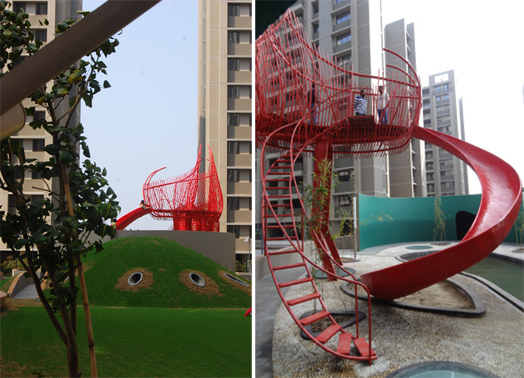 The project is now complete. The initial reactions were interesting and encouraging: The dinosaur awakens an excitement in children and adults alike. A dear friend, who came with her children could not resist trying the slide. Just moments before, the client, mostly a serious man, had already quickly tried the slide, when he felt that no one was watching. It is an area of pride. People, who earlier came on weekends to show their new flats to their friends and family, now just spend time in the garden; people talk about spending time outdoors in this space, and each one, who has worked on it, or visits it, has a twinkle of joy in his eyes.
Original write up on Ar. Aniket Bhagwat's blog:
https://landscapeindiapbb.wordpress.com/2014/01/29/sense-of-place-landscapes-for-new-urbanity/