Compiled by team IAnD
Photography: Abhishek Shah; courtesy V2com
Read Time: 2 mins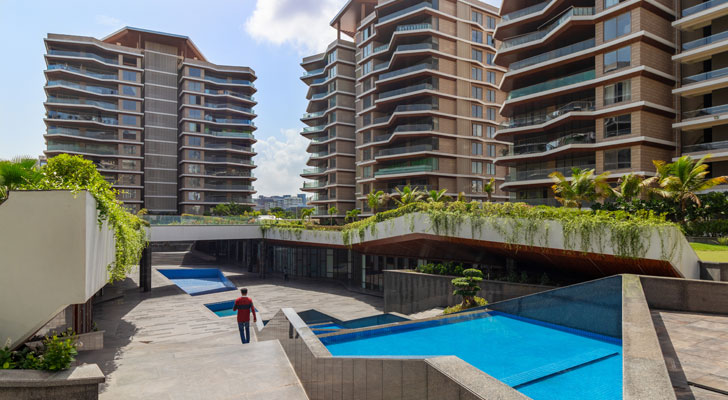 .
Sanjay Puri Architects design luxury apartments in Surat, zeroing in on a sustainable micro-environment for a lowered carbon footprint and self-sufficiency.
Designing for a city like Surat that has temperatures of more than 35°C for eight months of the year, the plan responds to an extremely specific brief.
.
.
Cantilevered balcony
Sculpted lobby interiors
Located on a plot of 29,600 sq. m. with a height limitation of 40 metres, this massive housing project hosts 126 apartments in six buildings of 11 storeys each. Each of the six wings have 11 metres high entrance lobbies, each sculpted with a distinct interior.
Planned in three different sizes, apartments of 750, 850 and 950 sq. m. are each configured with large living spaces, five bedrooms, a study, and a gym, facilitate cross ventilation and are sheltered by large cantilevered decks measuring almost 84 sq. m. that act as interstitial spaces between the outside and the inside.
.
.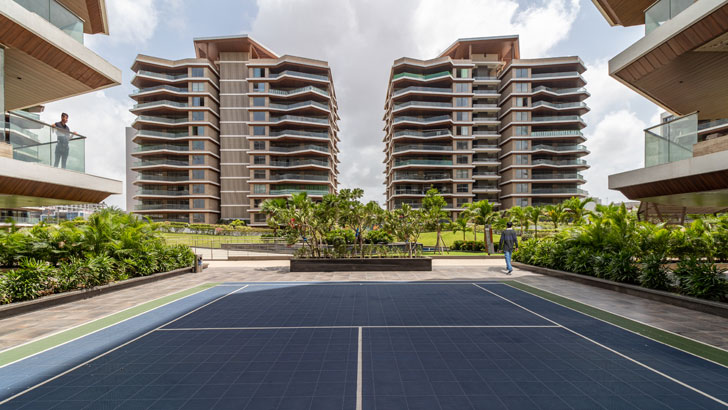 .
.
.
All vehicular movement is restricted to the perimeter along with a basement car park generating 80% of the plot as vehicle-free space as the buildings are laid out along the site perimeter creating a large focal garden of 13,000 sq. m. Here, the landscaped area rises in angular planes and gradually steps down, revealing a partially sub-terranean recreational club with entertainment and sports facilities that are sheltered from heat gain and simultaneously open to natural ventilation and light. The numerous sporting and entertainment activities are supplemented by conferencing facilities, a grocery store, a medical room, a laundromat, and housekeeping staff facilities.
.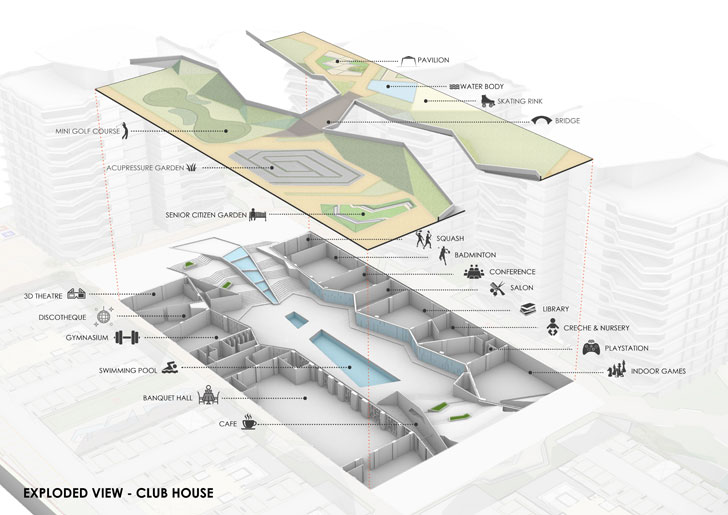 .
.
.
The extensive landscaping with trees, plants, and water bodies helps in passive cooling. The large overhangs at varying angles create different degrees of openness in the outdoor decks that front each apartment and reduce heat gain whilst adding to the luxury of individual outdoor spaces.
Water recycling, rainwater harvesting, sewage treatment and solar panels contribute towards reducing the carbon footprint and making the project self-sufficient.
.
The project bears the signature of Sanjay Puri Architects with his bent towards sculptural forms, and his preoccupation with layering and play of geometries.
Architecture Firm: Sanjay Puri Architects
Lead architect: Sanjay Puri
Design Team: Kapil Merchant, Madhavi Belsare and Pooja Sampat
Total Built-up Area: 130,000 sq. m.
Location: Surat, Gujarat, India