By Savitha Hira
Photography: Umang Shah; courtesy Studio17
Read Time: 2 mins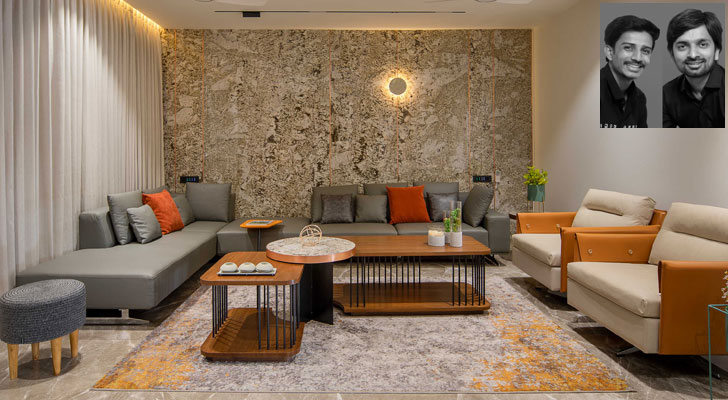 Surat residence (inset) Architects Mayur Magukiya & Ankit Sojitra
Studio17 employs subtle nuanced notions of a circular form as the highlighting element in their design for a bungalow in Surat...
The simplest two-dimensional form - the circle – finds its presence on the door handle, light fittings, mirrors, curvilinear surfaces…. However, the designers go beyond its overt manifestation to delve into the philosophical impact that denotes completeness, totality, and timelessness amongst its other representational aspects.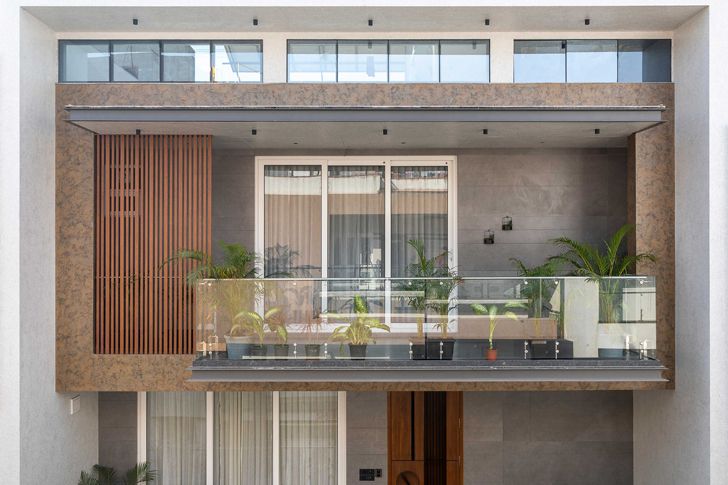 .
.
Playing along its veiled implications, a studied, well-knit vocabulary defines both, the architecture, and interiors. Luxe appeal is ingrained into the very fabric of the project as clean lines mark restraint via floor-to-ceiling wood panelling, large expanses of marble cladding and tactical touches of colour. The predominantly grey and umber palette is richly endowed with few, but stand-alone finishes viz., Brazillian stone, Rosso Levanto tiles, layered veneers, and metallic copper.
.
.
The principle of camouflage is rampant and all doors – connecting rooms, washroom doors, cabinet, and wardrobe shutters, et al are beautifully camouflaged behind the wooden panelling. A feature wall in the living room instantaneously establishes the ethos of the homeowners' lifestyle as its busy pattern finds its complement in the floor rug and the solid sofas; the scenario interlaced with cove lighting that washes the floor-to-ceiling curtains in a soft evening glow.
.
.
.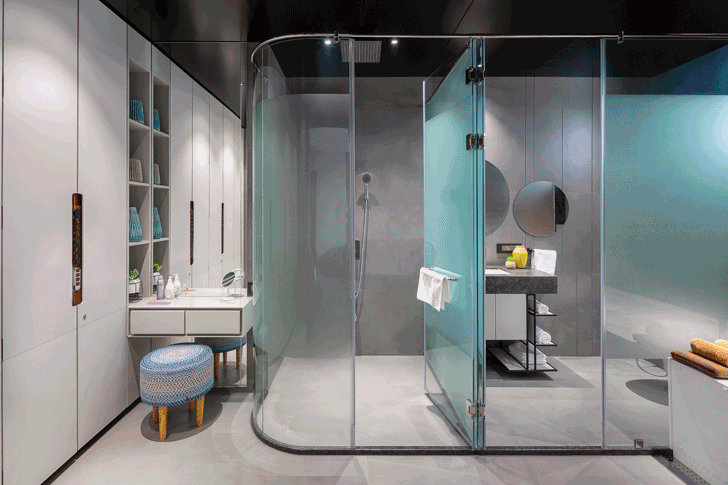 .
Clean lines make their presence felt in the built-in appliances in the kitchen and dining that are beautifully integrated in the open-plan public spaces; and continue into the bedroom suites that are spacious, clutter-free and stand out for their effortless indulgence and elegance. Attention-to-detail becomes a stand-out factor as the home reverberates as much with a stylishly put-together simple palette, as it does with native luxury defined by the choice of material.
.
.
Despite the omnipresence of the circular form in myriad nuances, spaces remain independent of any connecting elements; yet, when walking through the ground-plus-two storeyed edifice, one can establish a strong spatial context.
Principal Designers/Architects: Mayur Magukiya &Ankit Sojitra
Built-up Area: 4132 sq. ft