Photography: courtesy the designer
Read time: 2 mins
The Grey Room restaurant (inset) ID Saheba Singh
Interior designer Saheba Singh crafts a modern, globally chic bar and lounge in Tokyo, subtly referencing inherent and nuanced traits of Japanese and Indian cultures...
An adaptive-cuisine, sit-down-bar and lounge, The Grey Room, in a busy city centre of Tokyo, is a space that distinctly flaunts an uber chic aura; but, like it's menu, is adaptive to any palette.
Designed on the dictum of global appeal but with a distinctive Indian touch (since the owners and the chef are Indian), design sensibilities are rooted into the common cultural fabric of both countries. The cultural overlap is well played into the design elements with strategic touches of shimmer via the use of gold leaf, low seating, and the wall treatment of one of the private areas, where the rough stone wall is treated in a technique exclusive to Japan, likening it to the Indian Dholpur stone. The project at its core aims to celebrate the congruence of Indian and Japanese values – with a touch of sophisticated boldness.
.
.
.
The dark roominess (a partially mirrored ceiling, mirrored columns and floor-to-ceiling glass walls augment a spacious feel) of the 1500 sq. ft. rectangular, corner plot situated on the 11th floor is zoned into little public and privy seating areas, conveniencing locals and tourists alike to sink in for utmost privacy. Anointed, on the large part, with deep-seated single and two-seater sofa chairs that gleam in muted lighting, the restaurant offers spectacular views of the city of Tokyo via its alfresco area.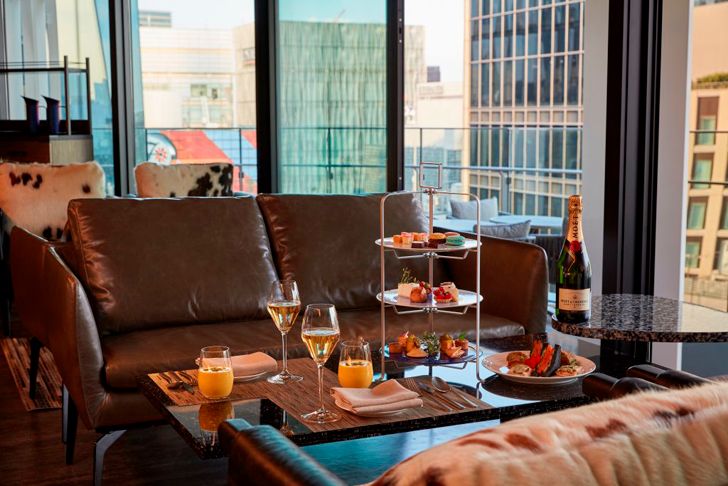 .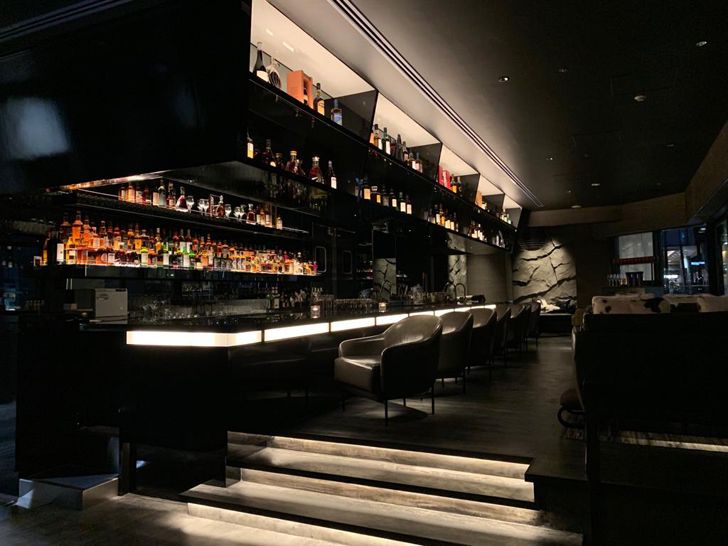 .
.
The strong earthy palette of rough stone, hardwood flooring and upholstered furniture, the latter balanced out in Scandinavian-like minimal flourishes, metaphorically juxtaposes the ethos of comfort and abundance with that of practical functionality. This neutral interior envelope is ably complemented by liberal touches in grey, highlighting veiled sophistication. Diffused lighting throughout completes the groovy ambiance; juxtaposed once again by just three large pendulum lights designed by Alex Davis.
.
.
The restaurant establishes its signatory presence with a characteristic Indian bar menu, besides which it upholds a global design vocabulary – more subtle and understated – one that could place it anywhere on the world map sans cultural boundaries.
Project Name: The Grey Room
Typology: Hospitality Interiors
Design Firm: This Is It Designs Pvt. Ltd.
Principle Designer: Saheba Singh
Built-Up Area: 1500 sq.ft.
Location: Ginza, Tokyo. Japan