By Pari Syal
Photography: Suryan & Dang; courtesy the architect
Read Time: 2 mins
.
Studio Linear Concepts designs and builds a luxurious four-storey home with the focus on flexi-functionality and customised reorganisation of space.
Given Delhi's generally swarming neighbourhoods and narrow plot sizes, Ar. Shaleen Jethi's design approach prioritises spatial planning and consequently the elevation, to ensure that this edifice stands apart commanding its place in the milieu.
Located in a densely populated colony of North-West Delhi, the east facing plot has a beautiful garden in the front. Working on the elevation of four-storey housing, where the entire home is bound holistically in a common design language; yet, can be personalised as completely equipped individual floors, the onus is on maximising space and optimising the amount of natural light and ventilation the home receives.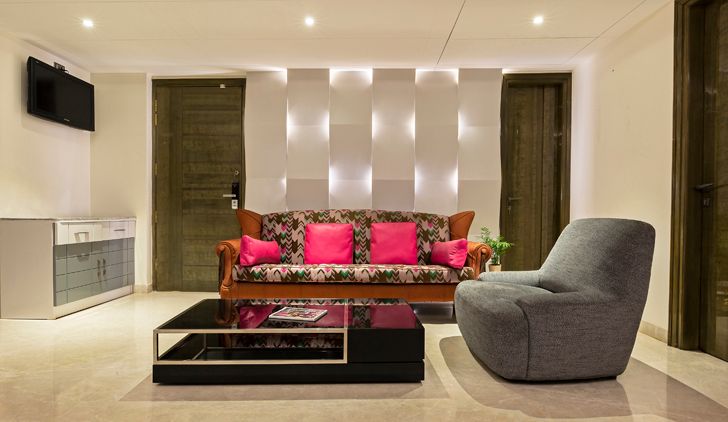 .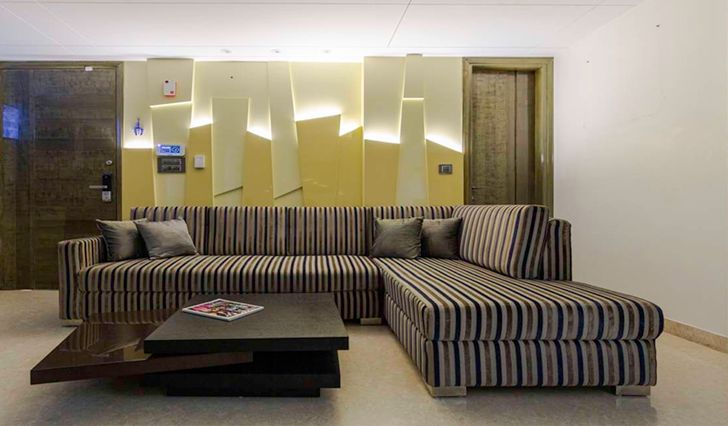 .
.
Endowed with large deck balconies and floor-to-ceiling openings, a slight taper in the elevation distinguishes the building, and allows a brief peep indoors. The upper ground, first and third floors are identically planned; whilst the second-floor sports a different plan – private and public spaces common at every level. An additional floor is delineated as the meditative floor and can double up as the guest quarters. Each level is secured with biometric access control and the connecting stairwell is treated functionally with minimal aesthetics.
.
.
.
Tailored to the tastes and lifestyles of the six members of the family, luxury is introduced via ultimate finishes viz., satin finishes, PU high gloss finishes, veneers, fabric and leatherette for interiors; matt paints, glass with wood and Carrara for elevation, Burberry beige and ice beige Italian marble for the flooring. Cove lighting, downlighters, and back-lit panels complement LEDs to create mood ambiences. A subdued colour palette rules with strategic flourishes of colour pops that are designed to impact and foster recall.
The highlight of the interiors are the false ceilings and feature walls that stand out in their contemporary design approach. Multi-level back lit panelling on one of the walls of the main living room is the showstopper as it appears to cascade down from the ceiling, adding an element of awe in the design. Another wall in one of the bedrooms follows a similar principle, creating a chic highlight.
.
.
Nuanced flourishes are then the key to keeping the home neutral and harmonised; easily adaptable and forever growing…
Design Firm: Linear Concepts
Principal Designer/Architect: Ar Sanjay & Ar Shaleen Jethi
Plot Area of project: 188 sq. yards
Covered Area of project: 5200 sq. ft.