By Ar. Shreya Kulkarni
Photography: Prashant Bhat; courtesy the architects
Read Time: 2 mins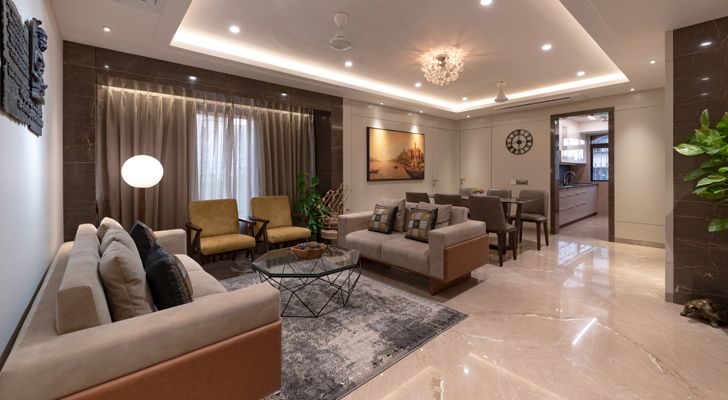 .
Urbane, chic, spacious, welcoming and warm are a few adjectives that describe this 900 sq. ft. apartment by GA Design, renovated for a well-travelled enthusiastic family of six...
Retaining the original plan with minor alterations, GA design architects personify the spaces of this apartment using a neutral tone-on-tone design vocabulary that holds the essence of emotion and lifestyle, creating a timeless ambience for interaction and self-discovery.
.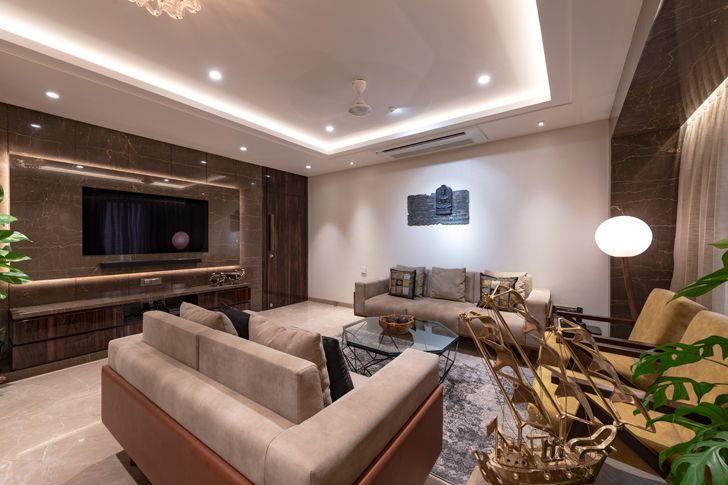 .
.
The program comprises a large hall functionally segmented for living and dining, three ensuite bedrooms and a spacious modular kitchen accommodating the puja, all well-lit naturally. The play of ambient lights for the evenings assists in adding a fourth dimension to the animated volumes, breaking the monotonous vibe. Warm cove lighting below the kitchen counters, and on the side-tables adds a sense of elegance and subtlety to the entire composition.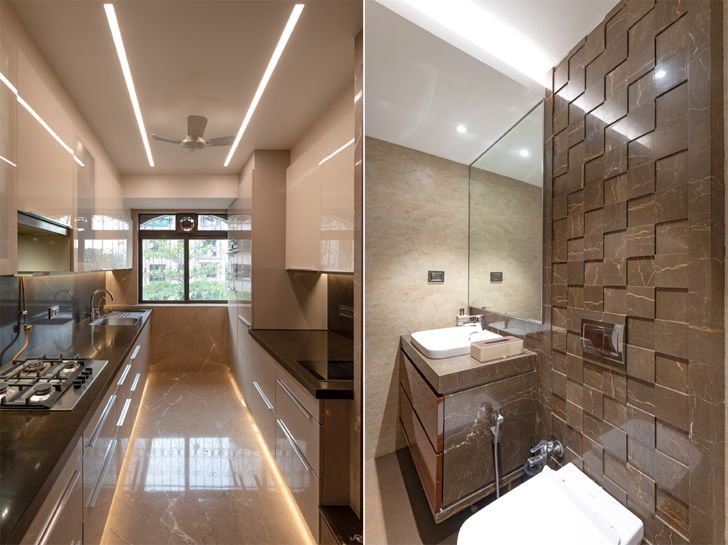 .
The home appears simple and serene. Yet, apply a keener eye, and one sees the energetic balance of the neutral hues and their tonal nuances throughout the home complemented by the subtle variations in texture and material play. Chic furniture in mushroom and tan brown upholstery; drapes in shades of brown; harmonious dichotomy of exotic veneers, glass, and leather for headboards… establish a contemporary dialogue through the montage of spaces; whilst the deliberate use of black within the colour palette creates a gradation that adds to the spatial depth.
.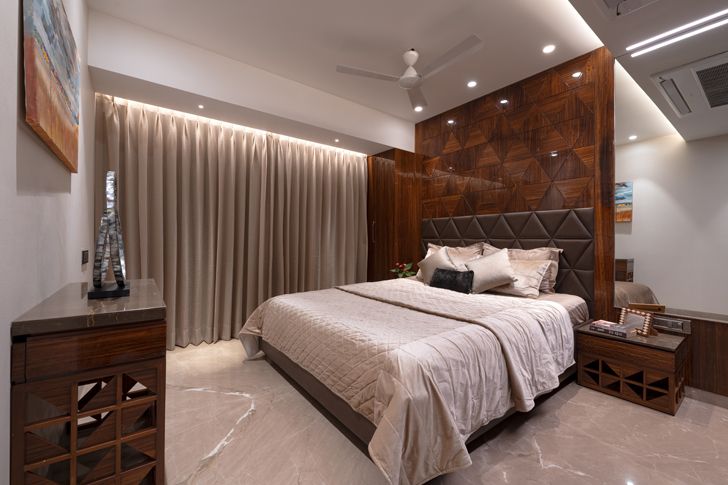 .
.
.
Marble is used generously to confer a luxurious and stylish look. The rich Burberry Beige marble flooring forms a perfect canvas to accentuate the Armani Brown marble used for TV unit, window alcoves, countertops or as wall panelling, unifying the design language.
Comfort is defined – both, in terms of functionality (the home is smartly automated) and aesthetics keeping contrasting elements to a bare minimum. Natural textures and forms of the design take precedence as the neutral tones allow the architectural lines to come alive and be noticed.
Subtlety rules as abstract carpets stitch the ambience together adding a sense of solace and finesse. A restricted use of green pots offers points of stasis and freshness. The dynamics created by introducing mirrors to the volume, reflects light and expands the spaces, thus intensifying the sophisticated vibe.
Principal Designer/Architect: Sachin Goregaoker & Shami Goregaoker
Built-up Area of project: 1100 sq. ft.
Carpet Area of project: 900 sq. ft.
Location: Olive Estate, Navi Mumbai