By Rutvi Ashar
Photography: Ashish Bhonde; courtesy the designers
Read Time: 2 mins
.
Modern or traditional, no matter what the brief, Indian homes exude a certain charm of an eclectic lifestyle. Cluster One Creative Solutions refurbishes a modern home keeping it rooted in cultural nuances…
While several clients speak of aesthetics first, a home renovation usually ends in, "how long will this last?" Cluster One Creative Solutions worked closely with their clients, the Moralwar family, to renovate their three-BHK home in Pune. Two things stand out: a strong Indian design language and durability of the finished product.
.
The brief given was quite straightforward: Today's tangible requirements need to fuse with rustic looks. Safe to say, this has been achieved!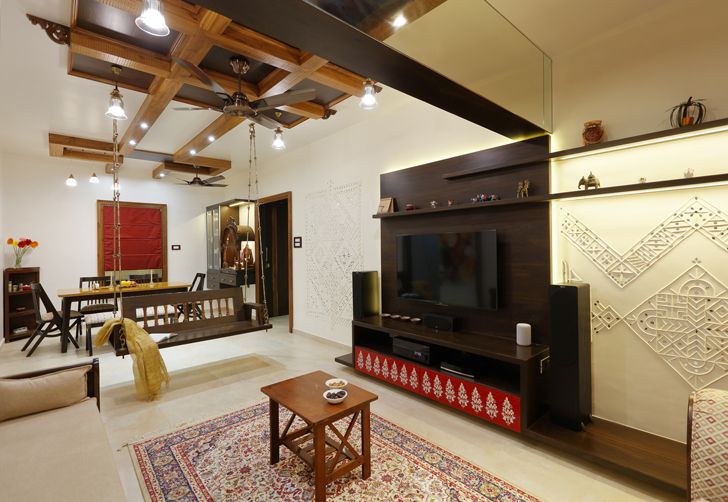 .
.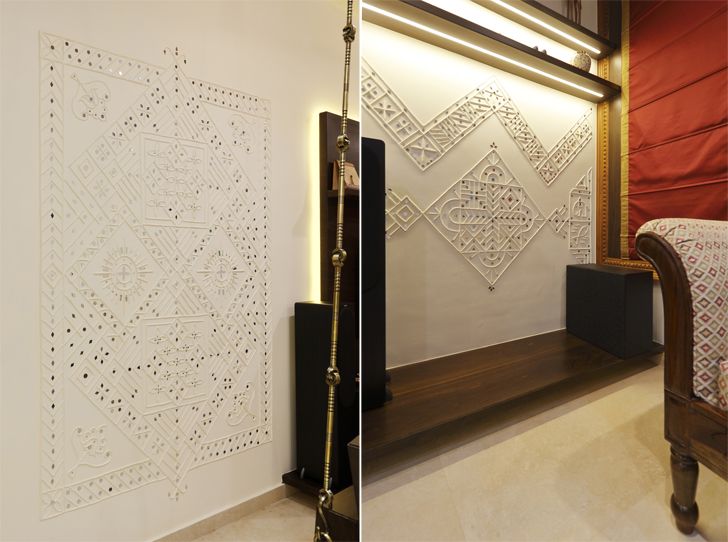 .
.
The 1400 sq. ft. home sports a rich mix of Indian elements: infused Lippan art (also known as mud-mirror Kutchi art) complimented by a dark wood swing and a large Ganesha mural, all in the living space. The kitchen is finished with glossy deep blue cabinetry complimented with ethnic retro backsplash and flooring tiles. Warli painting adorns the entrance door and bursts of colour firmly enforce the design theme. A unique aspect of the project is the level of personalisation; using an old saree of the client as a bedside panel further confirms the investment by the designers. And all of this is beautifully juxtaposed with a mirrored beam, cove lighting, polished flooring and an inescapable contemporaneity that goes with present-day lifestyles - specifically in this case as the homeowners are a working couple tuned in to corporate culture.
.
.
.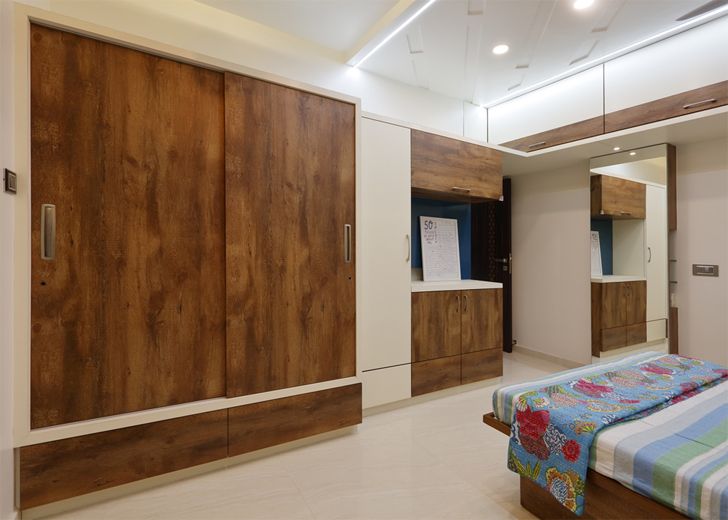 .
This home speaks volumes about the ever-evolving lifestyle of new-age Indian families; their aspirations for the future, which represents their need for functional spaces as well as their culture, showcased by the aesthetic. An aspect to note is the presence of a spare bedroom, which has a generic design as opposed to the rest of the home. This space stands testament to the occasional visits of multiple stakeholders, who play temporary yet important roles in the lives of the client.
.
The thought that remains in our minds is: are homes being designed to be able to keep up with the duality of our lifestyles? Think about it!
Client: Prerna & Sachin Moralwar
Design Firm: Cluster One Creative Solutions Pvt. Ltd
Principal Designers: Parag Ainchwar & Parag Sen
Built-up Area: 130 square metres (1400 square feet)