By Shreeta Nair
Photography: Suryan/Dang; courtesy the designers
Read Time: 2 mins
.
Studio Mixed Folios crafts an affordable contemporary house in Noida, blending contemporary minimalism with traditional woodwork…
This barrier-free four-bedroom apartment clearly reflects the client's ideology of simplicity.
Crafting a neutral palette, the walls are intentionally kept white to highlight the woodwork that imparts a warm and earthy semblance. The designers at Mixed Folios use ambient lighting, straight lines and a minimalist design approach to introduce the contemporary idiom in an otherwise conventionally-inclined interior.
.
.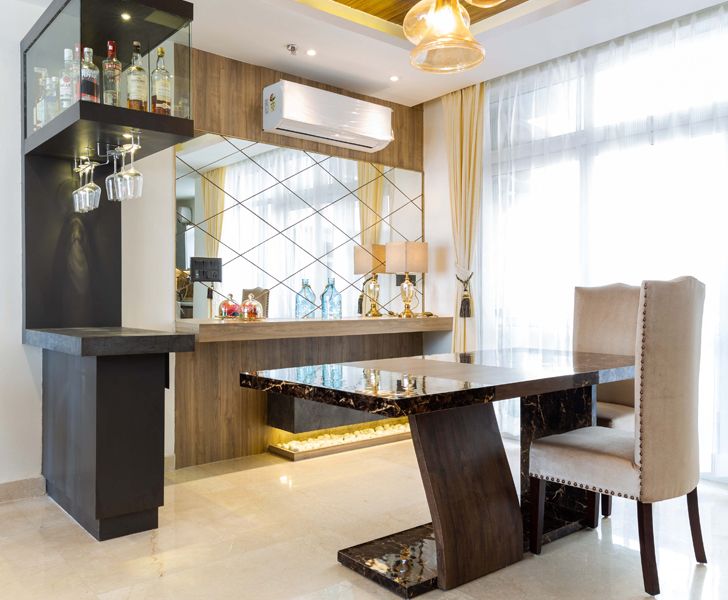 .
.
Ingeniously overcoming the disproportionate height with respect to the rest of the space, the designers play with a layered false ceiling in the living and dining areas, balancing the volume and accentuating the straight-lined decor. Even the negative spaces in nooks and corners are cleverly highlighted with select artefacts that catch the eye.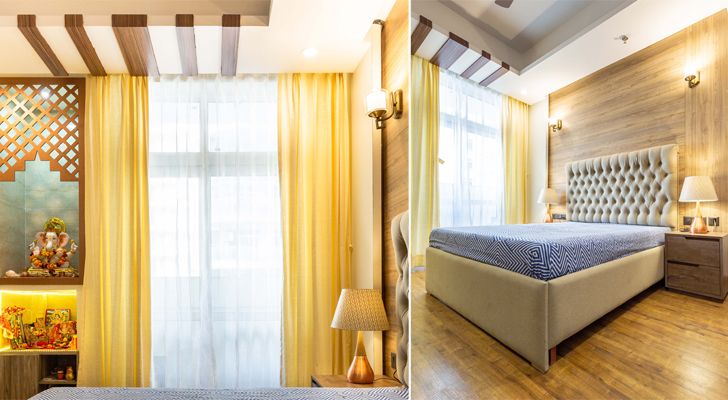 .
.
.
As with any residential interior, the major design and planning objective here too, caters to harmonising the different zones in the house – servicing the individual personalities of the members, whilst crafting a homogenous design vocabulary. The spacious interior has a defined perfunctory entrance punctuated by three overhead wooden brackets and leads to a spacious lobby. Moving further, another perforated screen separates the living from dining; the latter cocooned into a cosy nook in conjunction with the kitchen. While the island kitchen uses various muted laminates, wood and tiles, all four bedrooms comprise of extensive woodwork in form of ceilings, walls, shelves and wardrobes. Balconies usher in the greenery and the home is amply lit by sunlight being open from three sides – a rarity in the generic cubby-hole layouts that focus on maximising space.
.
Overall, the muted design approach makes for an understated statement – simple, visually untiring and with ample scope for adding on – just what a home needs, to be able to evolve with the homeowners and their changing mindsets and lifestyles.
Client: Mrs. Sadhna Verma
Design Firm: Mixed Folios
Principal Designers/Architects: Ar. Prashant Srivastava & Ar. Arindam Chaudhuri