By Shreeta Nair
Photography: Courtesy Shahen Mistry Architects
Residential projects today are no more just about homes but aim at complete package deals with great attention to luxury, aesthetics and comfort; an ideology that Ar. Shahen Mistry postulates in his design of the entrance lobby and clubhouse at the luxury address of 92 Bellevue, Mumbai.
Located in the popular upcoming suburb of Borivali, Mumbai, the plush project successfully combines elegant design elements with modern amenities. Undoubtedly, with luxury come lavish amenities like a grand entrance lobby, business lounge and multi-purpose hall, etc.
.
.
Intricately designed double-doors with brass inserts open into an opulent lobby adorned with majestic beige Italian marble complete with a stunning inlay carpet. The double-height reception void with elegantly customised glass chandeliers is complimented by a ghost piano to create a welcoming entry with soothing music that instantaneously promotes a sense of calmness. The lobby is flanked by a youthful Bistro café to its right and a state-of-the-art business lounge – Bizz, to the left, complete with a compact conference area and utilities (a perfect setting for urgent meetings and presentations), adding on to the lifestyle choices of its residents.
.
.
.
The Bistro Bellevue is an informal café equipped with a self-service vending machine and a designer trellis screen that divides the formal and informal seating areas. Plush carpets and a bright splash of vibrantly-coloured upholstered furniture gives the place a very warm and inviting feel to catch up on a cup of coffee with your friends.
.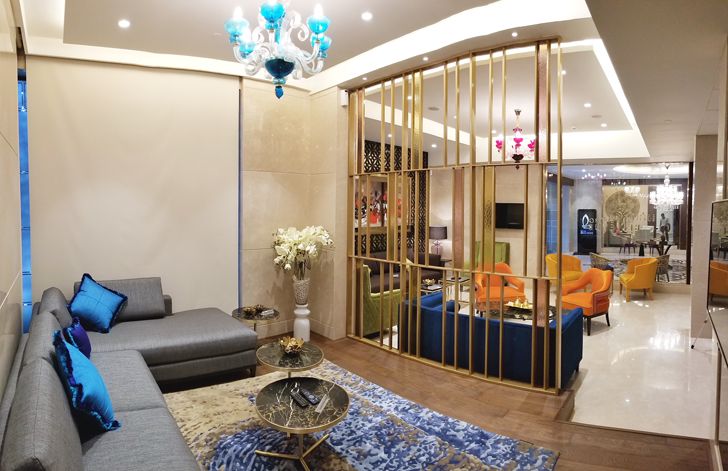 .
Aside from this, the project highlights also include an up-to-the-minute gym with the latest fitness equipments as well as an elegant and luxurious multi-purpose hall designed keeping in mind a variety of occasions like birthday parties, anniversaries and meetings and equipped with a 65" screen, all with attached designer washrooms.
.
.
It is this attention to detail and comfort flawlessly combined with refined opulence and understated elegance that raises the lifestyle-choices bar of residents looking at upping their lifestyle quotient, especially when selecting a premium residential address.
Fact File: Client: NRS Developers
Program: Entrance Lobby & Clubhouse
Architect Firm: Shahen Mistry Architects
Principal Architect: Shahen Mistry
Location: Borivali, Mumbai