By Ar. Shailesh Veera
Photography: Tejas Shah & Piyush Sheth; courtesy the architect
Read Time: 1 min 30 secs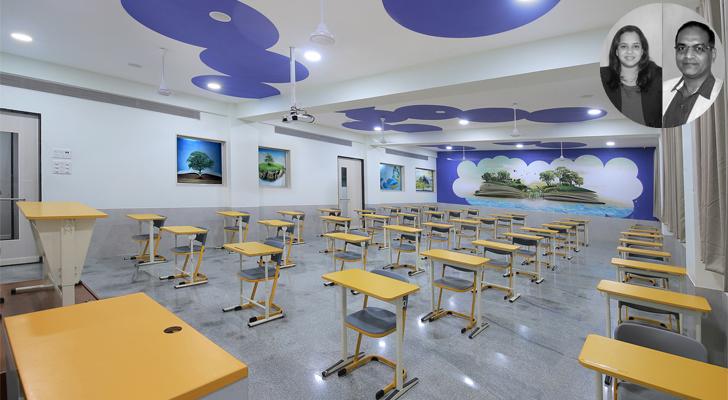 Vibgyor School, NIBM Pune - Culminating room (inset)(l-r) Designer Meetali Nerurkar & Ar. Shailesh Veera
Ar. Shailesh Veera of SPIRIT ruminates on the transformation of design in educational institutes, especially schools; and draws from personal experience to advocate a 'conscientious design approach'…
School... this word takes us to the 'most cherished time of our life', when each day was nothing less than a celebration. There was a constant eagerness (of the free spirit in us) to move out of the monotonous, boxed classroom.
Classroom at Vibgyor School in Malad West, Mumbai
Activity room at Witty World School, Borivali West, Mumbai
With time, the configurations of classrooms and other activity rooms have evolved and continue to do so. Rooms tend to become multi-functional. New teaching methods have emerged: The Black Board has given way to the Smart Board and today, we tend to use several digitally interactive surfaces too.
With sky-rocketing prices of urban spaces, it is imperative that we use "space" itself as the most valuable resource and a tool to spread education.
Games room at Witty International School, Malad West, Mumbai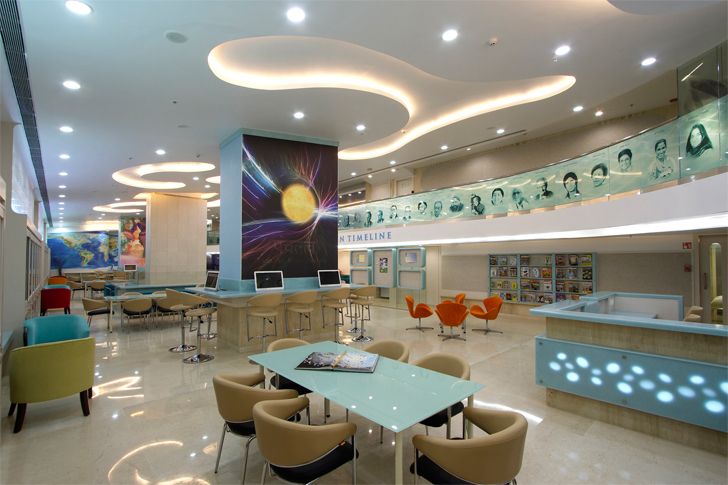 Library at Witty International School,
Malad West, Mumbai
Vibgyor School, Magarpatta, Pune, -
Dance room
Vibgyor School, Hinjawadi, Pune - Sports ground
One school, one design – that's what we, at SPIRIT, firmly endorse. Setting aside all preconceived and 'obvious' ideas about what a school's design should be, becomes a key to unraveling fresh concepts – which truly reflects the 'spirit' of the 'real clients' ... the children.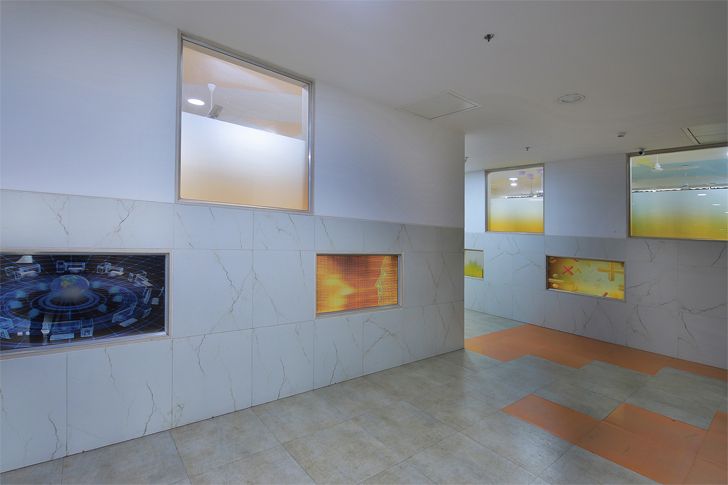 Vibgyor School Yerwada, Pune - Passages
Transitory spaces at
Witty International School, Malad West, Mumbai
Witty World School,Borivli West, Mumbai
Listening and imbibing the roles of the people involved; comprehending the skill set of the operations; understanding the curriculum pattern and implementation, and careful thought to maintenance become the stepping stones of our design approach. A healthy dialogue with leading educationists then paves the way for a collaborative methodology, to enhance the school's aspiration to provide a safe, clean, and stimulating environment in the campus, buildings and interiors. A continual endeavor to 'break the box', to weave in sustainability through diverse spaces and elements by doubling up their original function and thereby making them a potential tool for education paves the way for spaces to become multi-dimensional resource for learning.
The author Ar. Shailesh Veera along with Meetali Nerurkar helms SPIRIT – an Architectural & Interior Design Consultancy, known for transforming abstract ideas into design concepts. His forte lies in simplifying complexities and capturing the essence is his domain. He can be reached at
www.spirit.net.in